When you think of college fashionistas at American University, Madeline is one of the first that comes to mind. She writes a fashion column for the college newspaper, has her own fashion blog (See. Like. Blog.), recently helped out at New York Fashion Week, and is always wearing an incredible outfit.
When I spotted her on campus last week, I jumped at the chance to interview her about her style. Read on to learn more about Madeline!
Madeline 101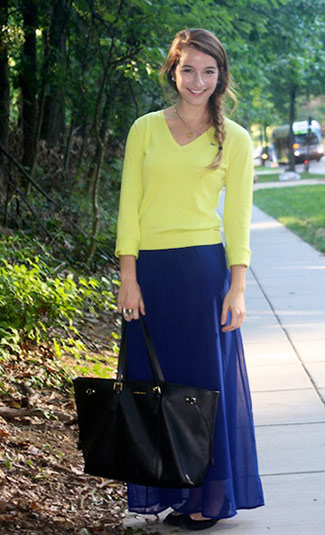 Name: Madeline
Year: Junior
School: American University
Major: Graphic Design / Public Communications
Hobbies/Interests: Blogging, baking, crafting, crocheting, and attempting to explore D.C.
Let's Talk Fashion
Who or what inspires your style? "I would say that I pull inspiration from all sorts of places. Definitely just things that I'm seeing — I follow tons of bloggers, so definitely anything experimental that Jane Aldridge is trying to wear or anything really out of the box inspires me. I also just love window shopping for inspiration — going into stores and seeing how they are pairing together looks gives me inspiration as well. I'd also say my surroundings — the people I hang out with at American University always inspire me."
Where do you like to shop? "All over. My favorite store of all time is Buffalo Exchange. I love Buffalo — I've been to one in ten different states! I like eBay for unique things. But I mainly shop at thrift stores because I think the thrill of the chase is so much fun!"
How would you describe your sense of style? "Probably quirky, probably curated. Whenever I think of my sense of style and where I want to be eventually with how I dress, I always think of Blair from Atlantic-Pacific. I've been following her religiously for about a year and a half. I don't always dress like her but everything I've ever seen her wear is curated and polished and it just works. I aspire to have a sense of style that's almost effortless. I don't know if I'm there yet, but that's where I hope to be one day."
Why did you choose this particular outfit? "Well, I wanted to wear something that makes me feel comfortable but is also a bit more interesting that what you'd see on a day-to-day basis. I usually gravitate towards color. I love color and think right now is a very exciting time because we're seeing color going into fall, which I'm really excited about."
What fashion advice would you give to students looking to improve their style? "Don't fear venturing outside your comfort zone. It's taken me a while to learn how to do that, but I think that it is really the best way to express yourself — putting on clothes that you truly love! Even if they're a little crazy, owning it and being confident is really the key no matter what type of style. For example, if you want to be goth, be goth and own that. Don't fear the unexpected!"
What are your favorite trends right now? "For fall, I would say patterned pants. Pattern on pattern on pattern is [a trend that's] a lot of fun. I also really like mixing menswear with womenswear and finding that balance between slightly androgynous yet still girly. I think that's classic. Oh, and pajamas for day – I bought a pair of silk harem pants that could almost be pajama bottoms and I'm really excited about wearing them!"
Who are your favorite fashion designers? "I love Marc Jacobs, always. Celine has really inspired other designers. Alexander McQueen. And everybody always says Chanel, but you really can't go wrong."
If you could raid anyone's closet, whose would it be and why? "Probably Rachel Zoe, because if I went in there I'd just pass out from sheer amazement at everything. Also, Leandra Medine of the Man Repeller."
Elements of Madeline's Outfit
1. Bright Yellow Sweater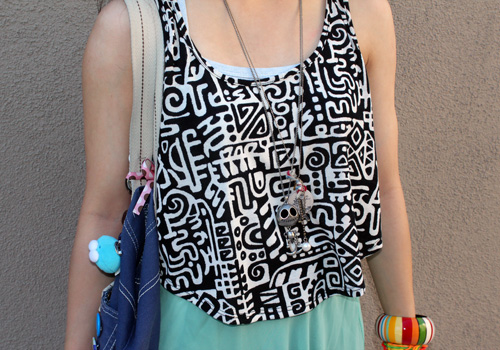 Madeline carries summer's neon trend into fall with a staple sweater. The shade is bright, but still looks subdued enough to work for fall.
2. Blue Maxi Skirt
As you guys all know, maxi dresses and skirts have been hugely popular this year. The challenge, of course, is finding a way to wear them when the temperature drops. Madeline finds a solution to this by pairing her cobalt blue skirt with a sweater and flats, creating a look that evokes the effortlessness of summer with the functionality of fall.
3. Fishtail Braid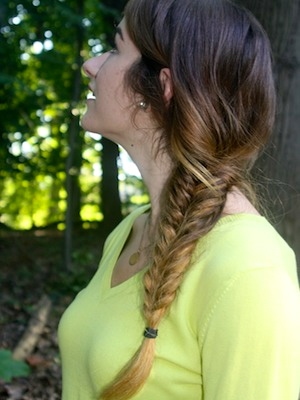 Fishtail braids are another big trend this year, and a welcome departure from a simple ponytail or bun. Madeline's braid adds another element of effortless cool to her look, and it shows off her ombre hair.
Your Thoughts?
What do you think of Madeline's look? How do you wear your summer wardrobe into fall? Are you wearing maxi skirts right now? Do you know how to fishtail braid? Let us know with a comment!