After a fun but busy semester, I've gone across the globe from Washington State all the way to Florence, Italy for the Gonzaga-in-Florence study abroad program. So for the next few weeks, I'm trading my Starbucks caramel macchiatos for gelatos and will be delivering you my picks for the best-dressed students at GIF.
One of the main things I was excited for when doing the GIF summer program was to see fashionable American students inspired by European style and culture. While I was dressed in shorts and an embellished tank on this scorching summer day, it was refreshing to see Laura in something a little more unique!
Read on to learn about Laura's sense of style, where she likes to shop, and her impression of Italian fashion.
Laura 101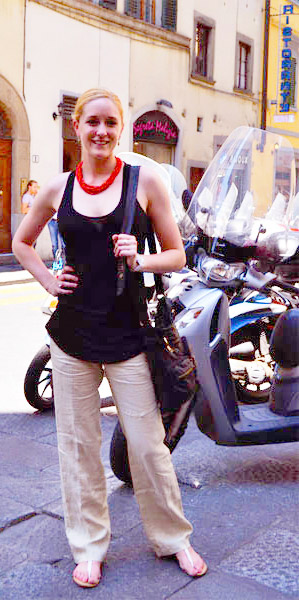 Name: Laura
School: Gonzaga University
Year: Senior
Major: Public Relations with minors in Sports Management and Promotions
Hometown: Torrance, California
Hobbies/Interests: "I'm on the volleyball team at Gonzaga so that takes up most of my time, plus it's my main interest. I also love dancing, and when I'm home I go to the beach a lot."
Let's Talk Fashion
Why did you choose this particular outfit? "I noticed that linen pants are one of the big styles in Italy right now – I looked for some in the US but couldn't find any so I got them here. I like this tank because it's both loose and tight yet also flattering. Also, I'm trying to blend in with the Europeans so I don't stick out like a sore thumb."
Who or what inspires your style? "Well, being an athlete, I definitely like a more sporty style. I like Lululemon for comfortable athletic clothes – it's the perfect balance of looking good and being comfortable in athletic apparel. As for inspiring celebrities, I like Cameron Diaz. Her everyday style is a balance between sporty and fun, but she can also get dressed up and be flirty and girly."
Where do you like to shop? "I love Lululemon, Nordstrom Rack, and Forever 21. There are also a lot of boutiques I like to go to in Torrance and Hermosa, California where it's easy to get good finds that other people won't have. I really like the boutique Tick Tack."
What are your favorite trends right now? "I'd have to say linen pants and summer scarves. I also have some vintage pieces that I like to wear in a more modern way. This necklace used to be my grandma's!"
How has Italian culture and fashion inspired your style so far? "I do like bright colors and in the US, I used to try to find the brightest pieces I could. However, here I see a lot more neutrals, so I've been wearing more muted colors. I've also seen a lot of oversized tees so I got a couple of those. And I love the collared button down shirts tucked into bottoms. It looks so polite and proper. It's crazy to think how fashion is so different when you go to different places!"
Elements of Laura's Style
1. Nana's Necklace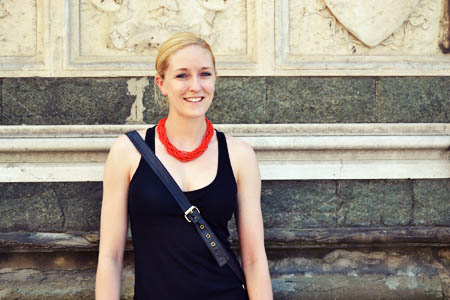 "My nana gave me this necklace – she got it in Morocco when she was a teenager," Laura said. The bright orange beads channel one of summer's hottest colors and provide a great pop of color against the rest of the neutral outfit. Even better, the necklace adds a sentimental touch to the look!
2. White Watch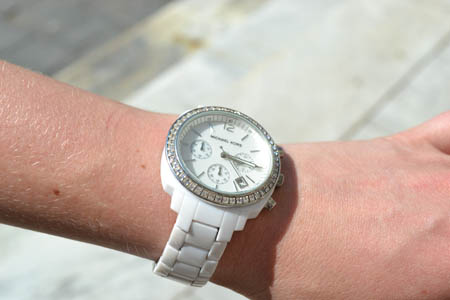 While white watches have been a hot trend for a while now, I like how this one adds more of a clean, modern feel to Laura's look – and matches her sandals! The watch also goes nicely with the linen pants, which I have been seeing everywhere in Italy.
3. Cross-Body Bag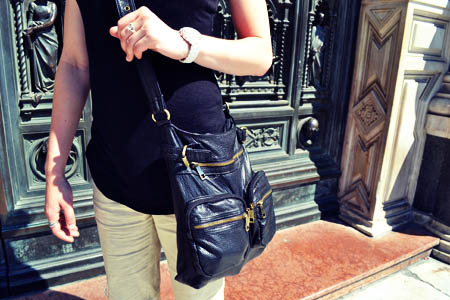 Since the place we took photos at was crowded with people, Laura's cross-body bag was perfect for the occasion, providing functionality and security all while looking fashionable. The zippered pockets allow extra storage for traveling essentials, and the cross-body strap makes the bag comfortable to carry around when you're out and about all day.
What Do You Think?
Do you like Laura's style? Are any of you abroad right now? If so, how has the culture inspired your style? I'd love to hear your thoughts with a comment!