Kim is not only in my favorite class, but she's in my discussion group, too. I have always adored her style. It is classic, eclectic, and oh-so proper and feminine. She's consistently well-dressed, but I really loved this look because of all the lively spring colors. Her outfit was a marvelous way to light up a cloudy day. When I saw her this morning, I just knew I had to interview her for Looks on Campus.
Kim 101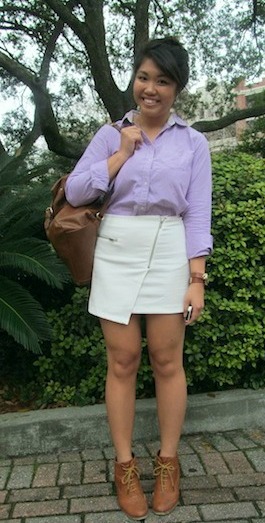 Name: Kim
Year: Senior
Major: Psychology
Let's Talk Fashion
Who or what inspires your style? "Everything I see, from celebrities to stores. I look up fashion bloggers on Instagram. It is often something that appeals to my instincts in general."
Where do you like to shop? "Zara, Lulu's, and H&M occasionally. Forever 21, Uniqlo, and Buffalo Exchange pretty often. For online shopping, I like ASOS, River Island, Shoe Dazzle, and Urban Outfitters. I try to bargain shop."
How would you describe your sense of style? "Eclectic [and] refined – or I try to be. I get bored, so I like to mix it up. Everything I wear I like to mix it up."
Why did you choose this particular outfit? "I am going to dinner tonight. Spring is just around the corner and I am just tired of wearing winter clothing."
What fashion advice would you give to other students looking to improve their style? "Be creative with what you have. I wear a lot of the same pieces, but just [mix and match] my pieces to make them fresh and new."
What are your favorite trends right now? "I like textures, asymmetrical pieces, a lot of flowy pieces, sheer, reptile and animal [prints] – crazy prints. Color-blocking [and] strappy sandals. Unique pieces that add a lot to an outfit, but not much."
Do you have any favorite fashion designers? If so, who? "Alexander McQueen, Marchesa, Phillip Lim, Zac Posen, Oscar de la Renta, [and] Marc Jacobs."
If you could raid anyone's closet, who would it be and why? "Rachel Zoe. She works with so many celebrities with different tastes. I find her taste to be very eclectic and I am sure her closet is very vast."
Elements of Kim's Outfit
1. Lavender Shirt and Asymmetrical Skirt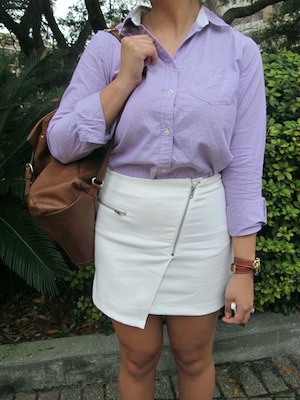 A girl should never underestimate the appeal of a button-down tucked into a skirt. It is a classic yet easy way to look put-together and still be comfortable. Kim paired an adorable lavender blouse with a white skirt, which is a great way to incorporate spring colors into your wardrobe.
To borrow her look, pair a fitted button-down with a pencil skirt for a perfect day-to-night outfit. You can wear it with flats for class or a pair of wedges for a night out. Mix and match unique accessories, shoes, and jewelry to create multiple cute outfits.
2. Heeled Oxfords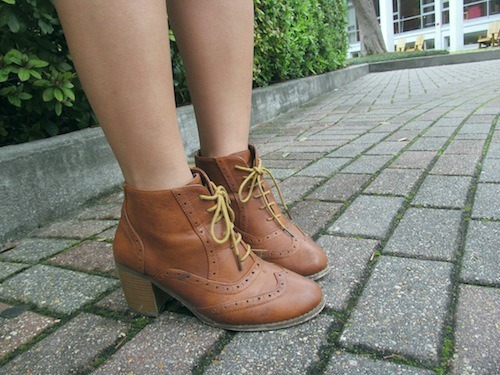 I adore Kim's shoes – partly because I have a similar pair. The low, chunky heel makes them comfortable for class, but chic enough for dinner out. You can wear higher heels in metallic patent leather for a dressier feel or a neutral-hued oxfords with a low heel for a more casual look.
ModCloth, Anthropologie, and Forever 21 are fab places to shop for heeled oxfords. If you are not ready to brave the heels, try a traditional flat oxford for a similar effect. Either way, they'll add a cool menswear-inspired touch to any outfit.
3. Schoolbag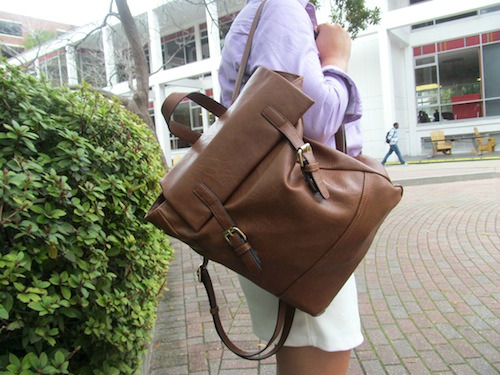 Kim's bag is both functional and fashionable. It offers all the appeal of a traditional backpack, but is much more stylish. The neutral color means it can be worn with many different outfits, while the shape and style has a vintage-inspired feel. If you adore her bag as much as I do, look for backpack made from a sturdy material like canvas or leather.
4. Wraparound Watch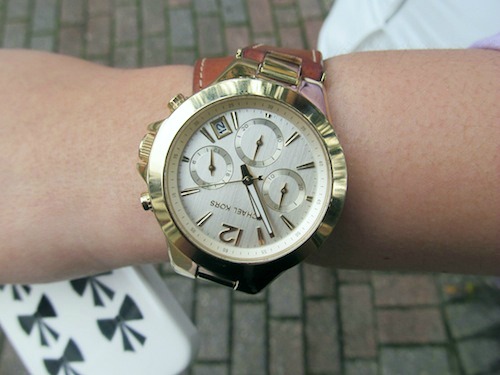 This Michael Kors watch is a timeless accessory that keeps Kim on schedule. It's a practical piece that adds to the classic feel of Kim's ensemble, but the wraparound strap keeps things looking stylish.
What do you think of Kim's spring-forward outfit?
Are you obsessed with her chic-ly off-kilter skirt? What about her wraparound watch? Has she inspired you to dress for spring? Leave a comment below!