As an architecture major and the founder of one of Yale's newest organizations, the Architecture Appreciation Club for Underappreciated Architecture, Kevin's life is visually-based. This sophomore eats, sleeps, and breathes shapes and spaces. He is the most knowledgeable aesthete you will ever meet: ask about any building on campus and Kevin can tell you everything from its head architect to its long-term environmental impacts.
Naturally, I found Kevin while he was admiring a famous Claes Oldenburg sculpture, Lipstick, one of his personal favorites. I enjoyed a thorough history lesson on the work as I snapped a few handsome candids of this stylish student.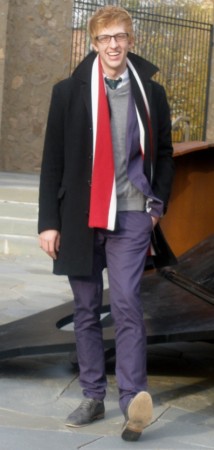 Kevin 101
Major: Architecture
Hometown: Marietta, Georgia – "Everyone's favorite suburb of Atlanta."
Let's Talk Fashion
What is your favorite store? "Topman."
If money wasn't a factor, where would you shop? "The Future Perfect! But they don't sell clothes. So Barneys New York."
Style Inspiration? "Howard Roarke. Joking, but I am a sucker for mannequins. If it is in a store just on the rack, I'll pass it by. Throw it in the window and I just want everything. This tie is a result of JPress' window in New Haven."
Favorite fashion icon? "Frank Lloyd Wright? Can that count? A man of many wonderful ties."
Biggest pet peeve? "People who use the bandsaw in the architecture woodshop without lowering the safety guide. You're in danger, and more importantly, your cut will just not be as clean."
Why did you choose this outfit? "Layers are essential during this time of the year in New Haven. It's so cold! Also, I've lately been obsessed with browns and purples."
Elements of Kevin's Outfit
The shoes: Classic and comfortable, this pair of shoes effortlessly adds personality to Kevin's ensemble.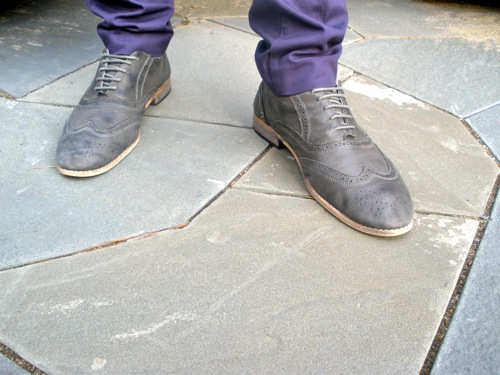 The jacket: Classy and warm, this piece is simultaneously sensible and eye-catching – you could wear it anywhere. Every guy could benefit from a winter jacket like this.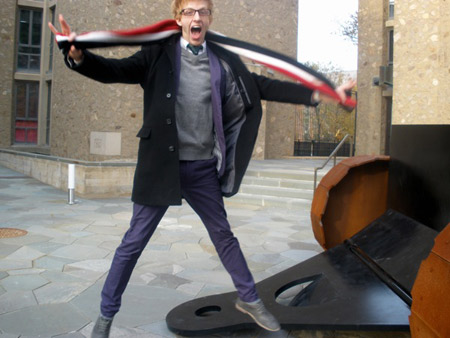 The book belt: So very old school, this stylish accessory eliminates the need for a book bag AND makes a statement. I'd love to see it make a comeback on campus.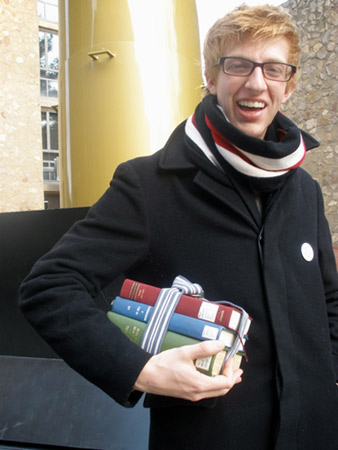 The pin: Kevin's "Get Out of Yale Free Card" pin is a great conversation starter and utterly original.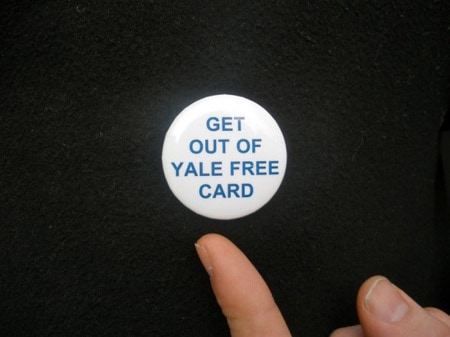 The suit: Kevin described his suit as "My splurge in Italy this past summer." He went on to tell me how and when he wears it – "It was difficult to pull off earlier this year, but is perfect for the fall."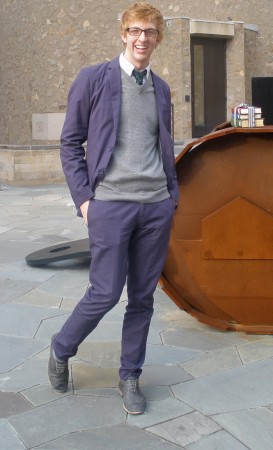 The tie: Kevin's starry green tie is another subtle surprise that breaks up the monotony of a classic suit and adds personality.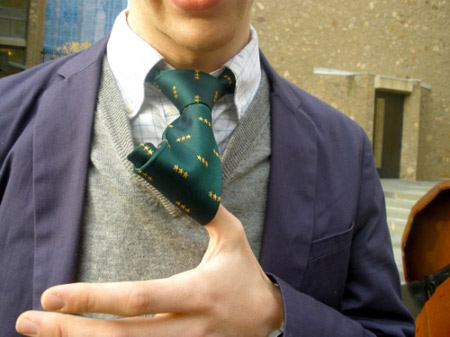 Share Your Thoughts
What do you think? Do you like the purple with the green and red? Would you ever use a book binder? Share your thoughts!