It's Saturday in Athens and the city is swarmed with red and black for Georgia's fans to show their school spirit. Every Georgia girl knows how important finding the perfect game day dress is – around here, football is a religion and getting dressed for games is like putting on your Sunday best.
At a recent game, I spotted Evan sitting a few rows behind me in the student section and was instantly drawn to her bold black sun hat and pretty dress. Read on to see how Evan carries her style to the Sanford Stadium and beyond!
Evan 101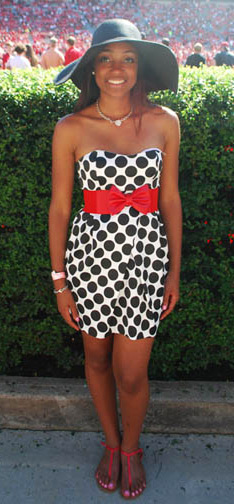 Name: Evan
College: University of Georgia
Year: 2015
Let's Talk Fashion
Who or what inspires your style? "My style is very inspired by different fashion magazines like Teen People and celebrity blogs like TheYBF.com."
Where do you like to shop? "I like to shop at boutiques in downtown Atlanta to find cute, trendy, one-of-a-kind pieces. I really enjoy going to Little 5 Points in Atlanta because of its culture and its high-end, but affordable fashion."
Describe your sense of style in three words: "My sense of style is very versatile, so I normally choose my outfits depending on how I feel that day. I chose this outfit because I wanted cute game day wear, but I wanted to be different, so I chose to accessorize with a hat. My style is also unique because I like to put things together that wouldn't normally match, so I can stand out in the crowd. I also think my style is very much influenced by the event or activity I participate in; I always try to dress for the occasion."
What fashion advice would you give to other students looking to improve their style? "Just be yourself and find what looks good on you."
What are your favorite trends right now? "My favorite trend right now would be the nude trend for fall because it looks so clean and regal."
Do you have any favorite fashion designers? If so, who? "My favorite fashion designer is Betsey Johnson, and I love Vince Camuto and Jessica Simpson accessories. I really like Betsey Johnson because her pieces are very eccentric. I love the way she works with bright and bold colors. I also like the fact that she chooses odd designs to make her fashions unique. Vince Camuto's shoe line is by far my favorite because his shoes are comfortable and they look high-fashion, without the price tag. I also enjoy Jessica Simpson's shoe line, especially her pumps because they are classy and will go with any outfit."
What do you do for fun – do you have any unique hobbies or interests? "My hobbies include cooking, shopping, and helping style my friends for different events."
If you could raid anyone's closet, who would it be? "If I could raid anyone's closet it would probably be Angela Simmons because she has a very funky and trendy style but she manages to stay classy. I think it is very important to have a balance of fashion and appearance – looking fabulous and respectable are two very important components of fashion."
Elements of Evan's Outfit
1. White Polka Dotted Dress with Red Bow Belt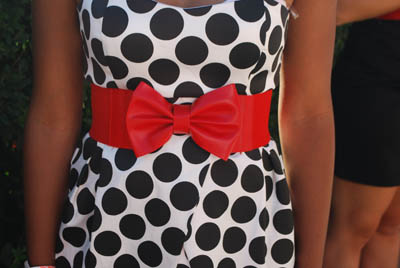 Evan shows off her school spirit perfectly in a cute black and white polka dotted number. The red bow belt complements her waist, brings in another school color, and adds the cutest touch to her look.
2. Tiffany Necklace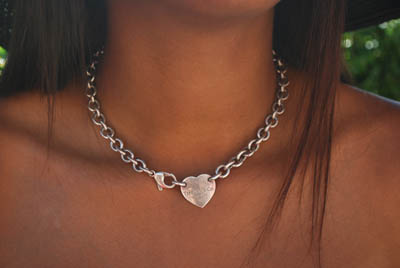 Evan's subtle jewelry adds flair to her outfit. A classic heart-shaped Tiffany & Co. necklace shows Evan's classic style without overpowering any of the other elements she is wearing.
3. Black Sun Hat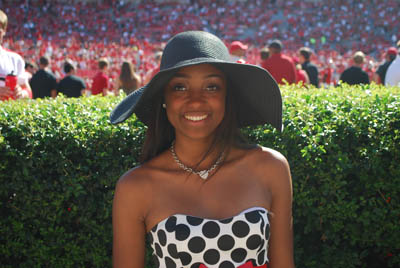 The cherry on top of Evan's game day attire is her floppy black sun hat with a simple red flower affixed to the side. Although everyone dresses their best for football games, Evan looks like the epitome of charm and grace with this unique accessory – while protecting her face from the harsh sun. I love how she kept the other pieces of her outfit simple in order to let her hat really shine.
What do you think?
Do you love Evan's game day look as much as we do? If getting dressed up for football games isn't popular in your area, has she inspired you to try it? Let us know what you think with your comment below.