Emilie's pop of color immediately caught my eye. As a lover of neutrals myself, I often struggle with how to incorporate colorful statement pieces into my wardrobe. Emilie rocked her pretty blue scarf with a leather jacket and Tory Burch oversized shades, a must for an early morning after a late night.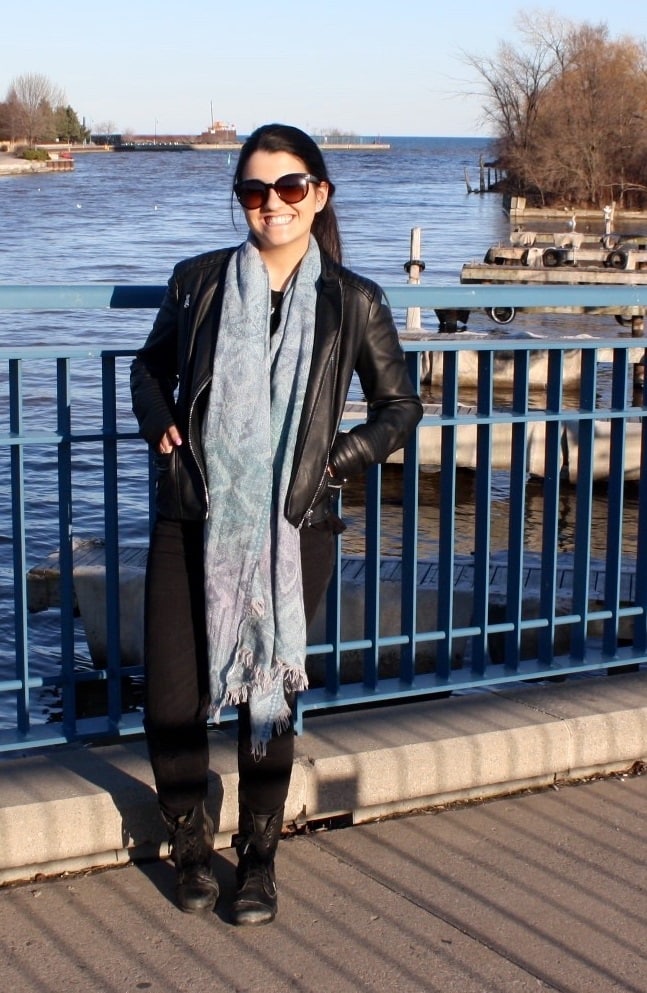 Emilie 101
Name: Emilie
Year: Second Year
Program: Psychology
School: University of Toronto
Let's Talk Fashion
Who or what inspires your style? "Kourtney Kardashian."
Where do you like to shop? "Aritzia, Topshop, Zara, H&M, and Wilfred."
How would you describe your sense of style? "Simple but chic."
Why did you choose this particular outfit? "Scarves [and] a pop of color are my go-to."
What fashion advice would you give to other students looking to improve their style? "Scarves instantly make any outfit look put-together. My favorites are blanket scarves with lots of different patterns."
What are your favorite trends right now? "I love suede – skirts, dresses, shorts, purses – anything."
Do you have any favorite fashion designers? If so, who? "I actually just bought my first Louis Vuitton wallet; the Emilie one of course. I really like high end designers like Louis Vuitton and my next [splurge] purchase will either be Valentino shoes or Louboutins."
What do you do for fun – do you have any unique hobbies or interests? "Sleep, Elite Daily, and Tumblr."
If you could raid anyone's closet, who would it be and why? "Kourtney Kardashian hands down. I absolutely love her sense of style. She can literally wear a Yeezy sweater and suede boots and look hot af."
Elements of Emilie's Outfit
1. Biker Jacket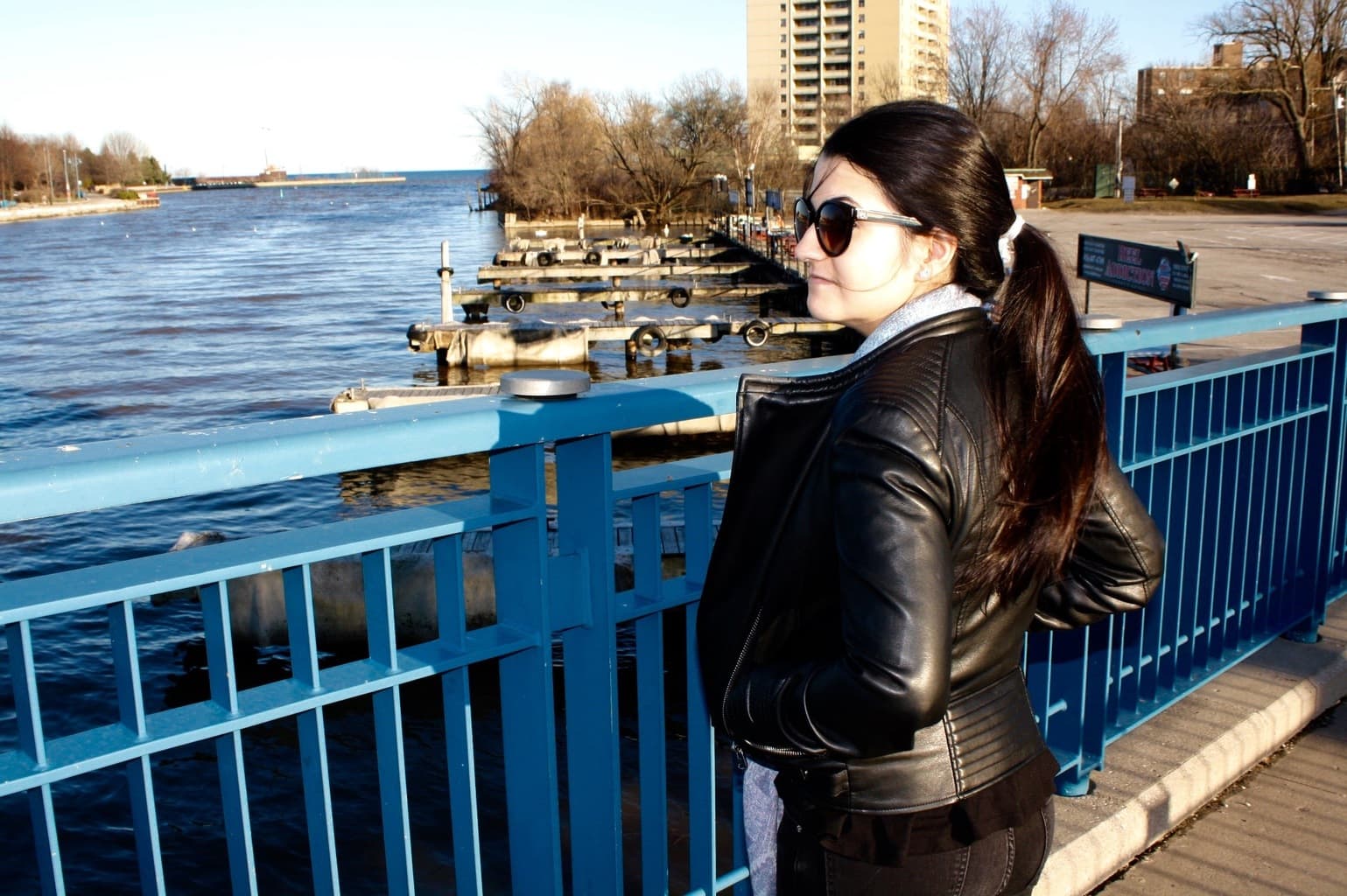 If you're in a rush and want to look put together, take a page out of Emilie's book and grab a biker jacket. This showstopper from Zara could easily be paired with anything to tie together an outfit.
2. Blanket Scarf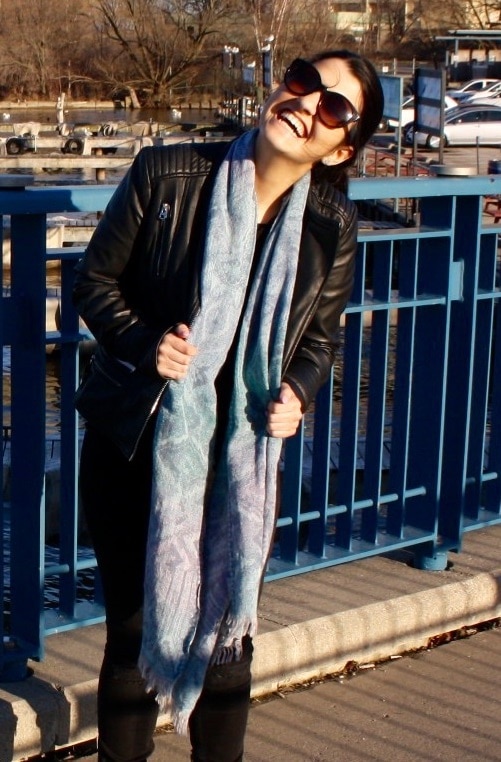 Emilie loves scarves and believes that they add the finishing touch to any outfit. I can absolutely see why when I look at her outfit. Without this pop of color, this outfit would be missing that "something."
3. Bracelets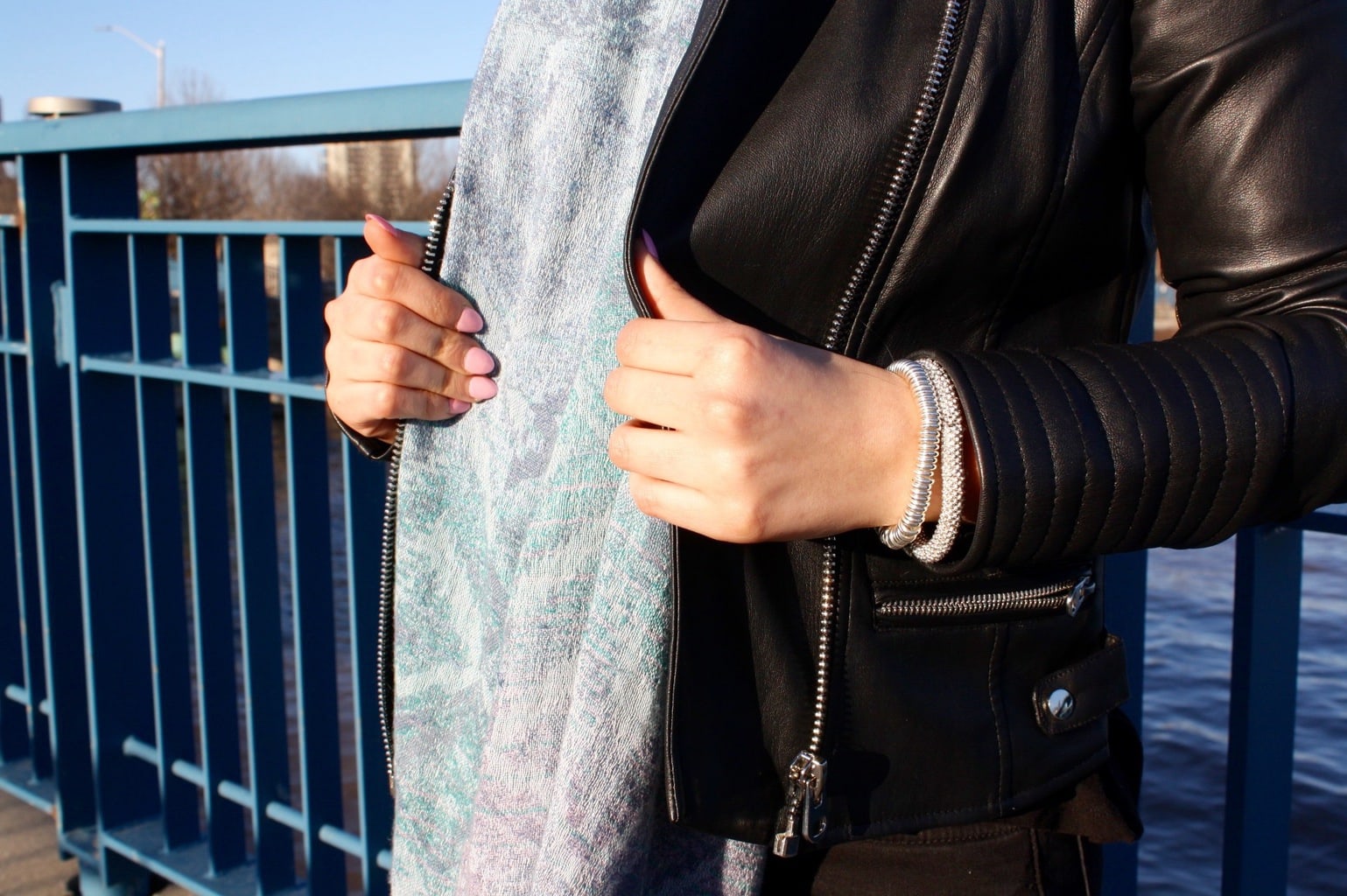 Emilie made sure to tell me that her Links of London bracelets rarely leave her wrist. Small accessories like these add classiness to any look she wears.
Big sunglasses and a biker jacket? What do you think?
Would you wear her look? What's your favorite part of it? Let us know below!