Celina is in my Media Law class, and I've always noticed her classy and preppy sense of style. After a couple weeks of gloomy weather, Celina's bright outfit stood out on campus and made me so excited for spring!
Celina 101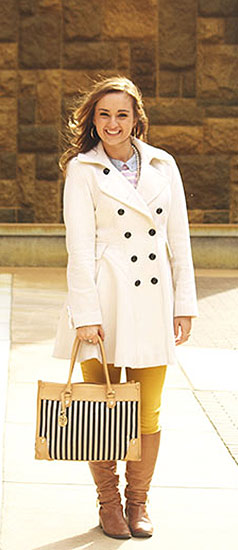 Name: Celina
College: Point Park University
Major: Broadcasting
Year: Senior
Hometown: Pittsburgh, PA
Let's Talk Fashion
Who or what inspires your style? "My mom! She has amazing taste in fashion and is always aware of the latest styles and trends."
How would you describe your sense of style? "Sometimes preppy, but more professional. I am always wearing high heels and blazers. I love blazers; they are so classic."
Why did you choose this particular outfit? "The outfit I have on today is more on the casual side, but it's fun and comfortable, too. My yellow jeans are from Bloomingdale's, my boots are from Michael Kors, and my sweater is from J.Crew. Sometimes I need a day just to be casual and dress down."
What fashion advice would you give to other students looking to improve their style? "Make sure that your outfits are always appropriate, and most importantly make sure that you feel comfortable in whatever you have on. I would suggest looking on my two favorite sample sale sites online — Rue La La and the Gilt Groupe — all of the clothes on those online sites are fabulous and are usually deeply discounted."
What are your favorite trends right now? "I love color blocking. For example, I have a pair of light pink pants with black stripes down the sides. I also love colored pants and wearing high socks or knee-highs that show above my boots."
Do you have any favorite designers? If so, who? "Yes! I love, love, love Michael Kors — I adore everything from his watches to his purses to his clothes. I also love Marc Jacobs, Roberto Cavalli, Ted Baker, Alice and Olivia, and Kate Spade."
If you could raid anyone's closet, whose would it be and why? "This is a tough one, but I think I would pick Rachel Bilson. I always loved her style on the red carpet, and whenever I see her in magazines and in interviews she always looks fabulous."
What do you do for fun? Do you have any unique hobbies or interests? "I love to just relax, go to the movies, and hang out with my friends. I also love to travel. My family and I try to go to different destinations every year!"
Elements of Celina's Outfit
1. Striped Lavender Top with Mustard-Colored Pants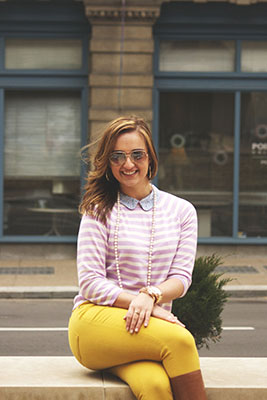 Celina's bold outfit color scheme seems to scream "spring is here!" – purple and yellow are complementary colors (or opposites on the color wheel), so they look great when paired together. This particular color combo – a light purple and a deep mustard – is perfect for that transitional season between the end of winter and the beginning of spring.
2. Striped Bag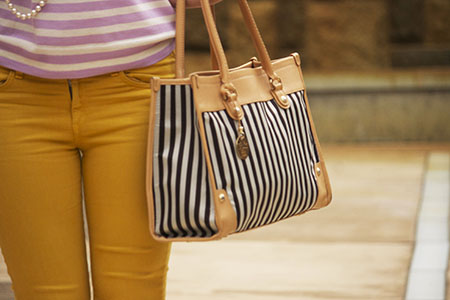 I am so envious of Celina's bag! The black-and-white striped pattern fits well with her mustard yellow pants and lavender top, while also adding a professional, classically preppy vibe to her ensemble.
What do you think?
What do you think of Celina's outfit? Are you inspired by her classic, preppy style? Let us know what you think with a comment below!