Here in Los Angeles, "June Gloom" is in full effect. For those of you who aren't familiar with this strange SoCal weather pattern, it's when an overcast and damp haze hovers over us throughout the mornings, later met by sizzling temperatures in the afternoons. It is undoubtedly the most difficult type of Los Angeles weather to dress for and makes getting ready in the morning quite the challenge.
The gloom had yet to burn off when I spotted Alexa, an incoming freshman at summer orientation whose yellow printed dress provided a pop of color to an otherwise dismal day. She stylishly paired it with a light-washed denim jacket and cognac cowboy boots. Read on to learn about Alexa's California-cool style.
Alexa 101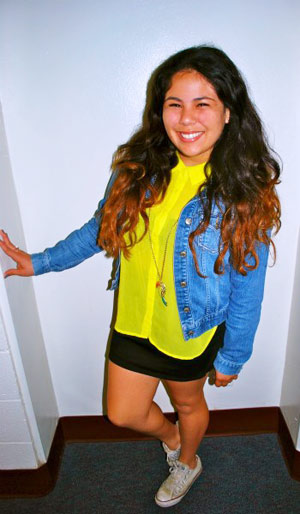 Name: Alexa
College: Loyola Marymount University
Class Standing: Freshman
Major: Undeclared
Hometown: Santa Clarita, CA
Hobbies/Interests: "Photography. I also play piano and I'm really interested in clothes."
Let's Talk Fashion
Who or what inspires your style? "I'm just really inspired by what I see around – I don't have certain websites/blogs or anything that I look at. I just put on what I like."
Where do you like to shop? "I shop at Urban Outfitters, Free People, Forever 21 — it's cheap. Foreign Exchange is nice, too."
How would you describe your sense of style? "Casual and girly. I like flowy dresses; they're easy to throw on and are really comfortable."
Why did you choose this particular outfit? "I got dressed up a little for orientation. It was kind of cold [because of June Gloom], so I paired this dress with a denim jacket and boots. I like these boots a lot and they're super comfortable. I wear boots and dresses together all the time — I think it's really cute."
How do you plan to transition your wardrobe from high school to college? "I'm probably going to only wear what I like [from now on]. My town was small so [while I was in high school] I didn't really take as many risks with my outfits. Now that I'm going to be in college where individual expression is more acceptable, I'm probably going to get to try new things and really just dress how I want to."
What fashion advice would you give to other students looking to improve their style? "Just wear what you like and not just what everyone else likes."
What are your favorite trends right now? "Denim jackets! I also wear a lot of rings and boots. I really like long maxi dresses. And I have a braided-in feather extension in my hair and I enjoy feather earrings, too."
Elements of Alexa's Outfit
1. Denim Jacket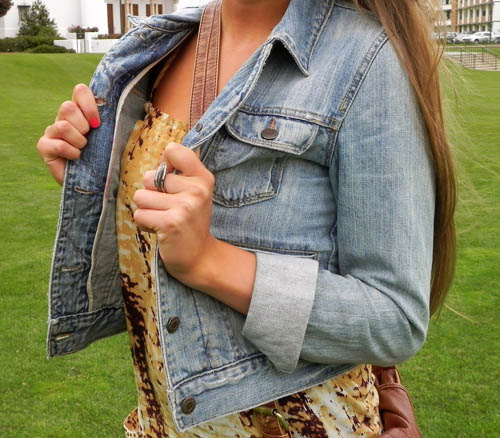 June Gloom requires easy-to-remove layers that keep you warm in the mornings and evenings, but can be taken away when it heats up in the afternoon. Enter the perfect piece: a denim jacket.
Whether you're wearing it over a summery dress like Alexa or pairing it with leggings or a flowy skirt, the denim jacket is a timeless and stylish staple that is perfect for the summer-to-fall wardrobe transition. It's so versatile that it can be paired with a variety of outfits and it comes in tons of different washes for your choosing pleasure.
2. Cowboy Boots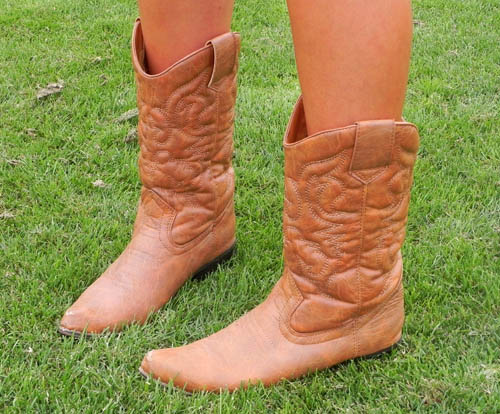 Alexa's footwear of choice is the ever-popular cowboy boot. These understated and simple cognac boots are beyond easy to wear and can be coupled with almost anything. Alexa shows us that they're not just reserved for the rodeo and are a practical choice for the average college girl. Her dress is definitely the standout piece in this ensemble, so choosing a boot in a neutral color is a wise choice, matched perfectly with her cognac satchel.
3. Oversized Satchel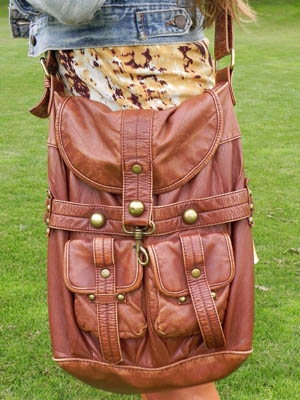 Alexa is gearing up for college life and will soon get used to all that must be toted around. Her stylish satchel is perfect for holding her daily essentials like her laptop and textbooks. The outside pockets make for easy access to must-haves and the bronze hardware detailing gives it a punch of ruggedness for the girl on the go.
What do you think?
What do you think of Alexa's style? Do you wear boots in the summer? Hey incoming freshmen, what are you wearing to your orientations? Do you have a pair of cowboy boots? What kind of purse are you using this summer? Let us know with a comment!