In a world where trends come and go so fast, it's hard to be true to your individual style while also staying current. When I met Dawn, it felt like a breath of fresh air: She exudes a cool, glamorous, '90s vibe that's equal parts unique and trendy. As I chatted with her, it became even more obvious how much she appreciates the era that defined her.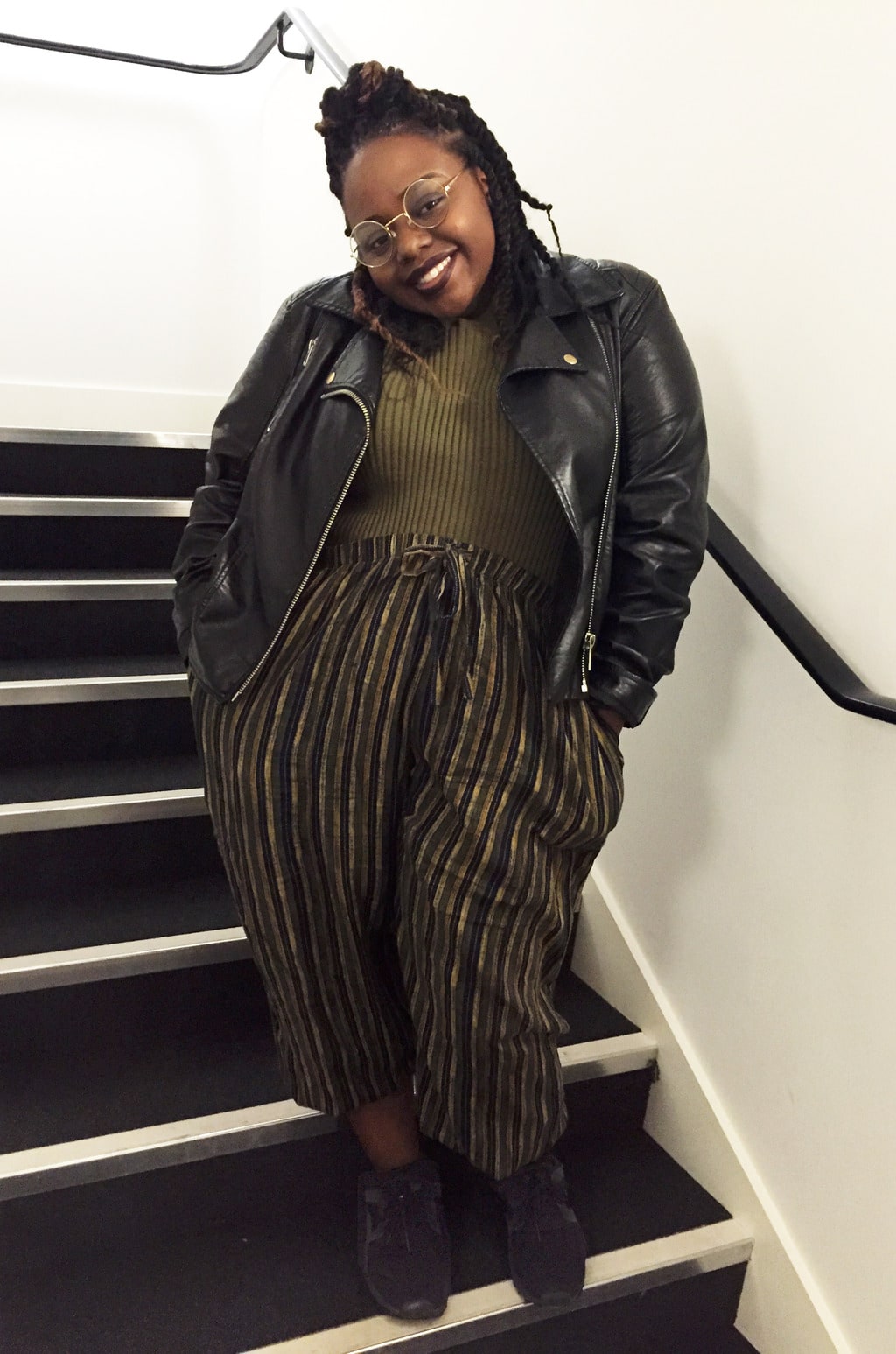 Dawn 101

Name: Dawn
Year: Sophomore
Major: BA in Hair & Makeup for Fashion
Hometown: Birmingham, United Kingdom
School: London College of Fashion, University of the Arts London
Let's Talk Fashion

What are you wearing today and where are they from?
"Today I'm wearing a thrifted leather biker jacket, a Primark olive green turtleneck, thrifted pants and thrifted shoes, as well as a pair of round glasses from eBay."
Who or what inspires your style?
"I'd say that my style is very much inspired by '90s culture and music from that era, so that includes artists like TLC and Brandy. I would also have to say that my style does [also] push the early 2000s and American culture back in the day, as well as the Black Panther movement."
Where do you like to shop?
"I would have to say that Primark is at the top of my list, but after that it would have to be thrift stores like TRAID where I have found some of the best things in my wardrobe in the past. In terms of online shopping, I love Boohoo.com and Public Desire, and something people always make fun of me for is shopping at George at Asda which can be an amazing place to find good quality items for lower prices. And other than that, I love getting hand-me-downs from my family members, especially my Aunt."
How would you describe your sense of style?
"I don't know actually, but I feel like it does depend a lot on my mood. But to answer the question, I'd have to say that my style is very much '90s influenced, as well as being equal parts edgy and relaxed."
What fashion advice would you give to their students looking to improve their style?
"Do you, boo. Do you. Be comfortable always because there is no point [to] wearing something amazing and then having to tug and pull at it all day because it will also come across in your demeanor. And it is always fun to try new things out, but also always make sure to be yourself."
What are your favorite trends right now?
"To be completely honest, I don't like trends and I'm rather sick of them. They irritate me because they insensitively take parts of cultural identities and then turn [these parts] into highly priced marketable consumer-ized goods that have no meaning behind [them]. And this where my deep appreciation for old school and authentic fashion and trends come into play, because they actually stand for important issues instead of just being for looking cool and whatnot."
If you could raid anyone's closet, who would it be and why?
"Definitely, most definitely, I would have to say TLC, Jada Pinkett Smith (well – only when she was on Another World), Missy Elliot, and Rihanna's current wardrobe[s]. Rihanna's stylist, Mel, has done a terrific job at helping her transform her style into what it is now; but I would have to also say that I'm not a big fan of how she has in a way lost her Barbadian charm that she started off with. But back to the question, I would want to raid their wardrobes so that I could go through them and ask questions like 'Did they really wear these?,' but other than that I'd raid their wardrobes because I just really love their style."
What do you do for fun – do you have any unique hobbies or interests?
"I love to write my own poetry and along with that I also love to cook and socialize with friends and family, and even having big gatherings with everyone. I also have my own blog that I write on, called DawniiDivine and you guys should really check it out."
Elements of Dawn's Outfit

1. Fancy Pants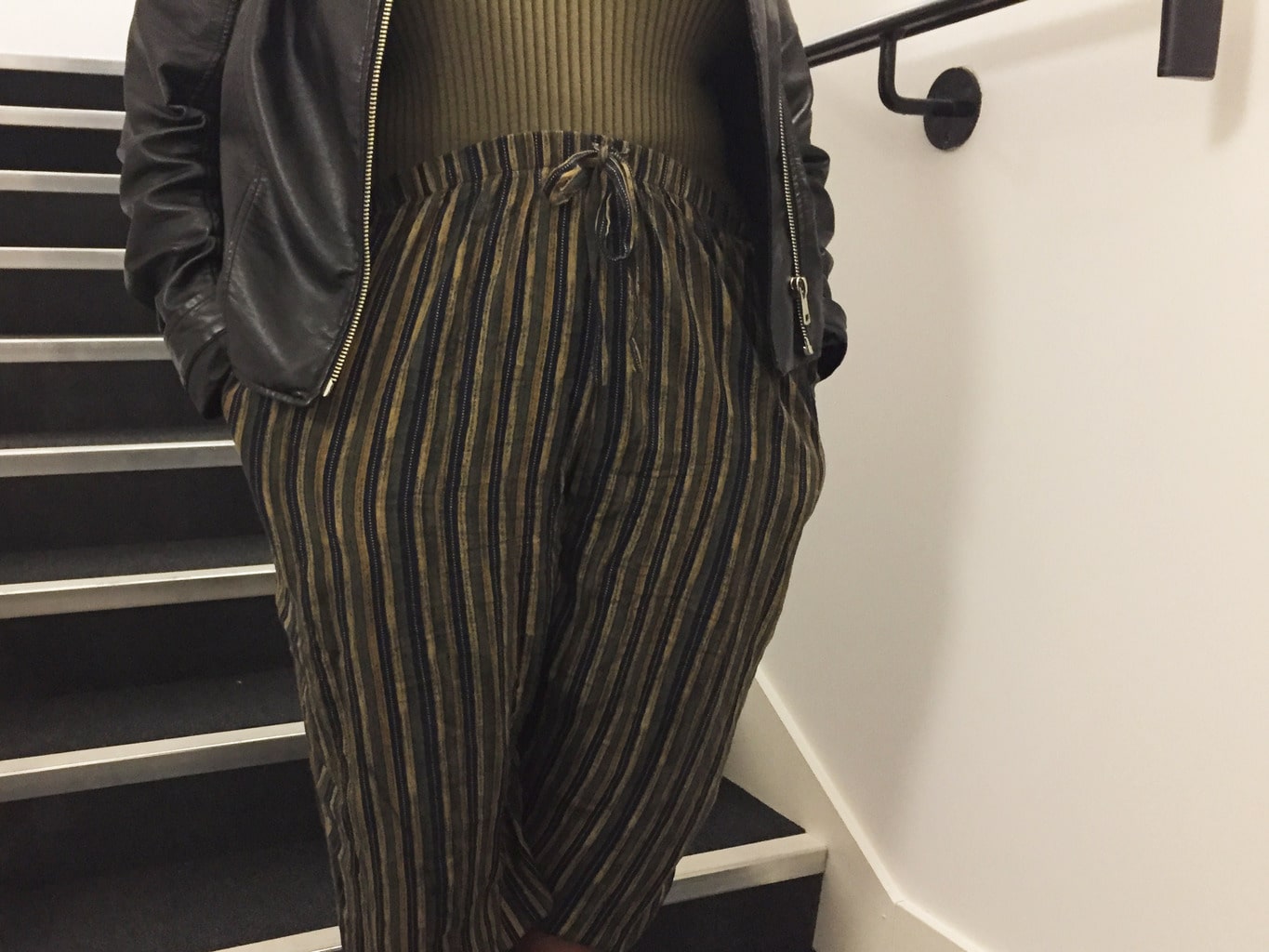 Dawn's pants are a great example of the amazing goods that can be found at thrift shops. They are comfortable, thanks to their drawstring waist and baggy shape, yet they look edgy thanks to their earth-toned stripes. I love how they add a vintage twist to Dawn's otherwise-modern outfit.
2. Quirky Glasses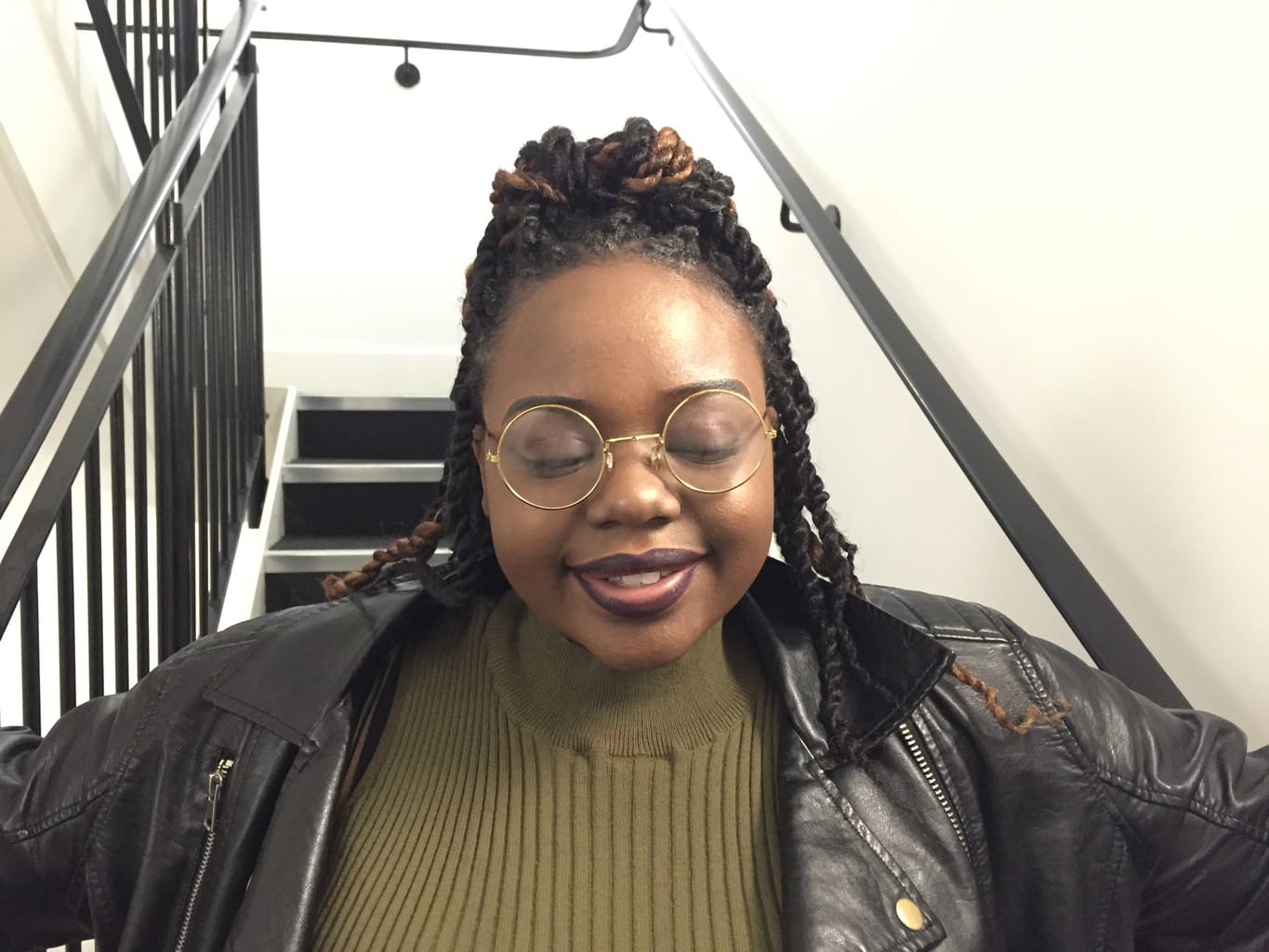 Round glasses are one of the coolest and easiest ways to jazz an outfit up. Other than adding a cool twist to her look, they also accentuate her face and give her a warm glow with their gold rims.
What do you think of Dawn's style?
Do you love her cool pants? Are you a big thrift-shopping fan? Comment below and let us know what you think!