It still feels a lot like winter in London, so everyone is stuck in their layers and somber colors. Every once in awhile, though, you'll come across a person who doesn't feel urge to stick to the status quo.
When I saw Anita, I immediately noticed the summery colors in her outfit. It was a breath of fresh air. Erratic weather or not (it was actually a warm day when I found her), Anita's outfit freshened my take on how to dress for this tricky time of year.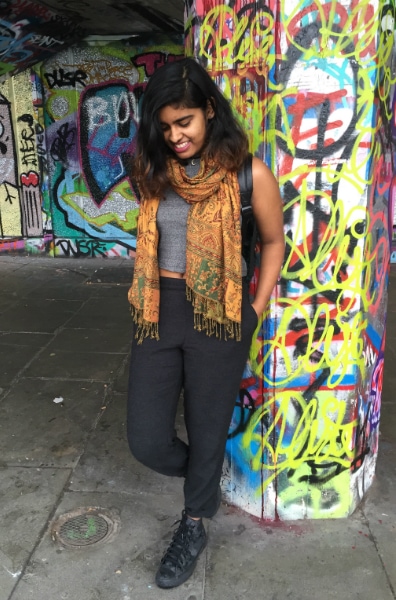 Anita 101
Name: Anita
Year: Freshman
Major: Fashion Media
Hometown: Singapore
School: London College of Fashion, University of the Arts, London
Let's Talk Fashion

What are you wearing today and where are they from?
"Well, I'm wearing a mock neck crop top from H&M, Zara wool pants, my black army print Converse, a scarf from India, and my Skinny Dip London fake fur backpack."
Who or what inspires your style? "I don't really have one person who fully inspires my style, but Amy Lee of Vagabond Youth comes to mind as someone whose style I admire. She was actually the one to introduce me to my new favorite item in my closet: my Zara culottes. Other than that, I get inspired by street style blogs like Nobody Knows Marc and The Sartorialist."
Where do you like to shop? "I shop at a variety of mainly high street stores like Topshop and Monki. One of favorite places would most definitely be Zara [which is] where I get my pants and blouses from. Other than that I love buy[ing] a lot of thrifted and vintage clothing from well-known thrift shops like Blitz London as well as my latest guilty pleasure which is shopping online at ASOS."
How would you describe your sense of style? "My sense of style, I would say, is very minimal yet quirky in a way. I like to dress up casually and comfort is of course key for me since I spend my days constantly on my feet. But sometimes I do dress up out of my comfort zone because – well, we all need a breath of fresh air in some cases."
What fashion advice would you give to their students looking to improve their style?
"Well [first] I'd tell them not to take it seriously. I mean, I believe that fashion and style should be about experimentation and having fun. It also takes a while to develop your own style and there's nothing wrong with being inspired by other people's style but don't just copy it completely."
What are your favorite trends right now?
"One trend that I can't get enough of is the cold shoulder trend which basically is the off-the-shoulder look that was on runways like Proenza Schouler. It's freezing over here but that still doesn't stop me from wearing it. And well, with fashion month just beginning, I've also noticed a huge trend of wearing really outrageous outerwear in the street style department which has gotten me hooked on beautiful coats that I sadly have to save up for."
Do you have any favorite fashion designers? If so, who? "My favorite fashion designers would definitely be Simone Rocha, Christopher Kane, Proenza Schouler and most definitely the late Alexander McQueen. I'd say what attracts me to their designs is their precision to details and how much they respect the artistry of it all. It also doesn't hurt that their looks are very weird yet somehow look put-together."
What do you do for fun – do you have any unique hobbies or interests?
"Living in London had definitely changed my hobbies as now I spend my weekends at museums or in some cases walking around and exploring the city. And when I'm not out in the parks (even in the freezing temperatures), you can find me catching up on my magazine reading or feeding my addictive Netflix habits where I binge watch episodes of American Horror Story or How to Get Away with Murder."
If you could raid anyone's closet, who would it be and why? "I would love to raid Arushi Khosla's (of the blog Arushi.co) wardrobe. I've been following her since… I have no idea when, but I've always been so amazed with what she wears even up to now. I mean, her style is very minimal yet sweet and subtly sexy. I've been really into lace and the color blush and, well, she's been sporting a lot of that and I just really want to own some – okay everything that she has."
What does fashion or style mean to you? "To put it short and simple, I think that fashion is all about individuality, experimentation, and identity."
Elements of Anita's Outfit

1. Shades of Grey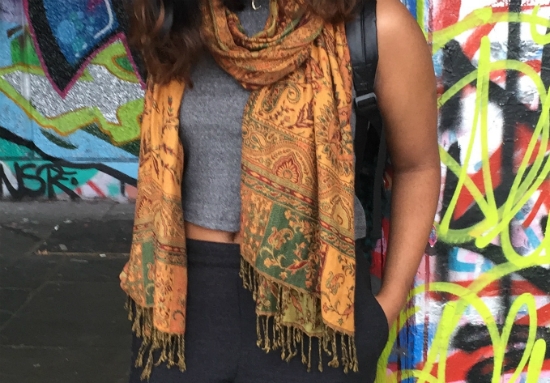 What really drew me to Anita was how she made a simple outfit look anything but bland. She made work pants look casual by pairing them with a crop top in a luxurious fabric. Plus, her scarf was so gorgeous in person – the pictures don't even do it justice.
2. Statement Backpack
While chatting with Anita, I realized that her bag was the true highlight of her outfit. It was striking but subtle at the same time, and it added a pop of color to her look, yet didn't overpower it. Plus, if you take a closer look at the texture, it oozes a sense of youthful sophistication.
All in all, what do you think of Anita's outfit?
Would you wear a faux fur backpack? Do you love her crop top and scarf? Comment below and share your thoughts with us!