After a long and treacherous winter, our little Hartwick campus saw its first glimpse of spring today. With the "balmy" 45 degree temperatures and melting snow, students everywhere were coming out from their bundles of gloves, hats, and scarves.
Kiki in particular, with her bright yellow tights and blue floral dress, wasn't just coming out from winter hibernation – her outfit was screaming "spring!"
Kiki 101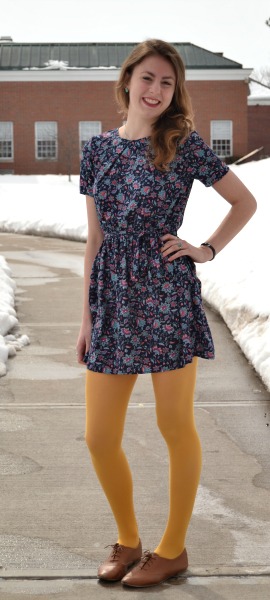 Name: Kiki
College: Hartwick College
Year: Freshman
Major: Nursing
Let's Talk Fashion
Who or what inspires your style? "I read a lot of blogs like the Clothes Horse, Steffy's Pros + Cons, Keiko Lynn and others. I also use Pinterest to look at vintage clothes."
Where do you like to shop? "Mostly thrift stores and consignment shops. I like to buy my basics at Forever 21. There are also online thrift shops like Nifty Thrifty."
How would you describe your sense of style? "Eclectic. I love patterns, florals, and bright colors, and I love to wear them all at once! I also like vintage styles – like a mix of '50s-inspired clothes and '90s grunge."
Why did you choose this particular outfit? "This is my favorite dress because it's springy. I wanted to incorporate a bright color, so I went with yellow tights. I love yellow and navy combos."
What fashion advice would you give to other students looking to improve their style? "I don't pay attention to trends and I don't believe in social dress codes. So wear what makes you happy!"
What are your favorite trends right now? "I love the '70s-inspired trends that are coming back, like the bright colors and patterns. Also the suede skirts!"
Do you have any favorite fashion designers? If so, who? "I don't follow many, but I used to love Oscar de la Renta."
What do you do for fun-do you have any unique hobbies or interests? "Nursing keeps me busy, but I'm involved in three clubs. I also love to spend time with friends and be outdoors."
If you could raid anyone's closet, who would it be and why? "Rebecca from Clothes Horse because she wears a lot of vintages clothes."
Elements of Kiki's Outfit
1. Eclectic Jewelry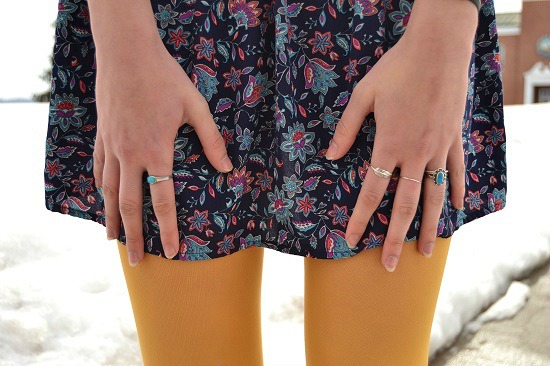 KiKi's mix of silver, bohemian-style rings adds some whimsy to her outfit. Some of the rings she chose had turquoise in them, which perfectly complements her blue and yellow ensemble.
2. Leaf Hair Clip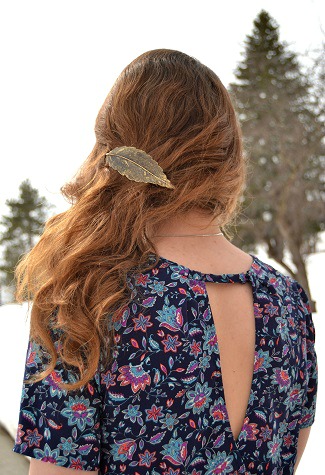 This leaf-shaped hair clip mimics the fun patterns on KiKi's dress and finishes off her outfit nicely. It also draws attention to the cute cutout detail on the back of her dress.
3. Oxfords + Mustard Tights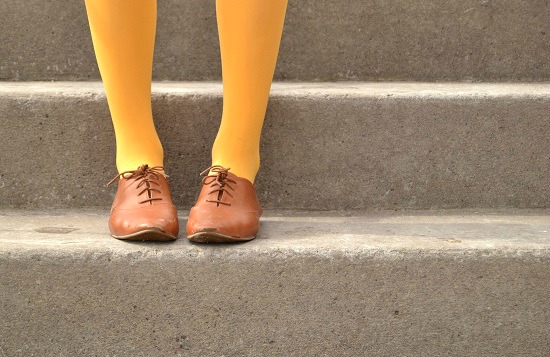 Winter has brought a lot of grays and browns to our campus, so these bright yellow tights create a nice contrast. They also helped brighten up her outfit for a more spring-like look.
Every vintage dresser needs a good pair of oxfords. Not only can they complete a look, but these shoes are super-comfy and can be worn with almost anything.
What do you think of KiKi's vintage-inspired ensemble?
Would you wear bright tights? Do you like pairing oxfords with dresses? Comment below and let us know what you think!