This post may contain affiliate links, which means we may receive a commission if you purchase through our links. Please
read our full disclosure here
.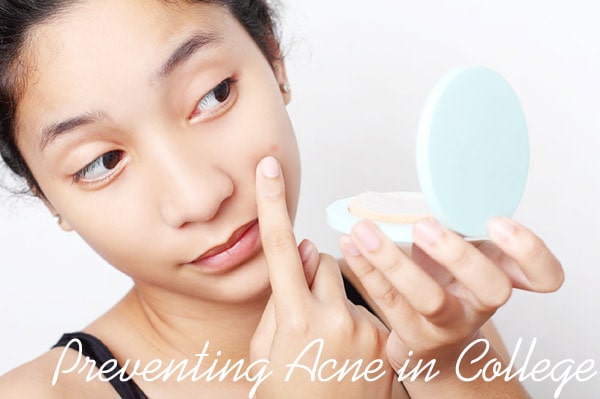 What's the worst thing about college? Exam stress? 8 a.m. classes? Not even close – for me, it's acne.
Getting clear skin in college might actually be harder than getting a degree. Acne is a taboo subject on campus – it's like our zits were supposed to magically dry up when we got our high school diplomas. Though plenty of people do outgrow their skin woes, college is a breeding ground for stress and unhealthy habits that could contribute to breakouts, leaving many of us battling more and more blemishes.
I've dealt with cystic acne since high school. When I got to college, the huge lifestyle change turned my face into a warzone of giant, inflamed pustules. Not very attractive, right?
My skin is my biggest insecurity, and at times it's left me feeling really low. Now that my face is clearing up, I've realized how much having acne has affected the way I see myself. I don't want anyone else to struggle the way I did! So over the next few weeks, I'll be sharing tips onhow to prevent acne, the best makeup for acne-prone skin, and my favorite natural acne remedies.
Note: While I've dealt with more than my fair share of breakouts, I am not a doctor. If you're suffering from severe, painful, persistent acne that doesn't respond to treatment, I highly recommend seeing a dermatologist to find a plan that's right for you.
Acne Prevention 101
1. Keep stress to a minimum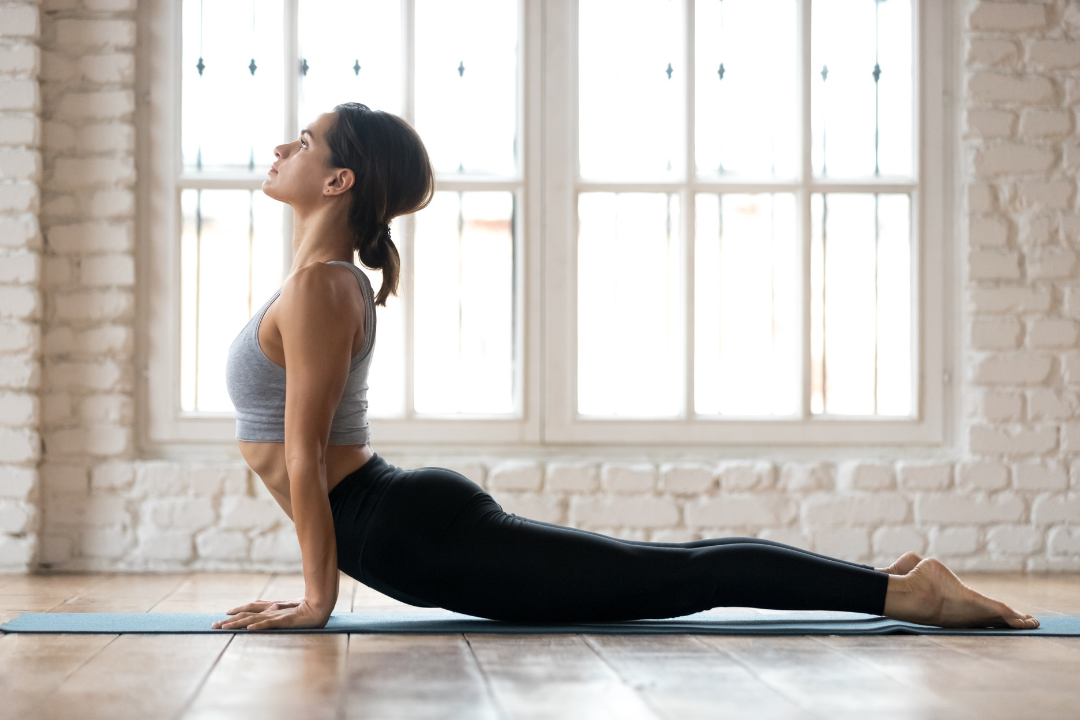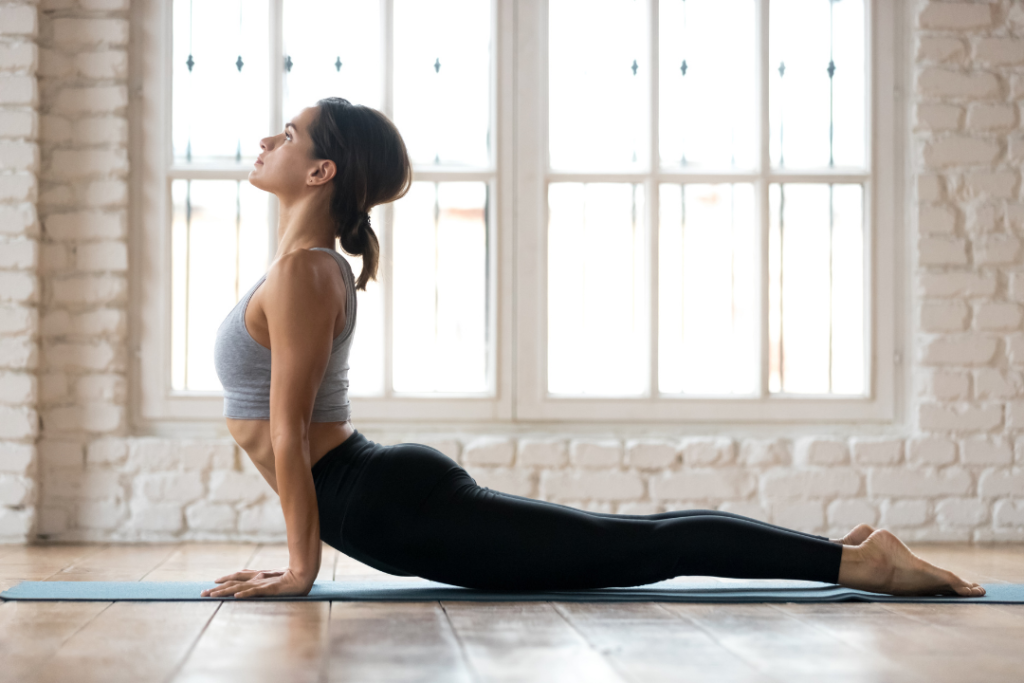 Stress and acne often go hand in hand. When your stress levels increase, so does sebum production. Excess sebum can clog hair follicles and cause breakouts.
I know what you're thinking – How am I supposed to minimize stress when I have two papers and a group presentation due next week? This is something I really struggle with, too, but managing stress is possible if you work at it. Here are some tips that helped me:
Get plenty of sleep. We all have to pull the occasional all-nighter, but constantly messing with your sleep cycle can wreck havoc on both your skin and your mental health. Try to go to bed and wake up around the same time every day, and make sure you're clocking about eight hours per night. (If you have to stay up and study now and then, see our guide to getting back on track after an all-nighter.)
Get organized. Creating a schedule can be a daunting task, but it's amazing how much more you can accomplish if you write everything down. Breaking your workload down into manageable chunks or daily tasks will help you stay calm and focused, even during finals week. For more, see our tips on creating a schedule and de-cluttering your life!
Exercise. Finding time to exercise in college is hard, but it has to be done. If you're constantly feeling stressed, anxious, or unable to concentrate, your hormone levels will spike, which can make your skin go crazy. Exercise helps regulate those hormones, while fighting fatigue and maintaining alertness. I'm a pretty lazy person, so to motivate myself, I like to pretend I'm running with a member of One Direction. (Whatever, don't even act like Zayn isn't adorable!)
Take time for yourself. With all the sleeping, exercising and reorganizing you're doing, you might start to feel a little… stressed. That's why it's really important to take a step back once in a while and do something for yourself. Go to the movies by yourself, buy a trashy tabloid and flip through it with a giant mug of tea, get caught up on your favorite show – focus on treating yourself! Your skin will thank you.
2. Re-think your diet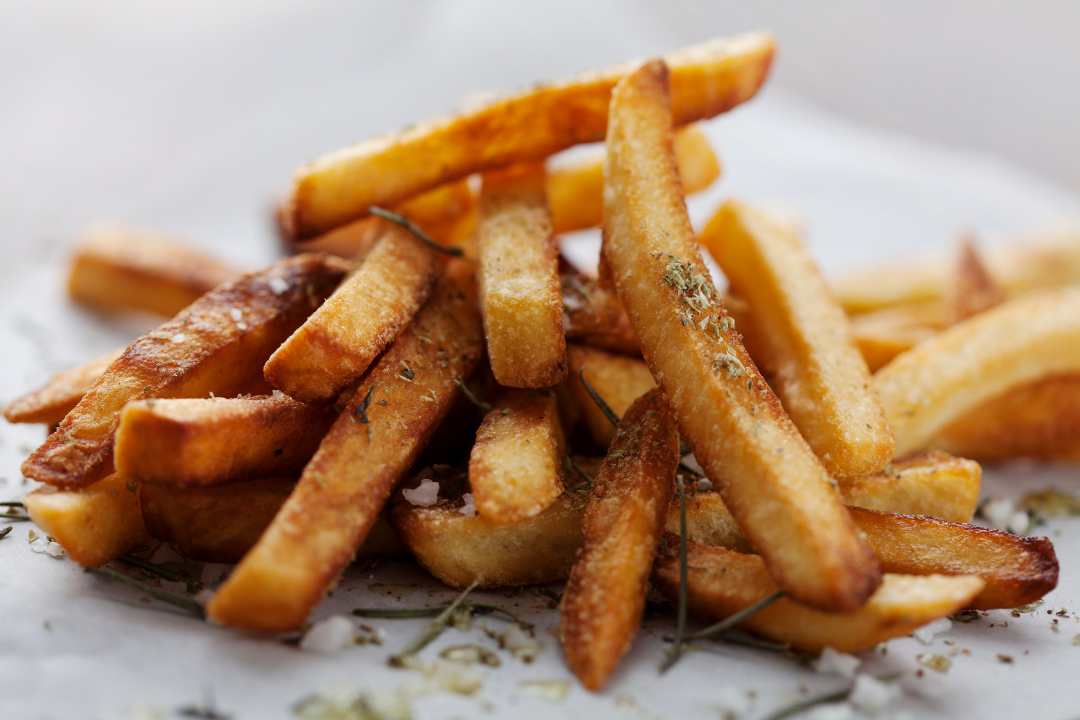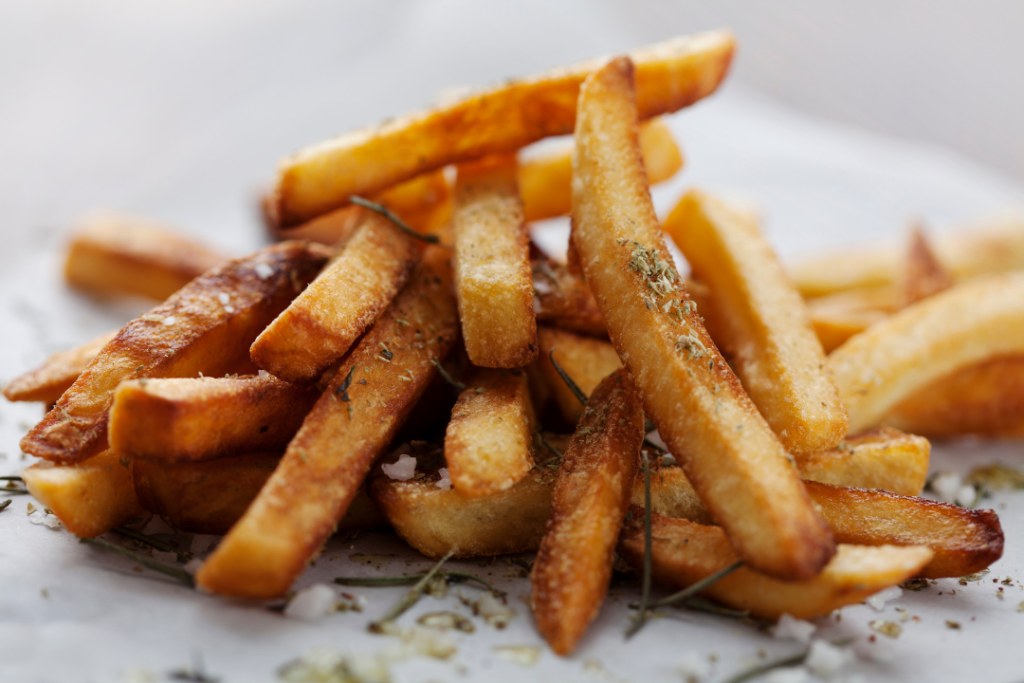 There's a lot of controversy surrounding the connection between acne and diet. Some specialists say that foods have nothing to do with acne, while others say oily, sugary foods are a major contributor to breakouts.
The general consensus? Processed foods can cause hormonal surges, which can lead to excess oil and sebum production. (Which, again, can cause breakouts.)
After testing this theory on myself, I noticed my breakouts got worse whenever I ate dairy, which unfortunately contains hormones that stimulate oil glands. Even though I still indulge in the occasional pint (or two) of Ben & Jerry's, since I started cutting back on dairy, my skin has improved significantly.
My best tip? Keep an eye on what you eat and see if it could be connected to your breakouts, then try to eliminate those foods from your diet and maybe even replace them with so-called acne-fighting foods.
3. Don't touch your face!
This tip is pretty self-explanatory. Keep your fingers away from your face – they harbor plenty of oils and bacteria that will clog your pores and break you out. That goes for picking at and popping zits, too! Picking at a zit, especially if it's a cyst, is only a temporary solution. Rest assured, the zit will return with a vengeance, leaving you with a nasty scar in the process.
Another way to keep your natural oils away from your face is to regularly wash your pillowcases (at least once per week), or sleep with a clean white towel over your pillow.
Best Acne Preventing Skincare Products
As any long-term acne sufferer will tell you, I've tried basically every acne product on the market.
In my quest for clear skin, I've found that you really only need a gentle face wash you can use twice a day, a light moisturizer that can be worn under makeup, and, of course, a topical acne spot treatment for problem pimples. Here are a few of my favorite products!
Face washes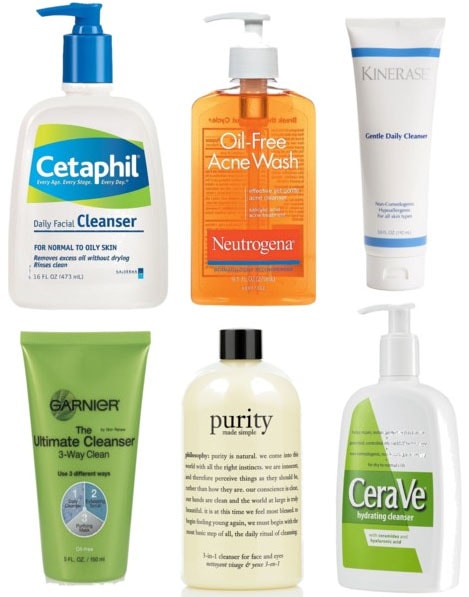 Product Information: Cetaphil Daily Facial Cleanser, Neutrogena Oil Free Acne Wash, Kinerase Gentle Daily Cleanser, Garnier The Ultimate Cleanser, Philosophy Purity Made Simple, CeraVe Hydrating Cleanser
Cetaphil is the holy grail of facial cleansers. It's gentle but extremely effective, and removes every ounce of dirt and oil without being too drying. CeraVe (better for dry skin) and Garnier make similar cleansers, while high-end brands like Kinerase provide the same cleansing benefits while also reducing scarring and dark spots.
I recommend using a gentle cleanser that's not specifically designed for acne, especially if you have inflamed pustules or acne that is deeply embedded in your skin. Sometimes the harsh chemicals or exfoliants in acne washes can irritate the skin further, although Neutrogena makes great, noncomedogenic cleansers specifically for acne-prone skin.
I also stay away from most acne cleansers because they usually don't completely remove all of my makeup, which just traps more oil and dirt under my skin. If you have trouble with removing your makeup, Philosophy's one-step cleanser will remove it in a snap.
Moisturizers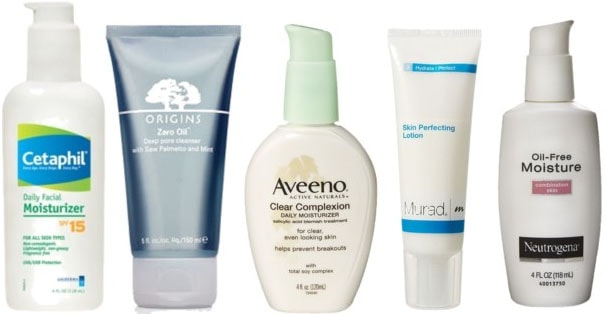 Product Information: Cetaphil Daily Facial Moisturizer, Origins Zero Oil Moisture Lotion, Aveeno Clear Complexion Daily Moisturizer, Murad Skin Perfecting Lotion, Neutrogena Oil-Free Moisture
After cleansing, you should apply a gentle facial moisturizer to keep your skin looking and feeling healthy. Though acne sufferers may be wary of moisturizers and creams, in fact, not moisturizing can cause your skin to produce even more sebum to compensate, exacerbating the problem.
If you're prone to breakouts, you must choose a moisturizer that's noncomedogenic. Noncomedogenic products are much less likely to clog pores and cause even more problems. Origins makes one of my favorite oil-free moisturizers, while Aveeno's Clear Complexion Moisturizer is a good drugstore alternative. For a more intensive facial treatment that actively works to fight acne and other skin woes, try Murad's skin perfecting line.
If you're dealing with acne scars or hyper-pigmentation, finding a moisturizer with SPF is crucial, as sun exposure can make those pesky dark spots fade even slower. Cetaphil and Neutrogena make great SPF moisturizers that won't clog your pores.
Spot treatments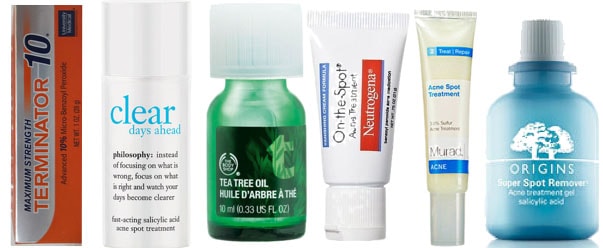 Product Information: AcneFree Severe Terminator 10, Philosophy Clear Days Ahead, Body Shop Tea Tree Oil, Neutrogena On the Spot Acne Treatment, Murad Acne Spot Treatment, Origins Super Spot Remover
I'm actually not a huge fan of spot treatments, and I know they aren't exactly "preventative," but when you have to get rid of a zit in a hurry, a good spot treatment can help speed up the process. There are two ingredients to look for here: benzoyl peroxide and salicylic acid.
If your skin is tough enough to handle benzoyl peroxide, you're in luck. You can handle the most powerful spot treatments, which can contain up to 10% benzoyl peroxide. AcneFree's Terminator 10 is the strongest, most effective spot treatment I've ever tried, but use with caution: It is extremely drying, and once I used it on a group of zits around my hairline and ended up with a bleach stain in my hair! Neutrogena also makes a similar, less intense version.
Those with dry or sensitive skin should stick to salicylic acid or sulphur-based products. These are gentler and help exfoliate the skin from the inside, making it less likely for your zit to return. Murad's spot treatment is the best I've tried, but Philosophy makes a great gentle version and Origins' version helps heal scars. Though they're generally more expensive and take longer to work, your skin will thank you in the long run.
Finally, you could also go the all-natural route and give tea tree oil a try. It can destroy the zit without drying out your skin, though I've found it works better on smaller whiteheads.
Your thoughts?
Do you have any acne prevention tips? What acne-fighting products do you use? If you've already conquered your acne, how did you do it? Be sure to share your stories and advice in the comments!
* Top photo credit: iStockPhoto