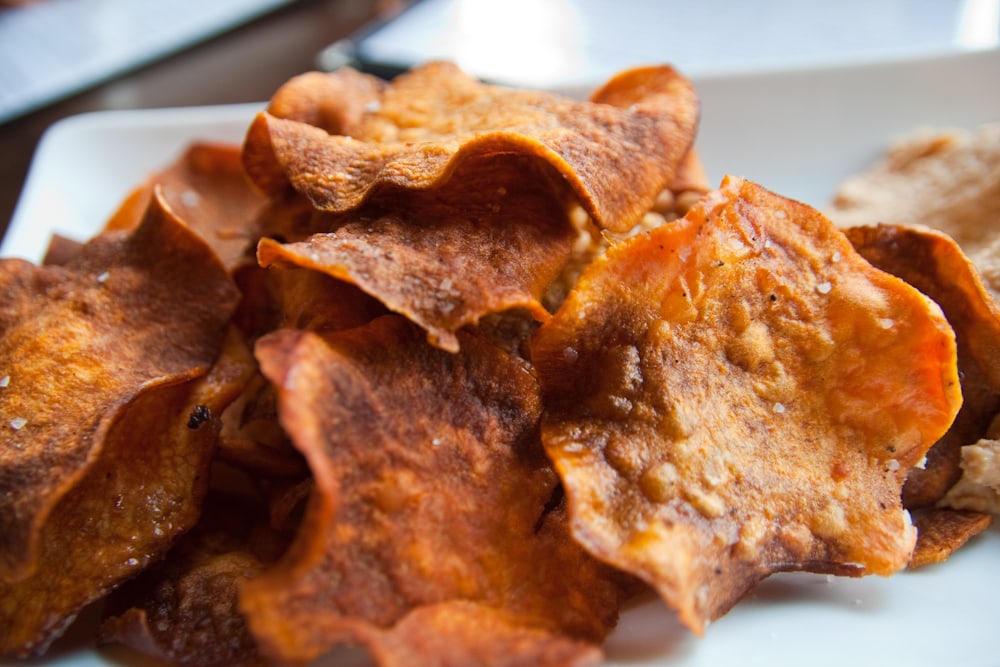 The power is currently out in our apartment and has been for a hot sec, which means I can't cook (unless I wanted to cook in the dark and hand wash all my dishes, which…no) so, of course, all I can freaking think about is cooking. I've been planning menus in my head all week – including some healthy snacks.
Part of eating healthy(ish), for me, is making sure I eat regularly throughout the day so I don't go ham at lunch or dinner because I'm absolutely starving. This means snacks – bananas, fruit bars, and miso soup when I'm at work, but when I'm at home, anything I can whip up is fair game.
Over the years I've found that making my own snacks is infinitely healthier and more satisfying than buying snack foods – plus, it tends to be cheaper. That doesn't mean that I don't buy store-bought hummus and salsa now and again (I'm a busy lady, after all) but I would definitely encourage you to try making some of these healthyish snacks for yourself.
Veggie Chips
Some folks have a sweet tooth, but fam, I have a SALT tooth that demands salty or umami foods when I have a snack craving. This explains my undying love for chips. Since I've been eating healthier, I don't reach for the Lay's unless it's a treat or special occasion. Instead, I go for veggie chips, which have less unhealthy fat and offer more nutrients than regular potato chips.
I would buy bags and bags of veggie chips at Whole Foods or Target for $$$ before I realized that it is super easy to make your own veggie chips with whatever veggies you have laying around. Slice those suckers thin, sprinkle with salt, and bake until crispy. Having a mandoline slicer is a plus for chopping the chips thin enough, but you can definitely get away with a sharp knife and some knife skills if you don't have one.
Hummus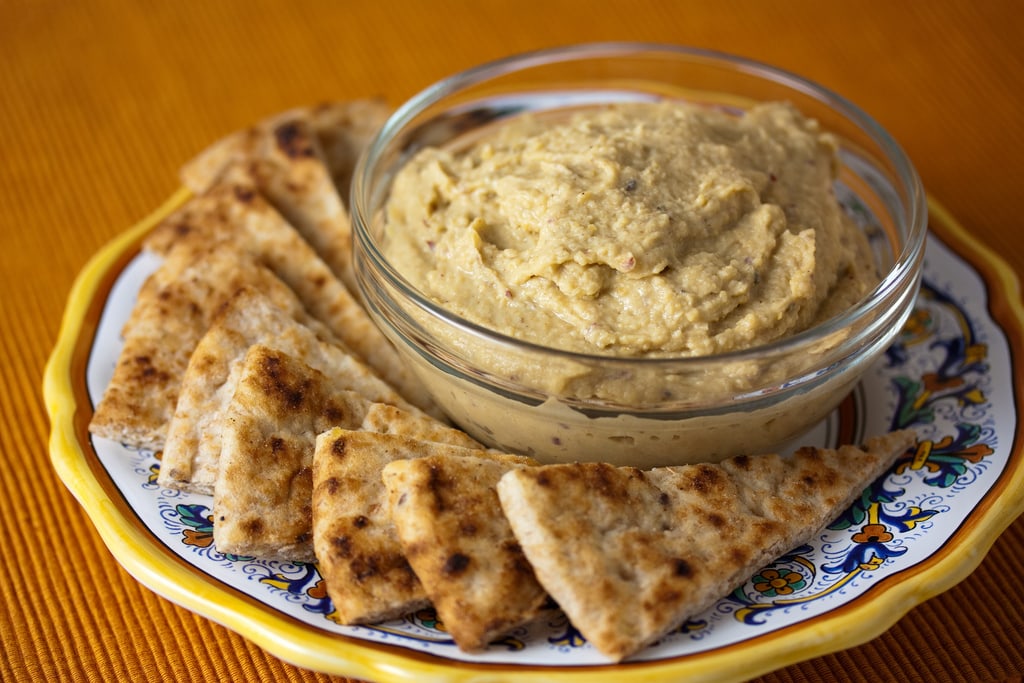 Hummus is a staple snack in my house – I'm legit eating it with lunch as I type this. Hummus is super versatile: it can be used as a dip, a spread on sandwiches and wraps, or as salad dressing. And, like pesto, hummus is surprisingly easy to make and a great way to use up veggies that may be lingering in your fridge.
Not only that, but hummus is a good source of protein and healthy fats and is great for a quick and satisfying afternoon snack – baby carrots and extra garlicky hummus ftw. Plus, it's a breeze to make: Just dump all your ingredients into a blender and give it a few pulses.
Hummus is also infinitely versatile – if you don't like chickpeas, you could definitely sub in beans or roasted eggplant, and if you don't have tahini paste on hand, you can sub in a little extra olive oil, water, or aquafaba.
Salsa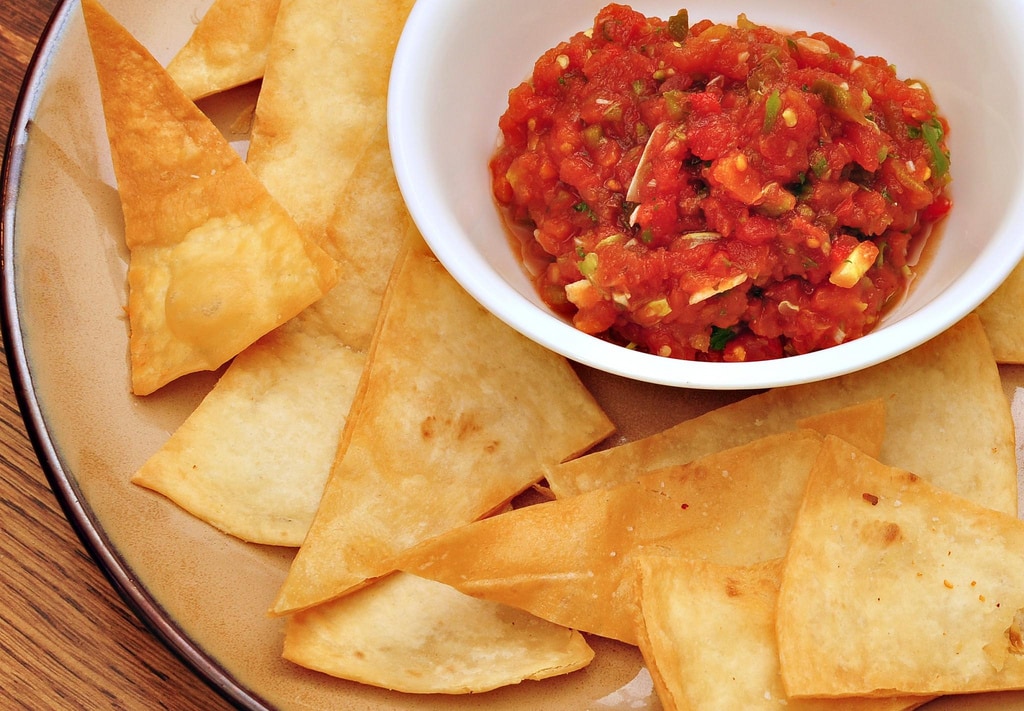 Salsa is another staple at our house, and one that's a snap to make at home with minimal effort – stick tomatoes, onions, and garlic in a blender and give it a whirl, then snack away with tortilla chips. Of course, you can get fancy with roasted veggies, avocado, even fruit if you want, but I find that less is more with salsa – especially when I'm hangry.
Here's the best part: salsa freezes well and will keep for 6 months or so in your freezer, so if you have an abundance of tomatoes in the summer, you can whip up a big batch of salsa and have fresh tomato goodness in your life year-round.
Granola Bars
If you do veer to the sweet side when it comes to your snack game, you're probably no stranger to granola bars, but did you know they're simple to make at home? They require a little more assembly than salsa, sure, but one night of meal prep gives you a week's worth of sweet salty snack goodness, which is worth it, IMO.
As long as you don't go crazy with nuts and seeds ('cuz that ish stacks up quick) making your own granola bars is pretty economical and allows you to personalize your on-the-go snacks to suite your taste. Don't like coconut? Don't add coconut! Love cherries? Add all the cherries! The world is your granola bar, fam.
What do you think?
What are you go-to snacks? Do you make your own snack foods? Have you tried any of these recipes? Let me know in the comments below!