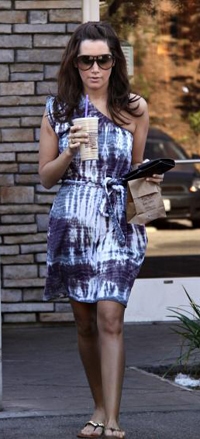 From left: Ashley Tisdale in Gypsy 05, Proenza Schouler on the runway, Jessica Stroup in Dolce & Gabbana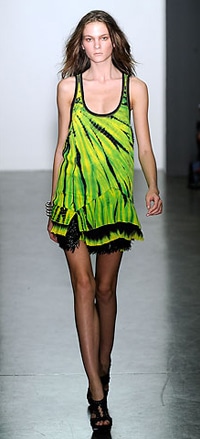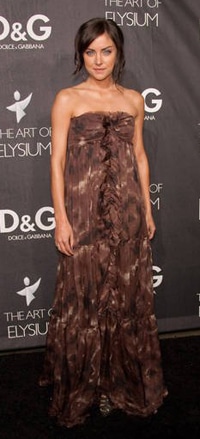 When I hear the words 'tie dye', I immediately think of my stepfather's t-shirts from the seventies that my mom and I finally convinced him to stop wearing. I also think of the poor quality versions I would make with a plain white shirt at day camp every summer.
Tie dye has a new spin, however, and it's quickly becoming fashion-forward again. This season's tie dye consists of more deliberate and wearable colors and patterns, and the fabrics and shapes are much chicer than your typical baggy tee. What was once worn only by hippies is now trendy and – gasp – pretty. The trick is to pair the item with more modern or romantic extras and to avoid the innate hippie-ness (unless that's what you're going for!).
I've created a couple of outfits to demonstrate, below.
Outfit #1: Psychedelic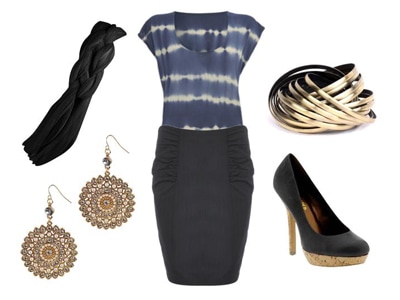 Product Information: Headband: Forever21, Tie Dye Tunic: Warehouse, Gold Bangles: ASOS, Black Pumps: Piperlime, Ruched Pencil Skirt: Dorothy Perkins, Rhinestone Earrings: Forever21
Outfit #2: Groovy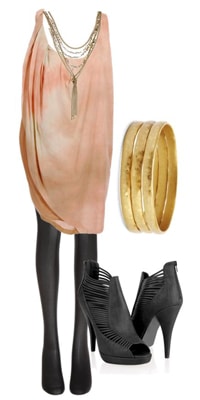 Product Information: Layered Necklace: Urban Outfitters, Tie Dye Dress: Acne, Gold Bracelets: Kenneth Cole, Peeptoe Pumps: Forever21, Black Tights: Barneys
What do you think?
Would you wear tie dye? Or do you think it should have stayed in the past? What tie dyed items do you want for your closet? Let me know in the comments below!