Welcome to the latest edition of Looks from Books, which aims to prove that you can look smart, while still being book-smart, too. Fashion inspiration can be found between the pages of your favorite stories, on well-designed book covers, and in your favorite characters… if you read closely enough.
Summer still remains the perfect time of year to run around in tee shirts and shorts, go on adventures, and try exciting new things – just like you did when you were a kid. Inspired by this "ageless" season, we've turned to the pages of one of our favorite children's stories for a similar bit of inspiration… J. M. Barrie's Peter Pan!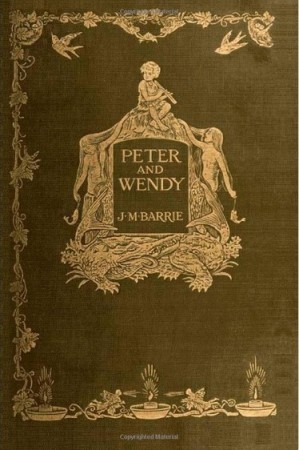 A vintage cover of the original printing of Peter and Wendy as a novel, via Amazon
Inside Cover
Peter Pan, the character, was created by Sir James M. Barrie, in the earliest years of the 20th century.
Peter Pan made his first appearance in a section of Barrie's novel The Little White Bird, which was published in 1902, and written for adult readers. However, after the success of his 1904 stage play, Peter Pan, or The Boy Who Would Never Grow Up, starring the same character, Barrie published the work in a novel adaptation, titledPeter and Wendy, in 1911.
As lore would have it, the inspiration for the character of Peter Pan hit close to home for Barrie. The idea of a boy who would never age, and would be forever separated from his mother, grew from the death of Barrie's older brother (and his mother's favorite) in an accident on the ice, the day before the boy would turn 14.
The basis for the attitude and dynamics of the champion of youth and his associates, the Lost Boys, grew from a young family of boys, the Davies children, to whom Barrie told the first stories of Peter.
A Fashionable Literacy
The story of Peter Pan, beyond its life on stage and in stories, has been adapted into many notable films. Most popular of these are the animated musical edition made by Disney in 1953, and the live-action film made half a century later, in 2003, starring Jeremy Sumpter as the titular hero.
Only the brave may seek fashion inspiration from the costume direction of these films, as they both adhere to the fantasy genre and storybook descriptions for style direction. However, integrating elements of the designs of specific characters – like borrowing a fur vest from the Lost Boys, or elements of brocade or lace from the coat of Captain Hook himself – may allow for some sneaky real-world/Neverland remixing, without looking like you've been stranded on that fantasy isle.
Then again, you can always just stick to the classic fashion embellishment that earned its name from the story: the Peter Pan collar!
How to Add Peter to Your Wardrobe
By channeling some vital elements from Sir J.M.Barrie's many legends of Peter Pan – which go even farther than the movies would show you! – you, too, can have a look fit for spending the day in Neverland.
Kensington Gardens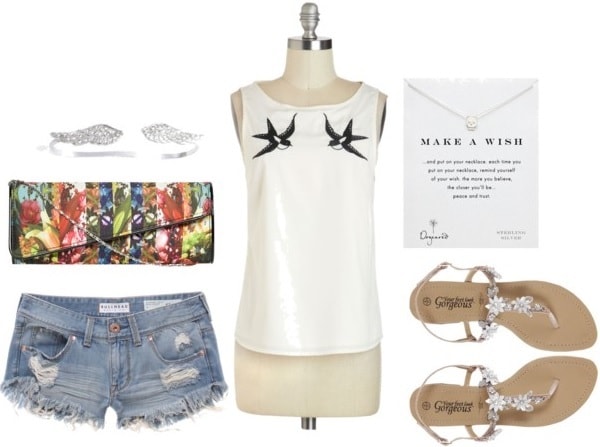 Product Information: Tee – Modcloth, Shorts – PacSun, Bracelet – Nordstrom, Purse – Dorothy Perkins, Necklace – Bloomingdales, Sandals – Asos.
The Little White Bird, an adult collection of stories Barrie wrote in 1902, included "Peter Pan in Kensington Gardens," about a little boy, seven days old, who overhears his parents talking about his life when he grows up, and decides to fly away and live in Kensington Gardens with the fairies. This brief story was all the world got for introduction to the iconic character of Peter Pan, before Barrie released the play Peter and Wendy two years later.
Integrate aspects of Peter's origins into your own look, by paying attention to elements of the origin story itself. An explanation for Peter's first flight, attributed to how children are part bird when they are born, lays the foundation for the tee shirt, as well as the wing bracelet. The flowers and fairies of the gardens appear in a floral handbag and sandals, while destroyed shorts display the kind of damage only a young boy could inflict. A skull necklace plays on the practice that Peter used to dig graves for the children who got lost at night in the Gardens.
Transition Into Adulthood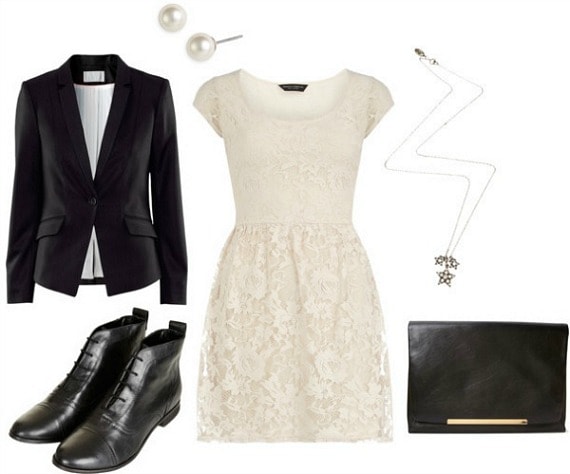 Product Information: Dress – Dorothy Perkins, Blazer – H&M, Boots – Topshop, Earrings – Nordstrom, Necklace – Asos, Clutch – Forever 21.
The most obvious theme of this children's story is, of course, the transition into adulthood, through which all children must eventually pass… save one. Even Wendy grows old one day, and, when she does, there will always be her daughter, Jane, to take care of the spring cleaning. So, too, will Jane grow up, and give birth to her own daughter, Margaret. Even Tinker Bell grows old and dies, and is quietly forgotten by Peter. Everyone must grow up at some time.
Utilize this theme in your look by styling it around Pan's stark and unforgiving outlook on growing up, in black and white. A white lace dress is modeled after Wendy's nightdress, while pearl earrings are modeled after Peter Pan's "gnashing little pearls" of baby teeth that never fell out. A star necklace pays homage to the trail that the children follow to get to the fantasy island. A black blazer, lace-up boots, and an envelope clutch show a dark look at adulthood, with serious and austere basics.
Things That Were Lost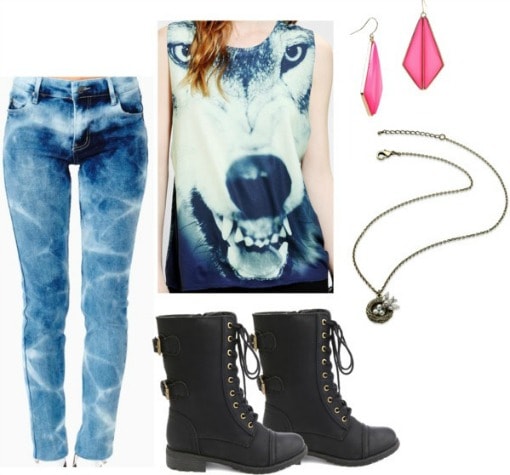 Product Information: Tee – Urban Outfitters, Jeans – Nasty Gal, Boots – Charlotte Russe, Earrings – Target, Necklace – Macy's.
There are many elements of the Peter Pan stories that are rarely mentioned, having themselves been given fewer descriptions in the novels than, say, a pirate fight or a bout with the Indian camp. However, there is more to Neverland than is popularly known in the movies, and the magical nature of the fantasy island is only heightened by the interesting stories of some of its long-forgotten inhabitants.
For instance, Wendy's devoted pet wolf warrants a shout-out in a strong icon tee, while the nightmares that plague Peter's dreams at night manifest themselves in some cloudy tie-dyed dark jeans. The kite that saves Wendy and the Never-Bird that saves Peter in the pirate fight at the Lagoon (the one that sees the saving of Tiger Lily and the "codfish" name-calling to Hook) turn up in kite earrings and a bird's nest necklace. Lastly, the rather intense violence of the stories is subtly referenced by a pair of combat boots.
What Do You Think?
Have you ever read Peter Pan or any of its previous incarnations? Have you ever seen any of the movies, or the musical, or even the original play? What form of adaptation best suits the book, do you think? What do you think of the outfits and the styling tips presented? Let me know in the comments below!