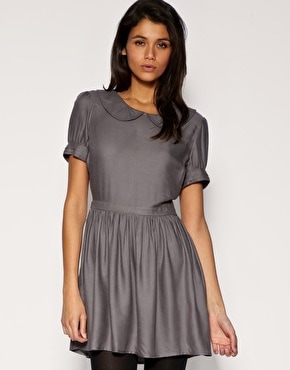 Peter Pan Collar Dresses: 1, 2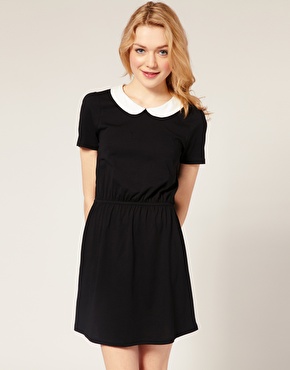 Do you struggle with transforming your outfits from day to night? Don't worry, CF is here to help turn that daily annoyance into a fun challenge. This column will focus on one piece per week, and teach you how to take your look from study sessions in the library to dancing the night away.
Off to Neverland! Okay, maybe I'm too excited about Disney movies, but recently, I've fallen in love with Peter Pan collars. Not only are they classic and chic, but they're still somewhat rare in stores, which means you'll get mega trendsetter points for trying one.
This week, I'll be showing you how to wear a dress with a Peter Pan collar to class and for a night out without looking like you just wandered out of the little boy's section. This simple detail can make a huge difference in an outfit, giving you an ultra-feminine but still conservative, slightly quirky kick. Let's get started!
Peter Pan Collar Dress: Class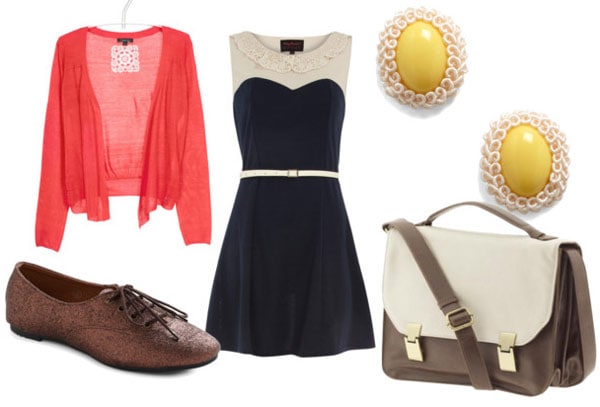 Dress, Cardigan, Bag, Oxfords, Earrings
To make this elegant dress work for daytime, pair it with a lightweight coral cardigan – coral and navy look gorgeous together, and you never know when your professor is going to blast the AC too high. Add a quirky, girly vibe by pairing the look with glitter oxfords and a brown and white messenger bag. Complete the ensemble with a pair of bright but classic earrings.
Peter Pan Collar Dress: Night Out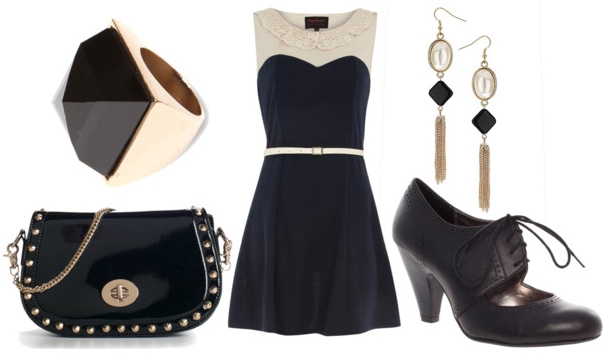 Dress, Bag, Heels, Earrings, Ring
For night, let the dress shine by highlighting its drama with simple yet elegant accessories. To create an extra unique look, try a pair of oxford pumps with cutouts and a spiked black cross-body bag. Accessorize with gold and black jewelry, like gorgeous pearl drop earrings and a simple stud ring, to bring out the Old Hollywood glamor vibe of the dress.
What do you think?
Would you wear a Peter Pan collar to class? What about at night? Be sure to let me know what you think of the outfits in the comments, I'd love to hear your thoughts!