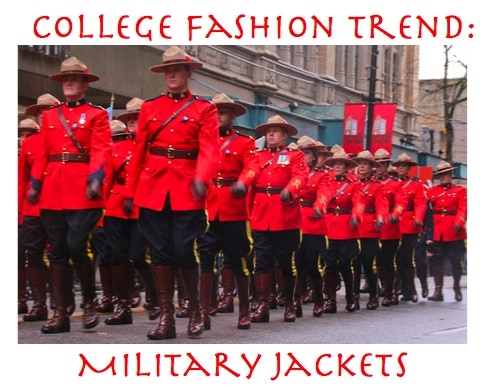 Here in Tucson, it's been a tranquil 75 degrees the past few days; however, fall is still manifesting itself with changing leaves and Halloween decorations going up around town. For some of you, it may already feel like winter!
If you want to keep warm and look stylish this season, one of the most essential pieces for fall 2009 is definitely the military jacket. It's a huge trend on college campuses across the country – I'm sure you've probably seen it at your school already!
Want to get in on this trend? When hunting for a military jacket, there are many options to consider. Follow the following list of questions and you will have a better idea of what to look for! And read on for tips on how to wear a military jacket, as well as cute and affordable options you'll want to score for your closet!
Before You Shop, Ask Yourself…

How long or short do I want my jacket to be? This will depend on your personal aesthetic, as well as your body type.

Do I want a neutral jacket or a pop of color? Brightly colored statement jackets can be a great way to rev up your wardrobe, but a neutral would probably be more practical for everyday wear.

Should I consider cropped or pea-coat versions? Which is more my style?

How heavy do I need my jacket to be (in accordance with the weather)?

Do I like the vintage versions, or is a contemporary translation more my style?
Introductory Examples:
Now that you know what you're looking for, here are a few higher-end military jackets that I loved. These aren't exactly budget-friendly, but they're a good way to get your inspiration going. Keep reading to see some more affordable options you can buy online.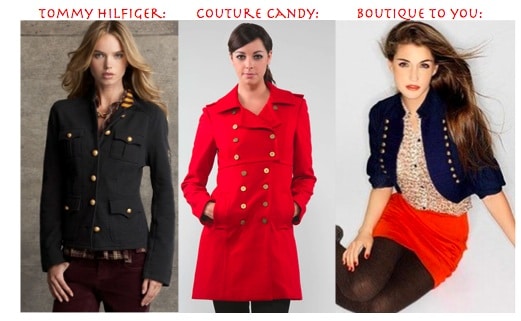 My Favorite Online Picks:
Here are some fabulous military jackets that are available to purchase online right now. Most are fairly budget-friendly for those of us who are trying to save money!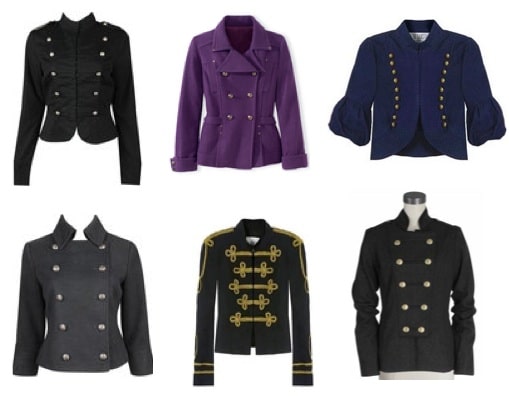 Product information (Clockwise from upper left): Forever 21, Newport News, Chickdowntown, Forever 21, Boutique-To-You, DKNY (through Piperlime)
How to Wear a Military Jacket:
At CF, one of our favorite bloggers is Betty from Le Blog de Betty. She rocks the military jacket trend flawlessly and serves as a great example of how to wear it. Like her style? Then be sure to check out her blogand/or the CF article on her style.
Here are a few photos of Betty rocking the military jacket trend!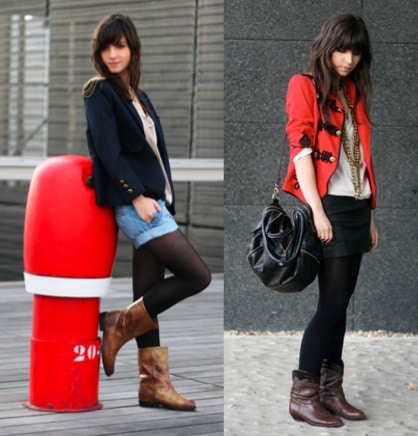 To get your inspiration going, here are a couple of sample outfits I created to show you how to wear a military jacket. The first look is girly and romantic, while the second is a little more edgy.
Option 1: Military Meets Romance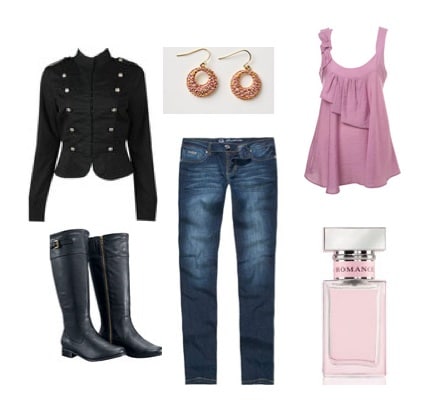 Product Information: Jacket- Forever 21, Jeans- Tilly's, Riding Boots- Avon, Top- Miss Selfridge, Perfume- Romance by Ralph Lauren
Option 2: Edgy and Patriotic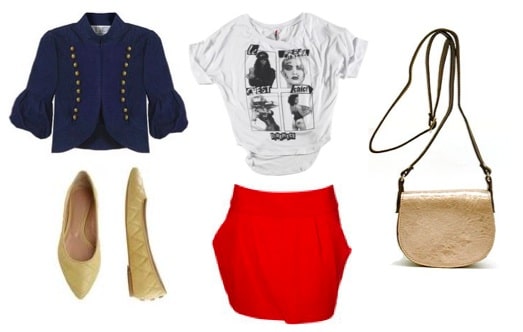 Product Information: Jacket- Chickdowntown, T-shirt- Moxsie.com, Skirt- TopShop, Flats- Chloe, Bag- Shirise
Your Thoughts?
What do you think about the military jacket trend? Do you own one? If so…tell us how you wear it! If not…would you consider buying one?