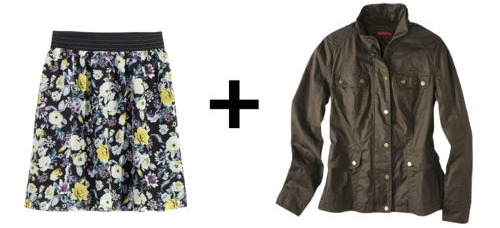 You know those days – the ones where you roll out of bed (after hitting the snooze button too many times), stumble into your closet, and have no idea what to wear? Our series Easy Outfit Formulas is here to help! Every other week, I'll feature two items (which you might own already) that can be paired into outfits for those days when you need some quick and easy inspiration.
I'm a big fan of mixing feminine with masculine, pretty with practical, and summer with fall. I think the combination of a flirty chiffon skirt with a tough utility jacket encompasses all of these qualities, and makes for a polished outfit that still has personality.
A chiffon skirt tends to be more of a lightweight, summery piece, while a utility jacket (also known as an anorak, cargo jacket, or military jacket) is a versatile layering piece for cooler fall weather. Together, they're great for transitioning temperatures and making use of your summer wardrobe for as long as you can.
Want to try out this chic combination? Here are three looks that show how this easy outfit formula can be adapted to different situations:
Cozy for Class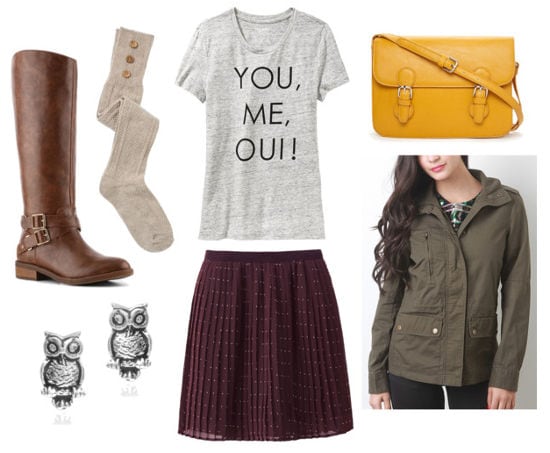 Products: Tee – Old Navy, Skirt – Uniqlo, Jacket – UrbanOg, Bag – Forever 21, Socks – Maurice's, Boots – DSW, Earrings – Overstock
This is the ideal look for a typical day of classes – it's cozy, cute, and layered, so you can enjoy the crisp, cool weather without freezing. Start with a pretty plum chiffon skirt and a simple graphic tee.
On your feet, layer warm knee-high socks under a classic pair of riding boots, and for another layer, throw on your olive utility jacket. A mustard yellow satchel contrasts perfectly with the purple skirt, and a pair of owl stud earrings are a sweet final touch.
Flirty Meets Tough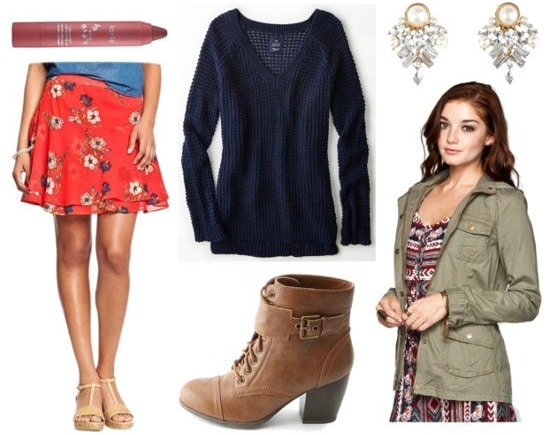 Products: Skirt – Old Navy, Sweater – American Eagle, Jacket – Tilly's, Boots – Charlotte Russe, Earrings – Charlotte Russe, Lip Balm – Sephora
For a casual fall date, I love the idea of flirtier, feminine pieces mixed with tougher, more outdoorsy layers. To pull this combo off, start with a bright floral skirt and a comfy v-neck sweater (I especially love the combination of a bright, red-orange skirt and a deep navy sweater!).
Toughen it up with a utility jacket and lace-up combat boots. Lastly, sparkly earrings and tinted lip balm dress up the look just enough to make it date-appropriate.
Leather and Lace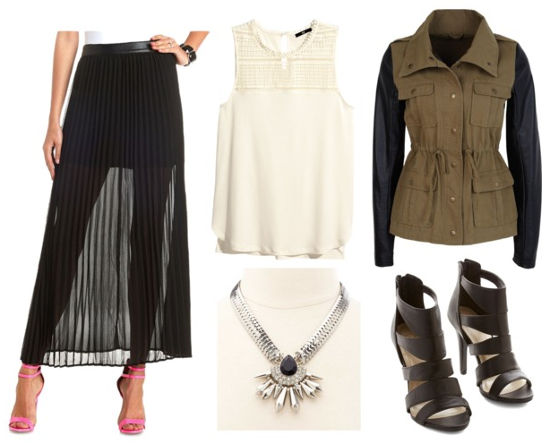 Products: Skirt – Charlotte Russe, Tank – H&M, Jacket – Delia's, Heels – Modcloth, Necklace – Charlotte Russe
This is the perfect outfit for going out in cooler weather (or if you just prefer a more covered-up nighttime look). Mixing leather and lace details keeps it edgy, chic, and youthful. Tuck a lacy white tank into a sheer black maxi skirt, then layer on a leather-sleeved utility jacket for warmth. Dress up the ensemble with a spiky silver statement necklace and strappy black heels.
Share your thoughts!
Do you like the chiffon skirt, utility jacket combo? How would you wear it? Which look is your favorite? Let us know in the comments!