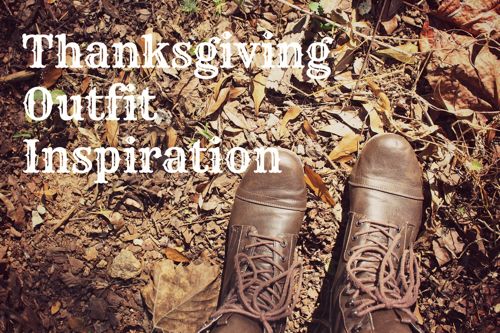 If you're looking for a variety of cute, cozy, and neutral Thanksgiving outfit ideas, you've come to the right place. If you're looking for a turkey, a way to pass your finals, or a recipe for your great aunt's sweet potatoes, than you have not come to the right place. Scroll down to check out the looks:
1. Don't Let Your Summer Dresses Fall Behind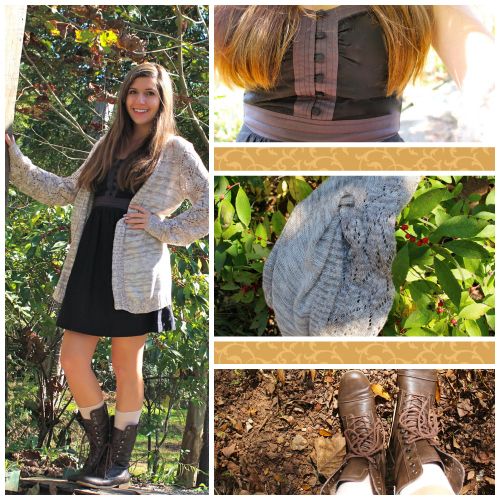 As the title would suggest, here I'm wearing one of my favorite dresses from the summer with my oatmeal cardigan. I wear this cardigan almost as much as I eat oatmeal – in other words, every day. Oatmeal is the breakfast of champions and this cardigan is the layer of champions.
On my feet, I decided to make this outfit look more autumn-appropriate with brown combat boots and some tall tan socks. Tall socks are not only a cute, unexpected addition to any outfit, but they keep your legs warmer, too! I like them on bare legs or over leggings.
Personally, I don't mind wearing brown and black together – would you ever mix them?
2. Sweaters & Chiffon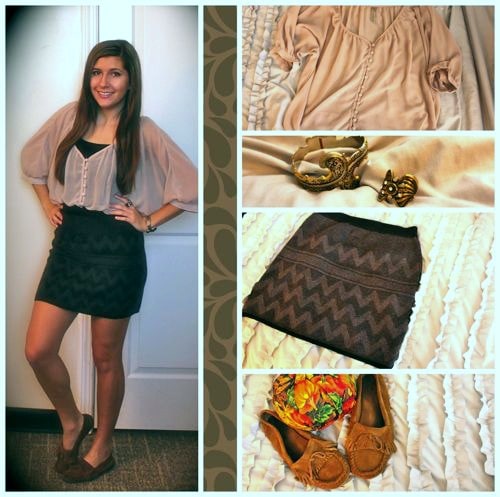 This outfit is like a transformer: it can go from casual, as shown above, to dressy with the addition of heels and more jewelry.
I kept it casual because you never know what's going to happen on Thanksgiving. Someone could forget the pies, dishes might be split, or you could end up searching for you grandmother's renegade cat. Hence, I'm wearing the world's comfiest flats: Minnetonka moccasins.
Like my dress above, this chiffon top has adorable little buttons on the front, as well as bat-wing style sleeves. Since it is loose and flouncy, I wore something more form-fitting on the bottom: a gray chevron sweater skirt. I'm also wearing a vintage bangle and faux-vintage ring.
3. Infinity Scarf Over Neutrals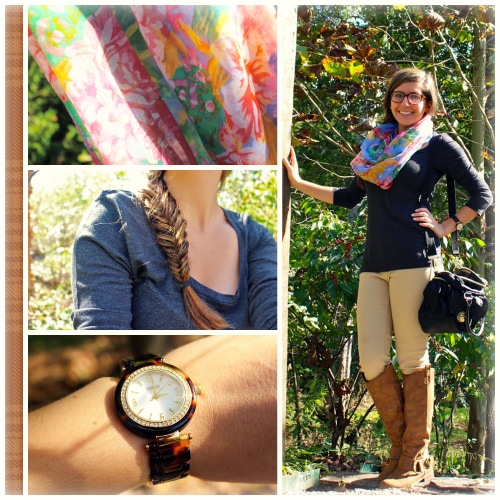 To jazz up the simple neutrals in this look, I'm wearing a colorful floral infinity scarf and a fishtail braid.
Infinity scarves are great for turkeys like me that can't figure out how to wear a scarf. This outfit is perfect for running around or doing some last-minute errands before dinner.
I'd like to pretend that my camel boots and tan pants represent the leaves on the ground and my gray shirt the shadows in between them – but in reality, I just like tan and gray together. I wear this tortoiseshell watch every day (it's by Relic and a good dupe for those infamous Michael Kors watches).
I have a serious question. Have you seen people wearing infinity scarves without looping them? Like a giant, long, loop? Do you wear them this way? Inquiring minds want to know.
4. Autumn Shorts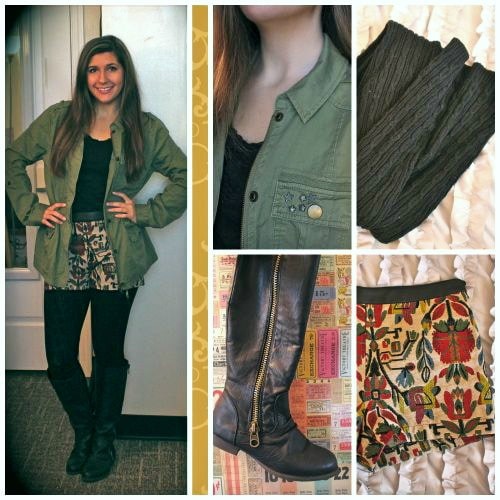 Nothing screams, "fall," like these shorts (unless it's the "Caution: Wet Floor" signs on staircases). To keep all the attention on the shorts, I'm wearing a plain top and black sweater leggings to add texture. Like always, I'm wearing tall boots and a handy dandy utility jacket.
What Do You Think?
Which of these outfits is your favorite? What are you wearing this Thanksgiving? What are your go-to pieces this month? Leave a comment below and tell me your thoughts!