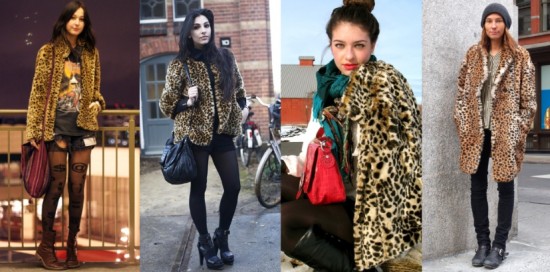 Animal print is everywhere this winter, from clutches to pumps, but one decidedly chic way to sport spots is on your outerwear. Leopard print coats have a luxurious vintage vibe that adds glamor and eye-catching personality to even the most basic outfit. For this "Outfits Under $100" post, I've chosen one wallet-friendly animal-print coat and shown you three ways to wear it.
Add some attitude to your wardrobe and try out this hot trend. Here's one wild coat worn three ways:
The Coat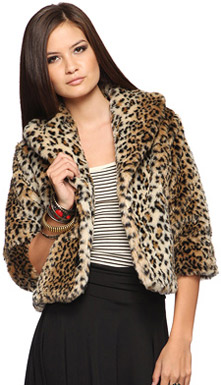 Forever 21 Faux Fur Cheetah Coat, $34.80
Outfit #1: Off to Class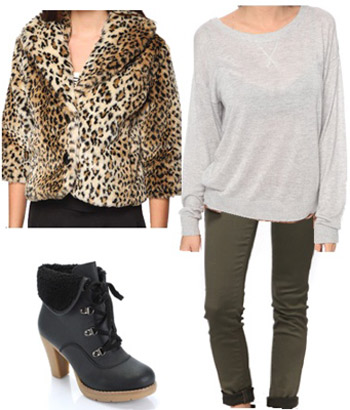 Product Info:Sweater, Pants, Booties
This outfit is a great compromise for the fashionista in you who wants to be stylish and the cold student in you who wants to be comfy and warm. By keeping the tones in the outfit neutral, the coat stands out, and simple pants and a sweater keep the outfit from looking too busy or garish. These on-trend booties are stylish and give you a bit of lift, but the low heel allows for easy walking around campus.
Outfit #2: Date Night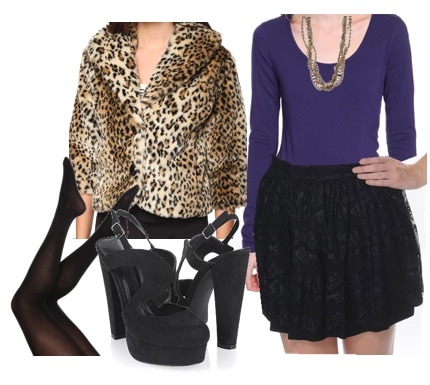 Product Info:Top, Necklace, Skirt, Heels, Tights
Animal print is sexy, so it's a great choice for a date. To ensure you look more sexy than skanky, keep the look ladylike and don't overwhelm the outfit with too much color. Try pairing the coat with a dark jewel-toned piece, such as this purple shirt. It looks great with neutral accents (the heels and tights) and a feminine skirt (this lace option is a great buy).
Outfit #3: Party Time!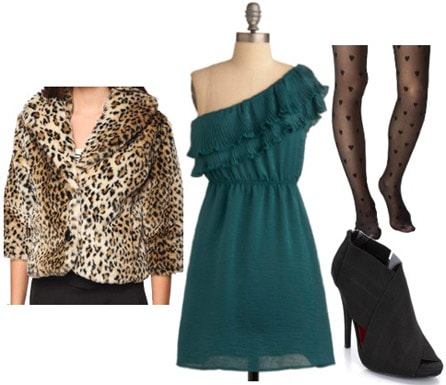 Product Info:Dress, Tights, Booties
New Year's Eve is just a few days away, and this party-ready look is a great option to ring in the new year. Don't be afraid to mix patterns when you wear animal print. As long as the colors don't clash too much, you can wear heart-print tights like these with the cheetah coat. Wearing color with animal print is great, too, especially jewel tones, as seen on this dark teal party dress. It's cool to look effortless, so don't stress too much about patterns and colors.
What do you think?
Would you wear animal print? How about this coat? Do you like these outfits? How would you wear this coat? Please leave a comment!