This post may contain affiliate links, which means we may receive a commission if you purchase through our links. Please
read our full disclosure here
.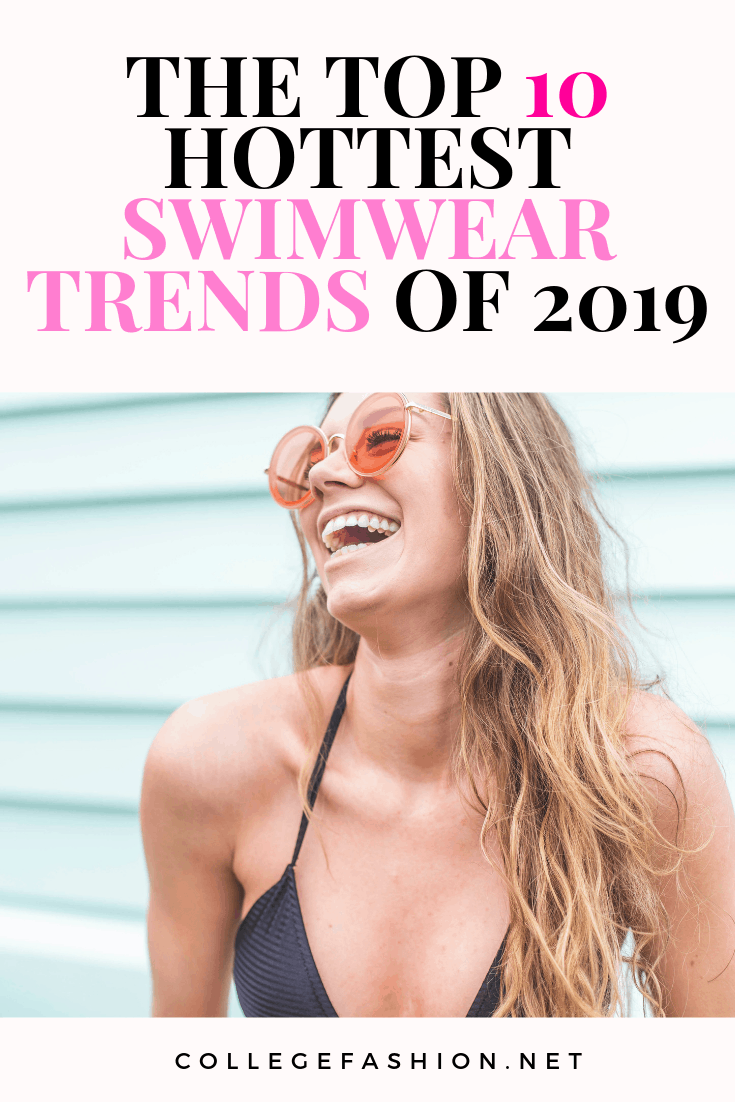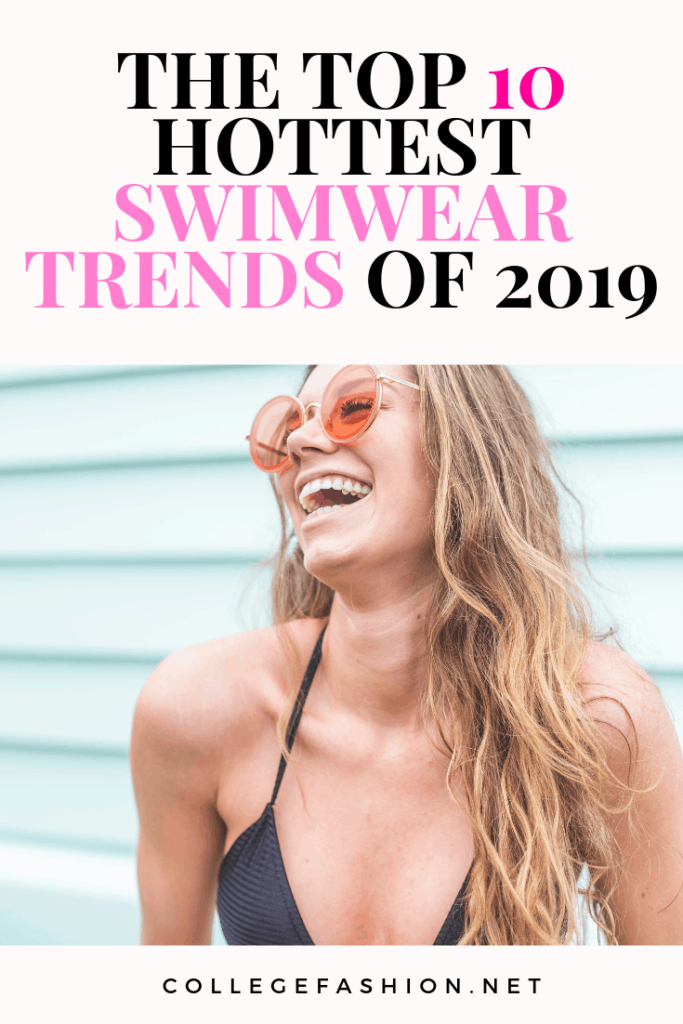 Update: While we stand by this advice, you may want to check out our newest guide to the best swimsuits of 2020!
Unless you're lucky enough to live right by the beach or a pool (in which case, I'm jealous!), you're probably only going to buy a few key swimsuits and sport them all summer long.
That said, swimsuit shopping requires careful research and planning so you can look trendy without breaking the bank. Luckily, we've rounded up the hottest swimwear trends of 2019, so all that's left for you to do is decide which ones you'll be rocking poolside!
Best Swimsuits 2019: Day-to-Night Swimwear
Bikini tops that look like trendy summer tops are the best bang for a college girl's buck! This trend is perfect for both hitting the beach and strolling around the city with your friends. Throw on your favorite denim shorts for a casual look, or a skirt for a cute evening look.
Shop: Striped Top, Off the Shoulder Top, Frill Bikini Top, Scalloped Top
'80s Inspired High Cuts
Channel your inner Baywatch babe with this vintage trend. This cut makes your legs look longer and leaner, which is flattering on almost every body type – especially petite girls who want the illusion of long legs! Plus, high-cut bottoms with a wider waistband bring all eyes to your waistline.
If plunging necklines and teeny-tiny bikinis aren't your swimsuit style, this trend could be the perfect way to show some skin this summer. Pair this '80s-inspired suit with some tiny sunglasses to really complete the look.
Shop: Leopard One Piece, Orange Bikini, Black Bikini Bottoms, Red Bikini Bottoms
Surfer-Chic Swim
This 2019 swimwear trend calls on the best parts of retro and athletic fashion – it's the swimwear equivalent of athleisure!
If a bikini isn't your jam, maybe opt for a sporty tankini. If you prefer to stay covered-up (and avoid sunburns!), go full surfer-inspired and hit the beach in a trendy wetsuit. Zippers, mesh panels and wetsuit-inspired accents are going to be all over swimwear this summer.
Shop: Swim Top, Piped Swim Top, Zip-Up Swim Top, Zip-Up Bikini
Rainbow Stripes
A classic stripe print is a great way to incorporate athleisure into a swimsuit, especially if you opt for rainbow hues. This is a great addition to our best swimsuits 2019 roundup because it's so fresh and fun.
Candy-colored stripes are eye-catching and refreshingly fuss-free, making this trend an easy go-to that requires minimal styling. Plus, stripes never go out of style, so you can store this one for next year too!
Shop: Striped Bikini, Rainbow One Piece, Rainbow Bikini, Metallic One Piece
Belted Bikini Bottoms
By now, you've probably picked up that the 2019 swimwear trends are heavily vintage-inspired. A belted bikini bottom gives off instant vintage-appeal, with the added bonus of a flattering cinched waist. Plus, it totally counts as a swim accessory, which makes styling your beachwear that much easier!
Shop: Printed One Piece, Belted One Piece, Orange One Piece, Belted Bikini Bottoms
Heavy Metal Details
Well, less heavy, more metal. Following up on the idea of incorporating your swim accessories into your swimsuit, rings, hoops and buttons are all trendy accent pieces that will be seen all over swimwear this summer.
This is perfect for those of us who prefer an edgier style, or those who want to show some skin in a subtle way. Silver and gold accents give a modern edge, while tortoise-shell looks cute and retro. There's a little something for every swim style!
Shop: Pink One Piece, Black Bikini Top, Yellow Bikini Bottoms, Sunflower One Piece
Textured Swimwear
Bathing suits in macrame, crochet, and shirred textures are super trendy this summer! A textured swimsuit is a great way to add interest and detail to a poolside look, especially if you're not a fan of bold prints or colors.
Shop: Shirred Suit, Textured One Piece, Striped Bikini, Crochet Bikini
Smocked Swimwear
Smocked fabrics are the perfect medium between tight and stretchy. They're popular for providing lots of support without being too constricting, making them a great choice for almost every body type.
If you're worried that the textured swimwear trend wouldn't provide the right amount of support or comfort, a smocked set could be your perfect match!
Shop: Yellow Smocked Top, Black Smocked Top, Striped Halter Set, Green Smocked Set
Trendy Cut-Outs
There is no shortage of sexy cut-outs for summer swimwear. Every swimwear brand you can think of has its own version of a cut-out bathing suit, and we don't mind at all!
Whether you prefer a ladder-style cutout, a midriff cut-out, or an entire side cut-out, there's a swimsuit for you. Just remember to apply sunscreen!
Shop: One Shoulder Suit, Leopard One Piece, Purple One Piece, Orange Bikini Top
Swim Cover-ups
This wouldn't be a best swimsuits 2019 guide without something to wear over your swimsuit! Bikini cover-ups are essential to a beach-side (or pool-side) wardrobe! With all the selection from sarongs, to dresses, to breezy kimonos, why stop at a two-piece bikini set?
Cover-ups are so underrated, but picking one that is similar in style, pattern or color to your swimsuit looks so put-together and chic that you could even wear it after you leave!
Shop: Shorts, Sarong Skirt, Pants, Dress
What did you think of our best swimsuits 2019 guide?
What are your favorite swimwear trends? What will you be rocking this summer? Do you prefer the beach or the pool? Let's chat about it below.