I'll be the first one to admit it: When the weather is hot and the air is humid, I tend to get a little bit lazy when it comes to planning my outfits. Why go over-the-top when I'm just going to sweat all day? After a few minutes of contemplating something super stylish, more often than not I fall back on my everyday go-tos of a white t-shirt and denim shorts.
As plain and simple as this outfit may appear, however, the t-shirt-and-shorts combo can become so much more with just a few accessories. Today, we'll be taking this classic duo and crafting three different looks suitable for this season's hot weather. As always, make sure to pay attention to the power of accessories!
Look #1: Nautical Prep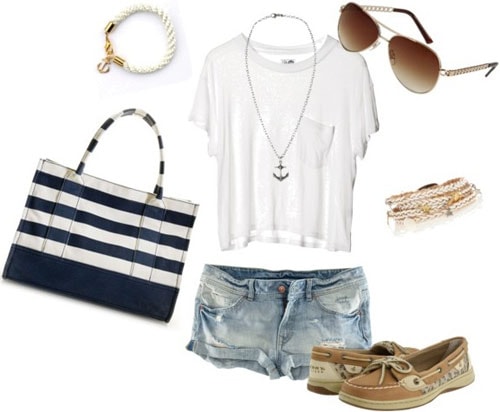 Product Information: Shirt, Shorts, Anchor Bracelet, Tote, Sunglasses, Necklace, Bracelets, Shoes
Regardless of whether or not you own a boat, nautical-themed outfits are always, well, a splash during the summer! Wear this outfit to hang out by the water's edge or to get lunch at an outdoor patio.
While the basics of the outfit (white tee, shorts) are simple, a large striped tote will add drama and color to the look. Accessories featuring anchors or sailboats will keep the nautical theme alive and a good old fashioned pair of Sperry's will pull the outfit together. If the whole-body theme is too much for you, simply substitute in your favorite pendant necklace or bracelet to tone down the look – either way, this look will scream, "It's summer and I'm on a boat!" To me, there are few better words in life!
Look #2: Make A Statement (Necklace)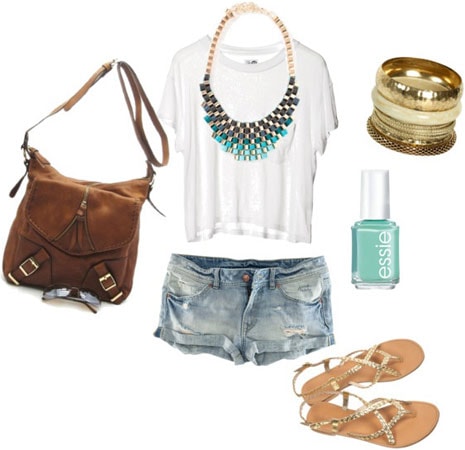 Product Information: Bag, Necklace, Shoes, Nail Polish, Bangles
This outfit illustrates the power of a statement necklace. Out of all the accessory trends this year, statement necklaces are my absolute favorite. A large, attention-grabbing piece of bling around your neck will distract anyone from the simplicity of the look. Play up the necklace's power by adorning yourself in complementary colors; gold bangles and gold sandals highlight the necklace's glam undertones and turquoise nail polish (yes, nail polish is 100% an accessory!) adds one more boost of color to the outfit. Essie is by far my favorite brand, and their spring collection has some amazing new hues!
Look #3: Pretty Rings and Boho Scarves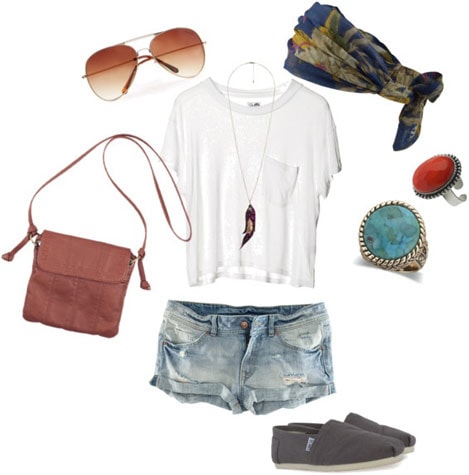 Product Information: Sunglasses, Bag, Necklace, Scarf, Red Ring, Teal Ring, TOMS
Head scarves are making waves this summer with their boho-chic simplicity. What better way to cover up a bad hair day or shade your scalp from the sun than this stylish alternative? Let your boho-glam be the focal point of this outfit; accessorize with simple pieces such as a feather pendant necklace or colorful rings. TOMS and a simple crossbody bag will complete the look without distracting from the main attraction. This simple, stylish, and practical look is perfect for any hot and lazy summer day.
Your turn!
My go-to summer staples are a white t shirt and denim shorts. While this combination may seem ordinary and plain at first sight, by adding a few different accessories, I can create completely new looks each day! Doing so guarantees that I am not only saving money and looking stylish, but I'll also be staying cool and comfortable in the summer heat.
Now, of course, it's your turn! What do you think of the outfits featured above? Would you do anything differently? Where would you wear some of these outfits? What are your summer staples? Make sure to leave your thoughts in a comment!