The nautical look is one of those ageless trends that seems to come back into fashion every few years. And with good reason! The look is classic and flattering; it's about adding flair to your style. This spring, nautical fashions have been all over runways–Derek Lam and Marc Jacobs have both added nautical accents to their recent collections. Want a taste of their style? Use my fact sheet as a guide!
How to Rock The Nautical Look: A Spring/Summer 2010 Fact Sheet
Key colors:
The most important nautical colors are navy, white, and red-orange. These three colors are notably nautical, and when paired together, the look will be unmistakable. Denim can also have a nautical feel!

Product Information: Patchwork Stripe Cardigan, Asos. Distressed Ivory Denim Skirt, Fred Flare. Leather Strap Fair Trade Sandals, Fashion Conscience. Nautical Check Scarf, Peacocks.
Patterns and Shape:
The nautical trend is all about stripes and structure. With patterns, try to create some balance for a streamlined sailor look: if you're wearing a striped shirt, wear a solid bottom. Afraid of stripes? Don't be! The thin, horizontal variety are slimming. When wearing wider stripes, try to define your shape with a belt or, try a boyfriend blazer to hint at the trend and highlight your fashion sense!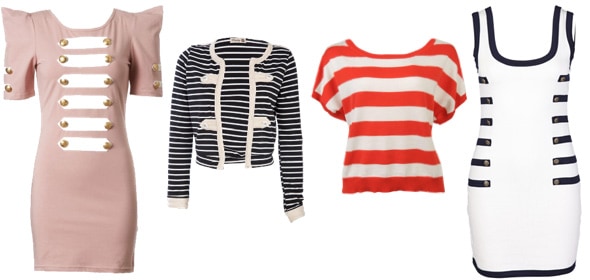 Product Information: Button Nautical Dress, AX Paris.  Miso Nautical Jacket, Republic. Striped Sweater Top, Forever 21. Contrast Dress, Bardot Fashion.
Shoes and Accessories:
Sperry TopSiders are obviously the logical nautical shoe pick, but other flat sneakers like Toms or Keds maintain a nautical edge. Espadrilles are a cute (and trendy!) option, too! For accessories, chunky gold jewelry, anything with ropes or knots, anchor accents, and bucket hats are safe bets.

Product Information: Striped Anchor Headband, Style Compare. Neptune W Rope Sandals, Opening Ceremony. Anchor Heart Ring, Topshop. Nautical Stripe Flats, Forever 21.
Nautical Dos and Don'ts
Do: Pick one piece and go from there.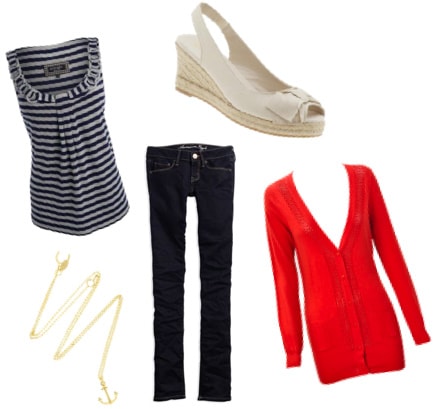 Product Information: Stripe Ring Top, Debenhams. Giles & Brother Gold-Plated Anchor Necklace, Net-a-Porter. Deep Indigo Skinny Jeans, American Eagle. Natrualizer Boyer Espadrilles, Piperlime. Long Cardigan, Valleygirl.
You can build a perfect nautical-inspired outfit with just one great piece. Bucket hat? Wide-leg pants? Sailor shorts? Pick one, and make your outfit from there!
Navy and white stripes are probably the most iconic staples in a nautical closet, so try them if you're feeling classic! For this outfit, I used the traditional striped shirt as a nautical base, and then styled around it. Then, I added the anchor necklace and espadrilles for a look that's cute and trendy with a hint of nautical style. The simplicity of the jeans and cardigan mellow out a look that could have become too over-the-top or cutesy.
Don't: Wear 10 nautical pieces at once!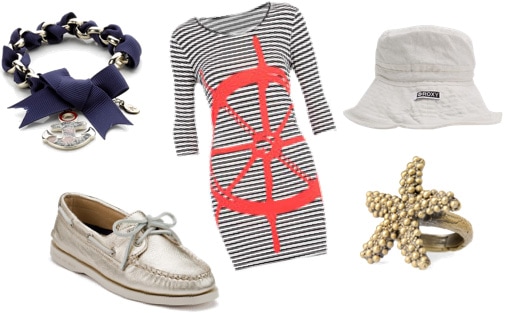 Product Information: Floral Anchor Bracelet, Monsoon. Original Metallic Boat Shoe, Sperry Top-Sider. Sailor Dress, Dorothy Perkins. Roxy Top It Off Hat, Swell. Alkemie Starfish Ring, Econscious Market.
I know it can be tempting to go overboard with this trend, but you have to restrain yourself or risk looking costumey. Avoid dressing in all nautical colors and stripes and then topping your outfit off with an anchor necklace and boat shoes! For success, mix and match, but in moderation! Individually, the pieces in this outfit could look adorable. When combined, however, they just look ridiculous.
More Nautical Style
For even more ocean-inspired fashion, see our post, Outfits Under $100: Nautical Inspirations. There, we'll show you nautical-chic outfits costing less than 100 dollars.
Your Thoughts?
How do you feel about the nautical look? Is this a trend that you're into? How do you plan to wear it? Tell us what you think with a comment!