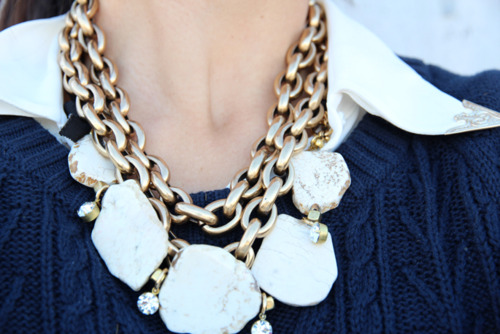 Statement necklaces have been popular for several seasons now, but if you haven't gotten in on this trend yet, there's no better time than the holidays to debut this serious piece of jewelry. Statement necklaces are perfect because it's hard to find anything that they don't look good with. This accessory is the definition of versatile: it can dress up even the most casual of outfits and take a dressy ensemble over-the-top.
Read on to see how I styled the same statement necklace (at an affordable $16!) four different ways, and get inspired as to how you can wear your statement necklace over break.
Outfit 1: Catching Up with Friends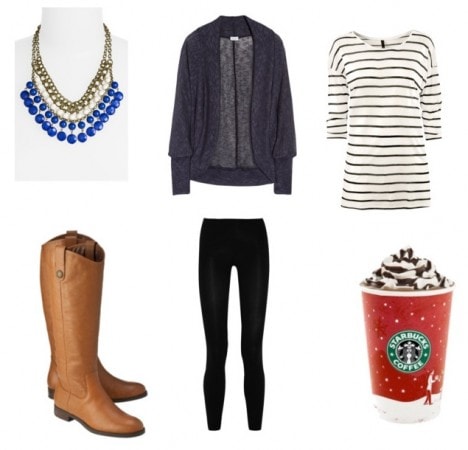 Necklace, Boots, Cardigan, Leggings, Shirt
This outfit is perfect for a low-key gathering with some of your high school friends. You want to be comfortable as you're catching up on each other's lives, and this legging, striped tunic shirt, and drapey cardigan combo will do the trick. A statement necklace adds just the right amount of glamour to the look.
Outfit 2: Last-Minute Shopping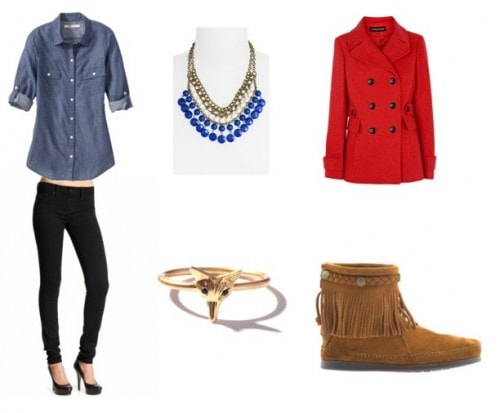 Shirt, Jeans, Ring, Coat, Boots
If you're anything like me, you left some (or maybe all!) of your holiday shopping until the last minute. It can be tempting to wear leggings and a cozy school hoodie to the mall, but you never know who you're going to run into while you're out and about in your hometown.
Put your best foot forward and stay comfortable by pairing black skinnies with a chambray top. A statement necklace keeps the look from being too simple, and flat boots will make it easy for you to shop til you drop.
Outfit 3: Grandma-Approved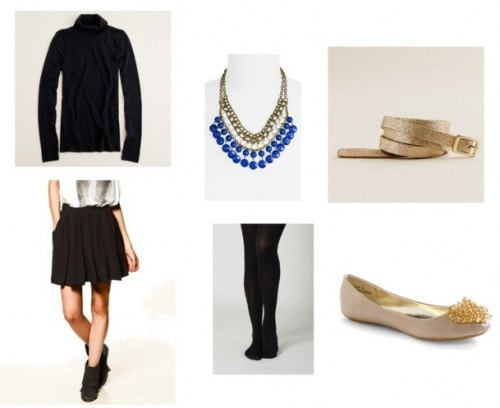 Turtleneck, Skirt, Tights, Belt, Flats
A statement necklace adds the perfect finishing touch to an otherwise simple outfit. Jazz up an all-black ensemble with some metallic touches and, of course, a statement necklace. This look would be perfect for church, synagogue, or any other occasion where you need to dress up but stay covered up: a statement necklace allows you to express your personal style while keeping your outfit on the conservative side.
Outfit 4: Spring-ing Forward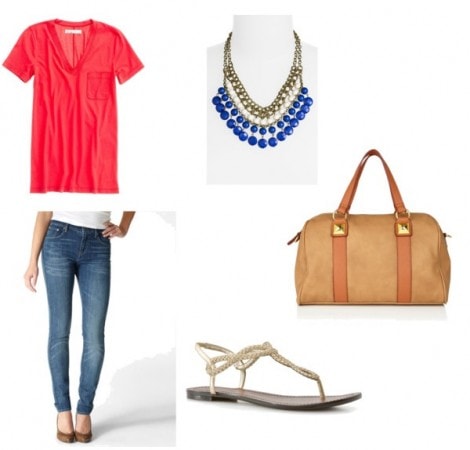 I say it's never to early to start planning for spring fashions, and one of the best things about statement necklaces is that they work in all seasons! Wear one now when it's cold outside, and rock it again in warmer weather. When paired with a bright-colored v-neck, simple jeans and sandals, and a neutral bag, a statement necklace is the only accessory you need.
What Do You Think?
Do you own a statement necklace? What do you think of the trend? Which outfit is your favorite? What other types of items would you like to see featured in "One Item, Four Ways?" I'd love to hear from you, so be sure to leave a comment!