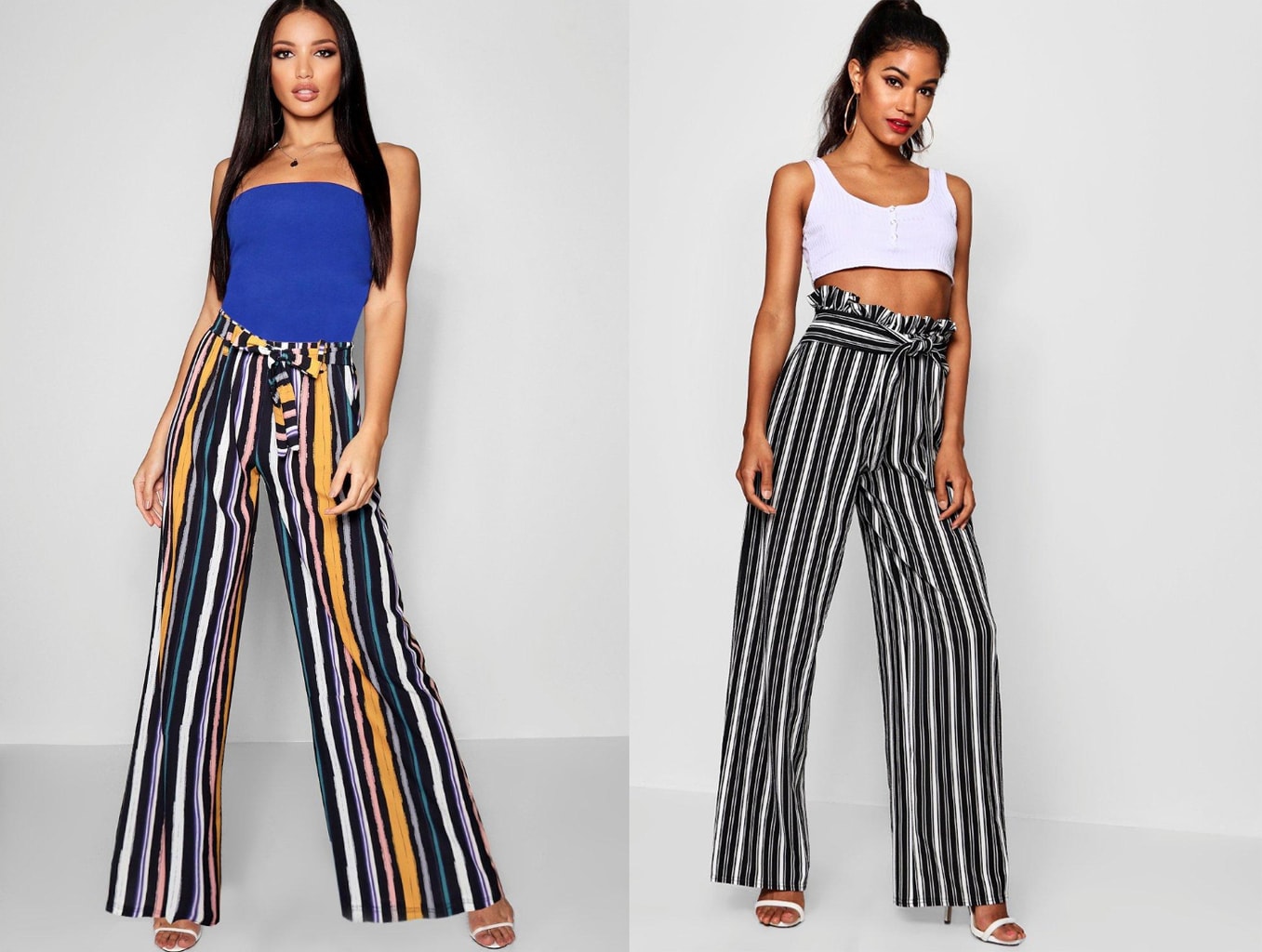 In case you aren't following a million fashion bloggers on Instagram, take it from us: striped wide leg pants are everywhere right now. These trousers are definitely statement-makers, and they require a little finesse to style correctly. Below, I'll show you how to wear them during the day and for a night out.
How to Wear Striped Wide Leg Pants – Outfit for Class: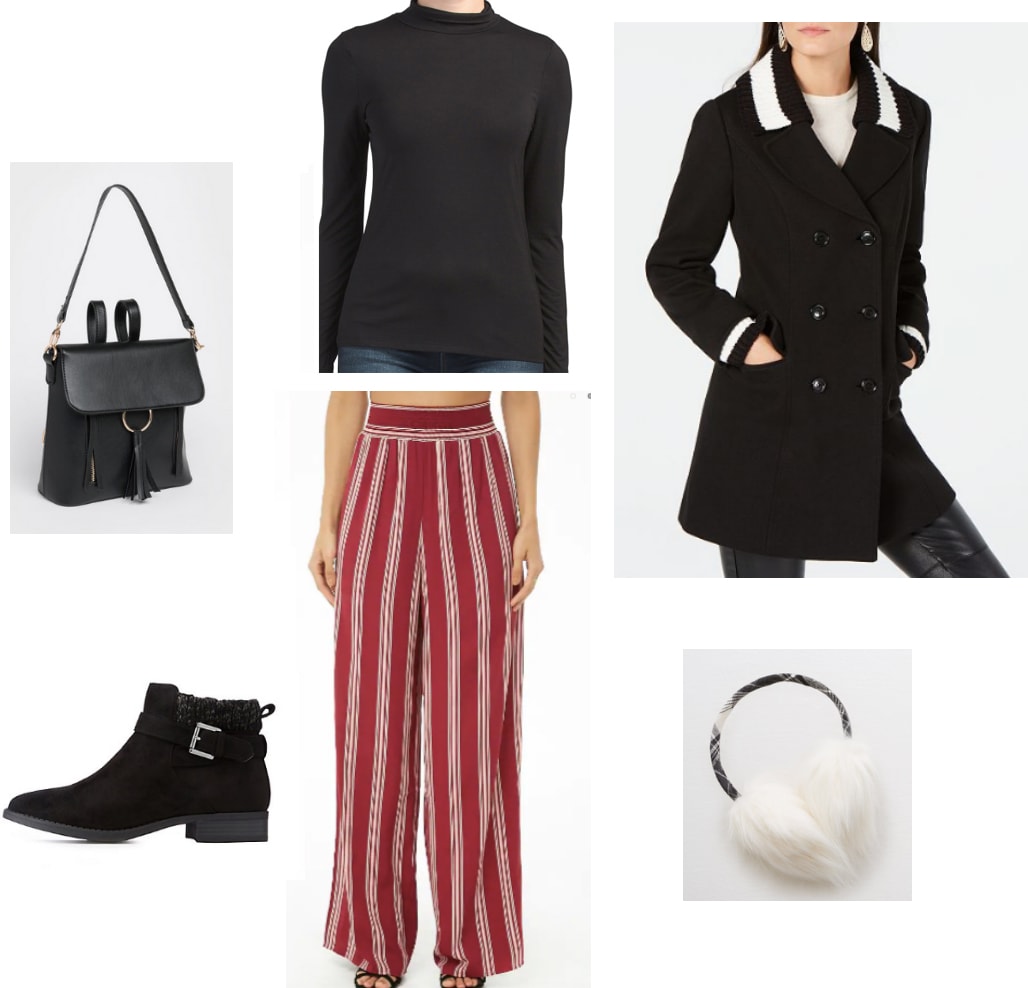 Products: Palazzo Pants – Forever 21, Ankle Boots – Charlotte Russe, Turtleneck Top – TJ Maxx, Peacoat – Macy's, Earmuffs – American Eagle, Backpack – Ardene
It's easy to wear these statement pants for daytime — it just requires a little styling ingenuity. Start by rocking your pants with a simple black turtleneck to keep the focus on your bottom half while staying warm. Next, add simple ankle boots — you want to make sure your feet are warm but also to make sure that your pants are the statement piece. A basic pair of shoes accomplishes this to perfection.
Because you are going to class, you don't necessarily need to be too accessorized so skip the jewelry and keep it really simple with some earmuffs for the long walk across campus. Throw on a coat and put your essentials in a cute yet functional backpack and you're good to go!
How to Wear Striped Wide Leg Pants – Outfit for Night: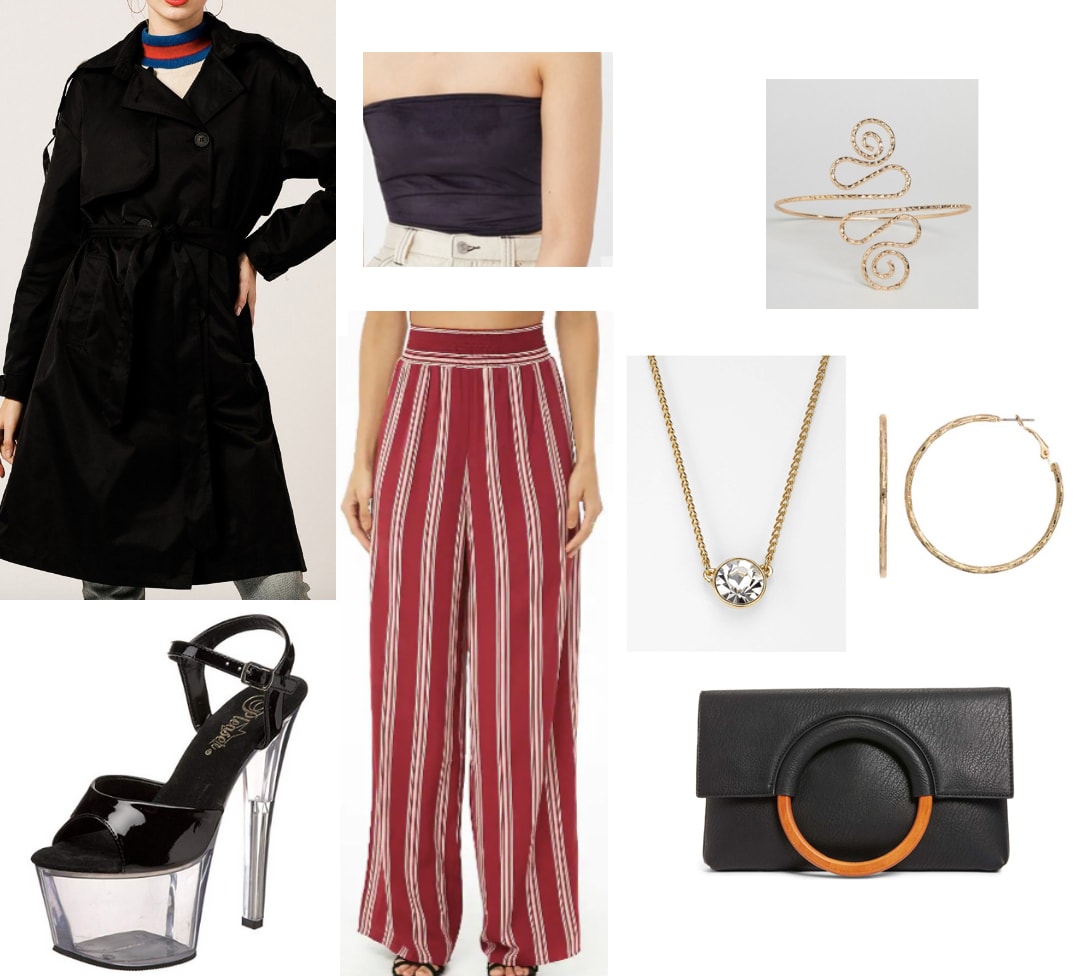 Products: Palazzo Pants – Forever 21, High Heels – Amazon, Tube Top Crop Top – Urban Outfitters, Arm Cuff – ASOS, Hoop Earrings – Kohl's, Winter Coat – Azalea, Necklace – Nordstrom, Bag – Nordstrom
Now, let's grab those same striped pants and style them for a night out! This outfit is ideal if you are going to be outside for less than 10 minutes and inside for the remainder of the night (which hopefully is the case if you live somewhere cold).
I love how these pants look when styled with a serious pair of platform heels like these ultra-trendy perspex ones. Heels and palazzo pants are the perfect combination, as your legs will look a mile long! Then, pair this outfit up with tube top crop top (another super trendy piece). Since this outfit is pretty basic on its own, let's have some fun with jewelry. A pretty pendant necklace is understated yet glam, while a cool arm cuff is fun and unexpected. Tie your hair in a ponytail to show off a pair of killer hoop earrings.
Since winter is almost here, finish this outfit off by pairing it with a thick winter coat. In the case that you are outside for longer than 10 minutes, layer on some winter accessories like a pair of gloves or the earmuffs from outfit one. Of course, to complete this outfit, you will need a purse to carry all of your essentials — I love this cool ring clutch for just about any occasion.
Yay or Nay?
Do you like wearing patterned trousers like these? How would you style them? Let us know in the comments below!