This post may contain affiliate links, which means we may receive a commission if you purchase through our links. Please
read our full disclosure here
.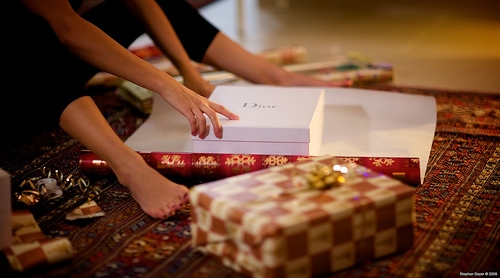 With the Holidays right around the corner, it's time to start thinking about gifts for your family and friends. Shopping can definitely be a cause of stress during this time of the year, and since we all have finals and papers to write, I want to help make this holiday season as easy as possible by providing you with gift ideas.
Ready to see more? Read on to check out 45 fabulous gift ideas for your mom, roommates, and friends. The best part? They're all under $50!
15 Gift Ideas for Your Girlfriends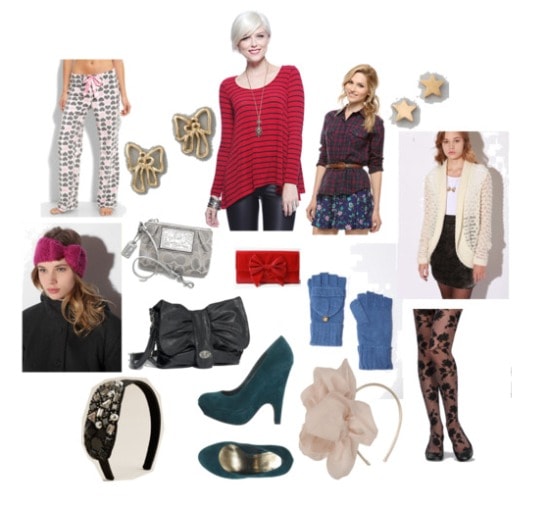 From top, left to right:Pajamas, Bow Earrings, Striped Tee, Plaid Shirt, Star Earrings, Bow Headband, Coach Wristlet, Red Clutch, Gloves, Sweater, Headband, Purse, Heels, Flower Headband, Tights
These fashion-related gift ideas would be perfect for your most stylish friends or family members. All these items would be great additions to any fashionista's closet, but they won't break your budget. The floral tights will add a nice detail to any outfit, while the teal color of the heels will provide a wonderful pop of color during the dreary months ahead.
15 Gift Ideas for Your Roommates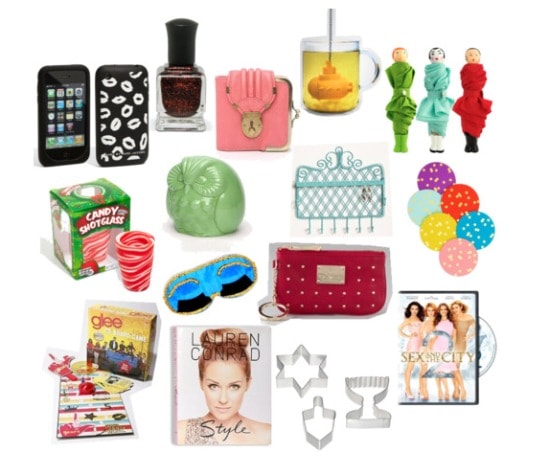 From top, left to right:iPhone Case, Nail Polish, Wallet, Tea Sub, Umbrella, Shot Glass, Owl Bank, Jewelry Holder, Coasters, Sleep Mask, Clutch, Glee Game, LC's Book, Cookie Cutters, SATC2 DVD
These gifts will make perfect presents for the girls in your life that love to have fun. The tea sub is a great gift for your tea-loving friend, while the adorable umbrellas will keep your friends dry and stylish. You can both have some fun with the Glee board game, or make some festive Hanukkah cookies together! Buy your friend one of these gifts, and you're sure to bring a smile to their face.
15 Gift Ideas for Your Mom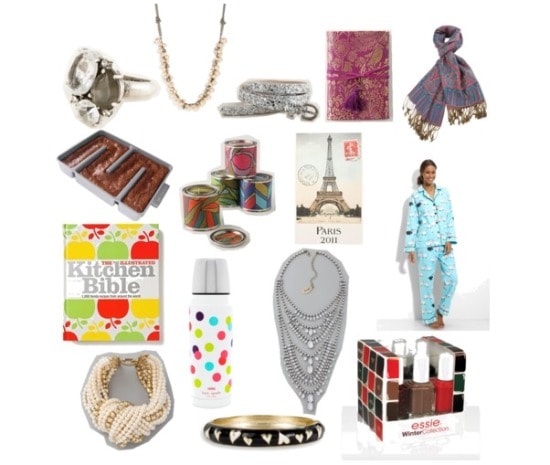 From top, left to right:Ring, Necklace, Belt, Journal, Scarf, Brownie Tin, Candle, Calendar, Pajamas, Cookbook, Pearl Bracelet, Coffee Mug, Heart Bracelet, Diamond Necklace, Set of Nail Polish
I always make sure to buy my mom something she'll love for Christmas – it's a little way to say "thank you" for all that she does for me throughout the year. Wanna do the same for your own extra-special mom? These gift ideas are sure to make her feel loved and appreciated, while also giving her something that she wouldn't normally get for herself.
Does your mom love to bake or cook? The brownie pan makes all-edge brownies, while the cookbook will provide recipes for months to come. Or why not pamper your mom with some jewels, soft clothes, or nail polish? Get her these gifts and you'll solidify your status as "best daughter ever."
Even more gift ideas!
Need more gift ideas? Don't worry – we've got you covered. Check back soon for more gift ideas. And for gift ideas for the men in your life, check back in a week or so – we'll be featuring perfect gifts for your dad, boyfriend, male friends, and more.
Thoughts?
Have you already gone holiday shopping? What are you getting your friends and family this year? Do you like these gift ideas? What's on YOUR holiday wish list? Let us know with a comment!