I love selfies as much as the next gal, but they're not the most effective way to present your #OOTD.
Since it's not like you can show off your outfit at a party right now, you're going to have to get creative. While we are all still (mostly) stuck at home, now is the time to try out some new photoshoot ideas.
We've got plenty of tips and tricks for creating the perfect backdrop, lighting, and more, all while in the safety of your own space!
Keep scrolling for the goods.
Related reading: The Best Instagram Poses for the Cutest Outfit Pics
Backyard Backdrop
The only photoshoot tip you really need is: find natural light. The best way to do that? Step outside, of course!
Even if you don't have a perfectly manicured yard, there are likely plants, outdoor furniture, or neat walls around for posing.
No outdoor space whatsoever? Walk down your street and you're bound to run into a cool spot. Or, find a blank wall in your home in front of a window and decorate with your largest indoor plants. Voila!
Tips & Tricks:
Find a field of flowers or trees to get more detail and depth in your photos.
Find colors that compliment you and are guaranteed to make your outfit pop.
Bring the Indoors Outdoors
Let's face it; the mirror selfie was getting boring.
Thanks to TikTok influencers, they've switched up the game by bringing a mirror outdoors for the coolest fashion snaps. This is hands down one of the neatest at home photoshoot ideas we've seen lately.
This simple, but creative challenge grew into a really great way to capture some cool shots. Why stop at a mirror? Bring some fun indoor items into your outdoor space and stage a full shoot.
Tips & Tricks:
To avoid blinding yourself with any harsh lights, angle the mirror so you don't have the sun directly shining on your face. This is *very* important.
Big, statement mirrors work best for this.
Related reading: 20 Fall Photoshoot Ideas You Will Love
Lighting Games
If you don't have a lot of natural light where you live or want to create a more abstract look to capture your 'fit, this other TikTok challenge might suit your needs.
All you need is your phone, a roll of toilet paper, and some tape – that's it! Set your phone in a place that will capture your shot and tape the roll over the flashlight of your phone to create a small spotlight.
All that's left is for you to smile and pose!
Tips & Tricks:
The self-timer on your phone will help you capture the perfect picture.
Adding a small piece of holographic paper or even a crystal in front of the camera lens can add funky effects.
Mini Studio
You do not have to own a fancy camera or expensive backdrops to create a studio for yourself.
One of the easiest and most effective ideas for creating this photoshoot look at home is to use bed sheets. You can hang them up anywhere and bring in the props of your choice.
If you have large windows or some natural light, I recommend setting up somewhere near there (just not directly in front).
Natural light will make your photos feel bright and airy and help if you don't have any fancy studio lights.
Tips & Tricks:
White sheets are the best option to give the illusion of space and will make any of your outfits pop.
Push pins or small clips with tape are also an easy way to hang up your sheets without causing any damage to your walls.
Polaroid Party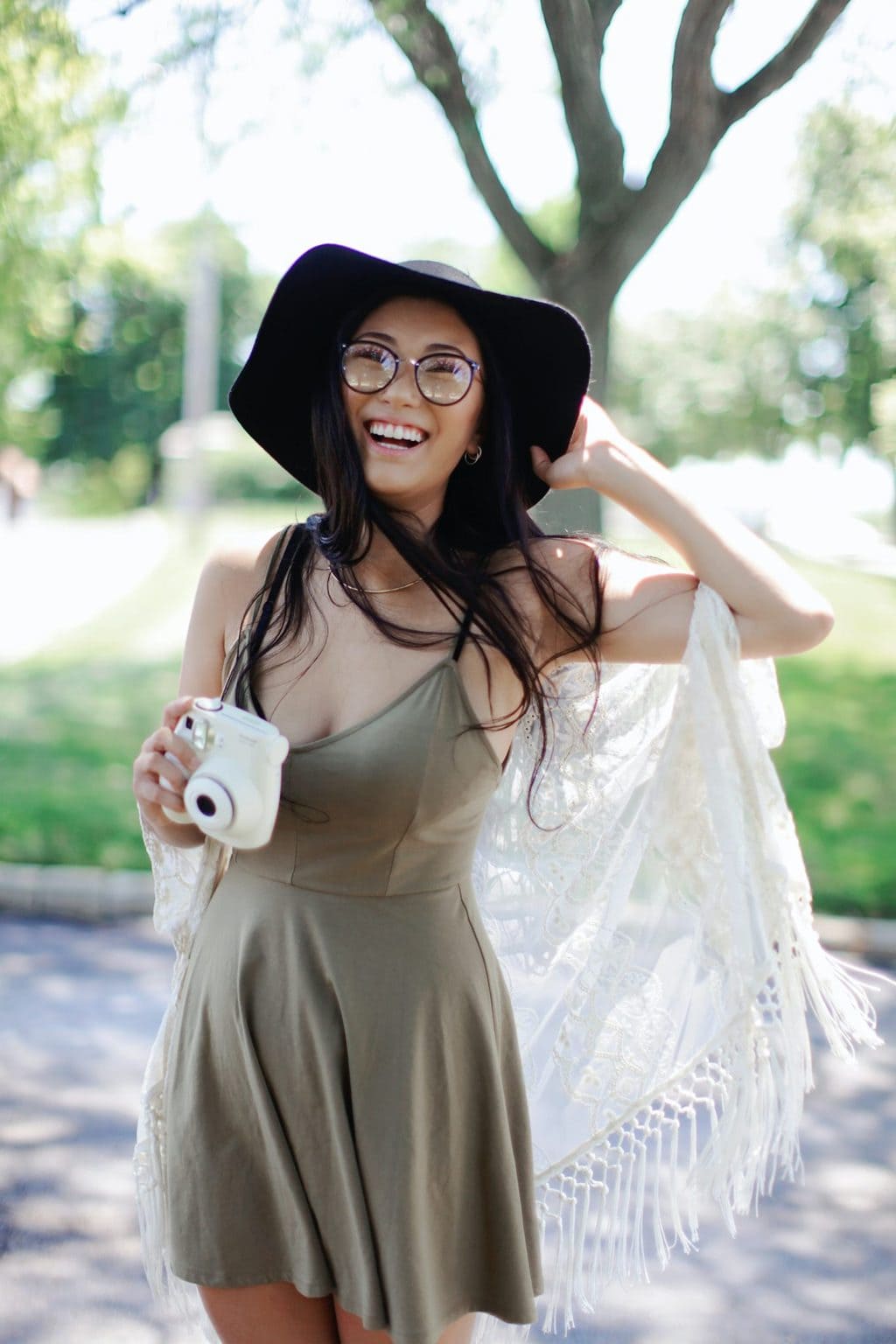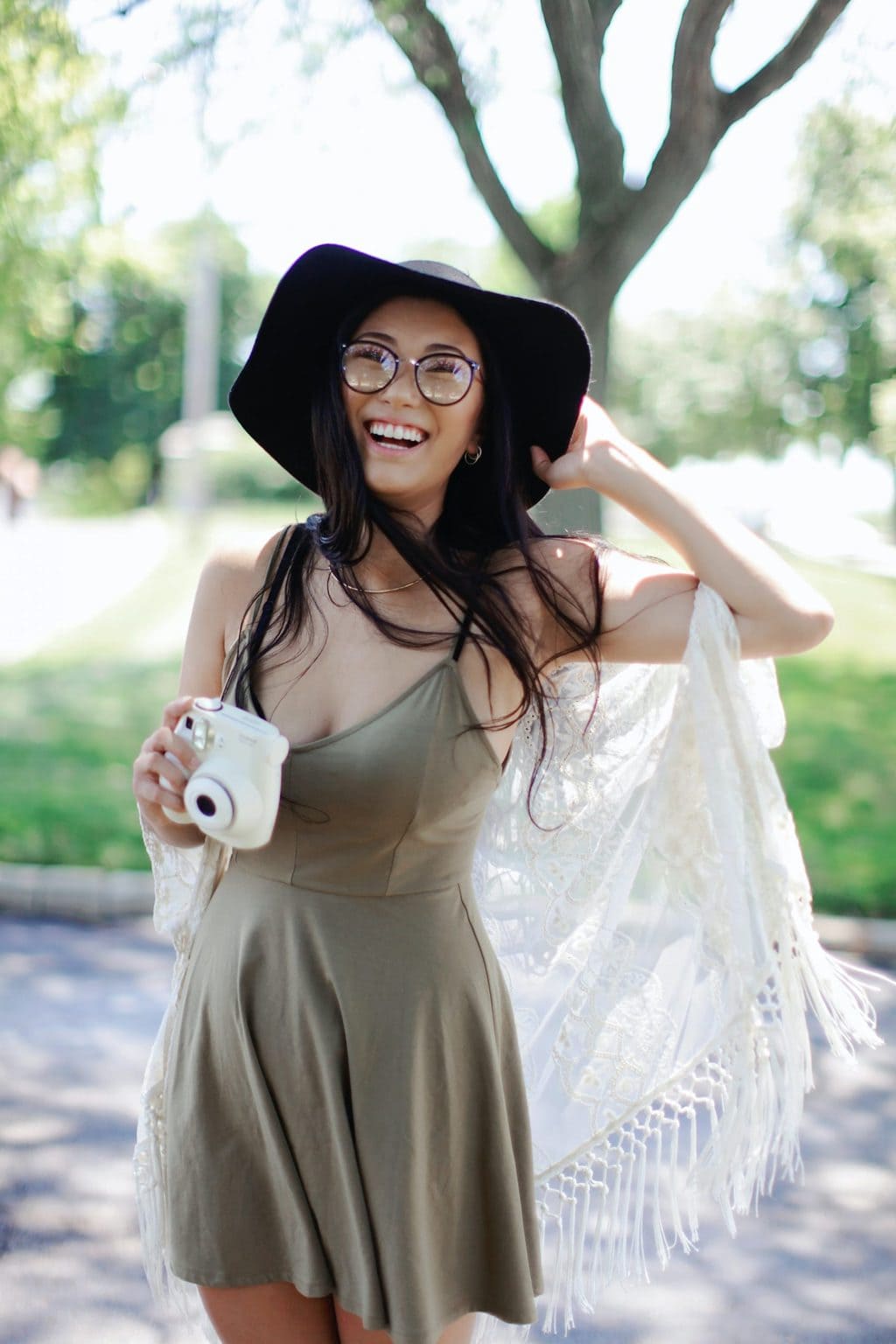 Out of at home photoshoot ideas? There is nothing more charming than a Polaroid photo!
The magic of a Polaroid is the simplicity and the fact that they're not perfect. Yes, play around with staging and props, but don't overthink it.
Tips & Tricks:
Avoid shooting with direct light as this can blow out your photo. Instead keep the light slightly behind you or at your side to get the best results.
Don't be afraid to bring the camera closer towards you! A Polaroid lens captures a very different shot than a phone camera.
Windows for Days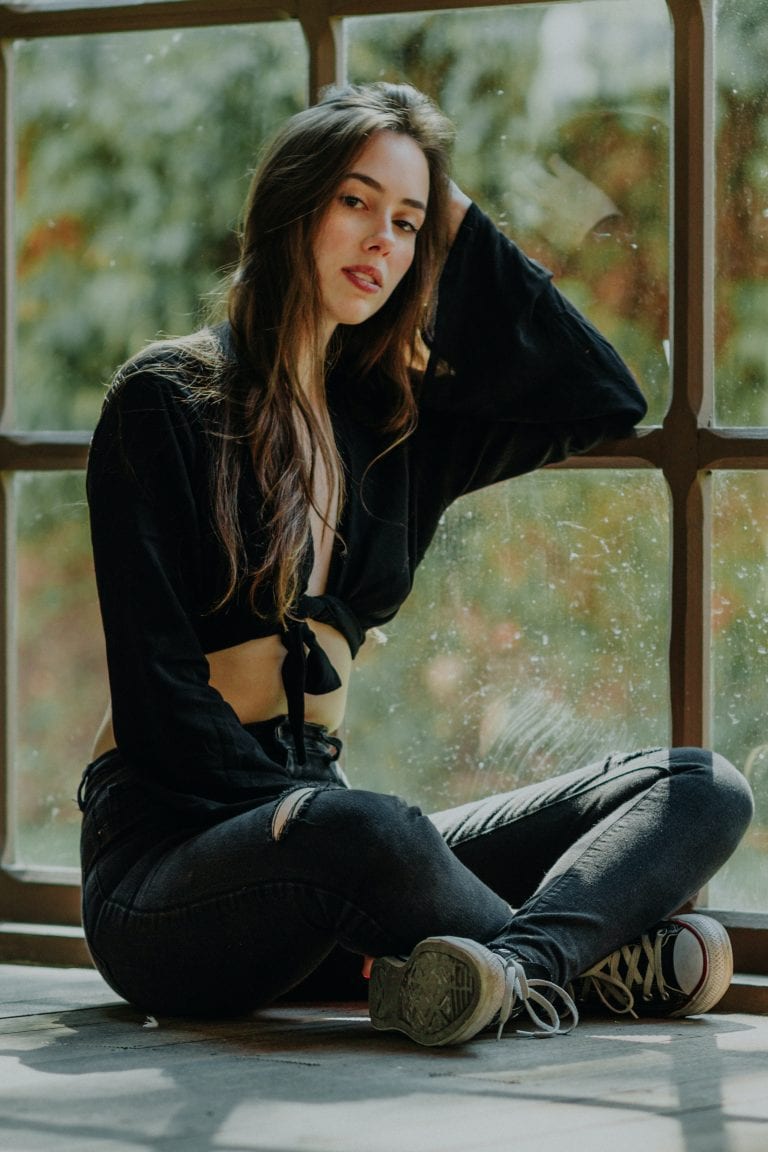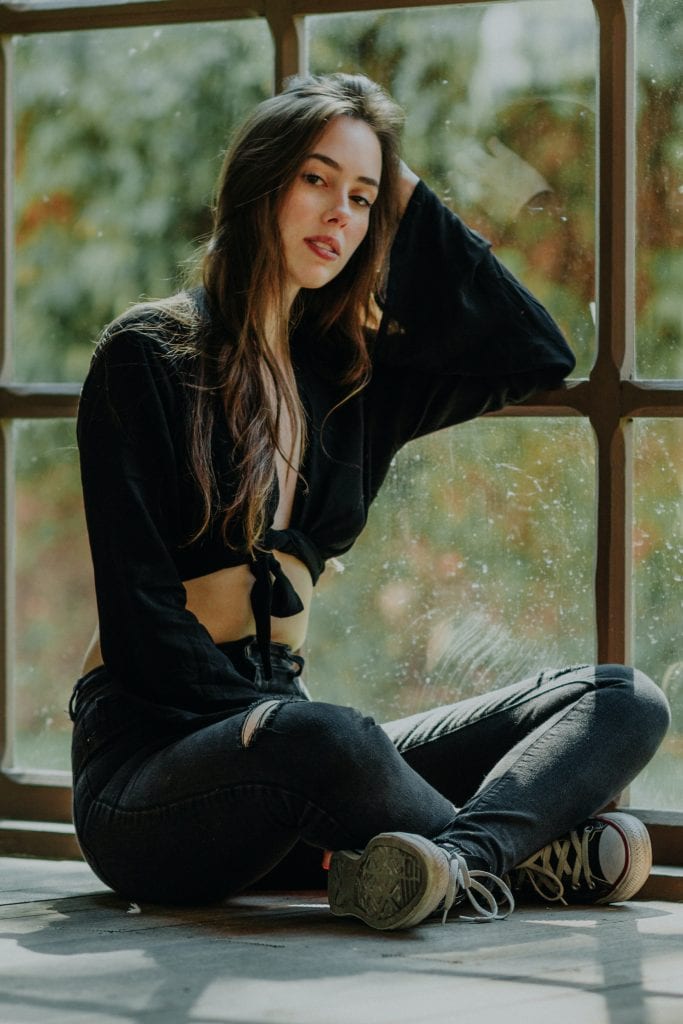 Instead of just using a window for light, try posing next to one.
If you're out of ideas about how to make this at home photoshoot feel more unique, move your bed or couch near one to create a cozier atmosphere.
You can always change it up by adding more plants to your scenery, bringing in different chairs, and other fun props.
Tips & Tricks:
Shoot these images during sunrise or sunset. You will get some beautifully vibrant colors and the photos won't turn out completely dark either.
Don't be afraid to open up the window and pose within the frame, rather than around it.
Play with POV
If you're looking to capture a detail-orientated photo rather than a full-outfit shot, switch around your perspective.
This could mean an up-close glimpse at accessories or one item, or a flatlay of your outfit.
If you're going the flatlay route and don't have a clue where to begin, don't fret, we have a guide on how to do it properly.
Tips & Tricks:
Find a background that will add style to your look while also complimenting your outfit details.
What do you think of our at home photoshoot ideas?
Let me know what you think about these ideas in the comments below. I'd also love to hear your tips and tricks as well!