This post may contain affiliate links, which means we may receive a commission if you purchase through our links. Please
read our full disclosure here
.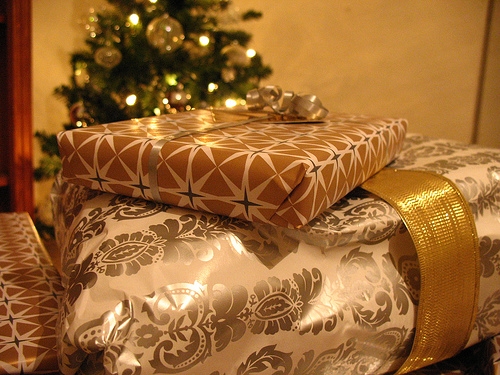 Two weeks ago I covered gift ideas under $50 for the women in your life, and today I'm here to help you shop for the opposite sex, with 45 gift ideas for the men in your life, all under $50 too!
Read on to see some perfect ideas for presents to give to your boyfriend, brother, and dad – without breaking the bank.
15 Clothing Gift Ideas for Him (Boyfriends & Brothers):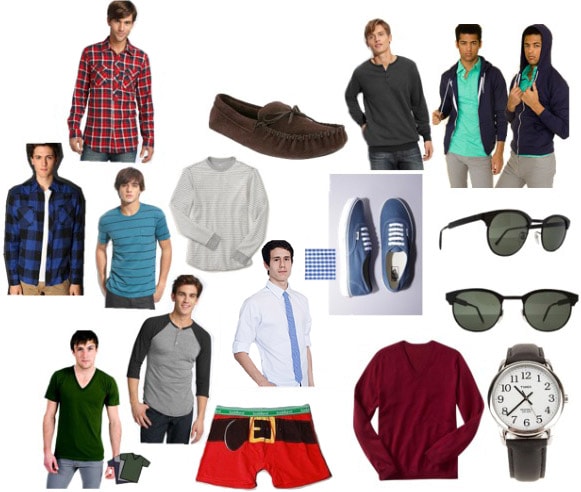 Red Plaid Shirt, Slippers, Grey Pullover, Blue Zip-Up, Blue Flannel, Blue Striped Tee, Grey Shirt, Blue Shoes, Sunglasses, Green V-Neck, Baseball Tee, Gingham Tie, Santa Boxers, Red V-Neck Sweater, Watch
Spruce up your man's (or brother's) wardrobe by giving him some great winter pieces. (If it's your boyfriend, we also recommend buying him something you can steal.) Slippers are a great cold weather gift to keep his feet warm all season long, while the Santa boxers add a little humor. Does your brother always run late? Get him a watch to make sure he's always on time! Also, a pair of stylish sunglasses makes a perfect gift for the dude who loves to spend time outdoors. Any of these pieces will be sure to show your man or brother that you care for him – and his wardrobe!
15 Fun Gift Ideas for Him (Boyfriends & Brothers):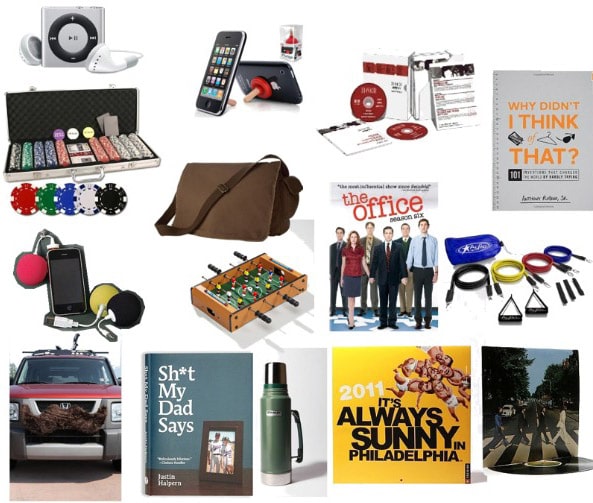 iPod, Plunger Phone Stand, ESPN Best Sports Moments DVD, Inventions Book, Poker Set, Cross Body Bag, Balloon iPod Speaker, Mini Foosball Table, The Office DVD, Exercise Bands, Car Mustache, Quotes Book, Canteen, Calendar, Beatles' LP
Does your guy love music? Then an iPod Shuffle, balloon speaker, or old style LP are great options to support his hobby. Is your brother the class clown? A car mustache is an unique gift that will not only have him, but other drivers laughing. If he loves to play games then he'll get a kick out of the poker set or mini foosball table. Or, if he's into sports and exercising, get him the ESPN 30 for 30 DVD set (seriously, any sports fan will love it) or a set of exercise bands.
15 Gift Ideas for Your Dad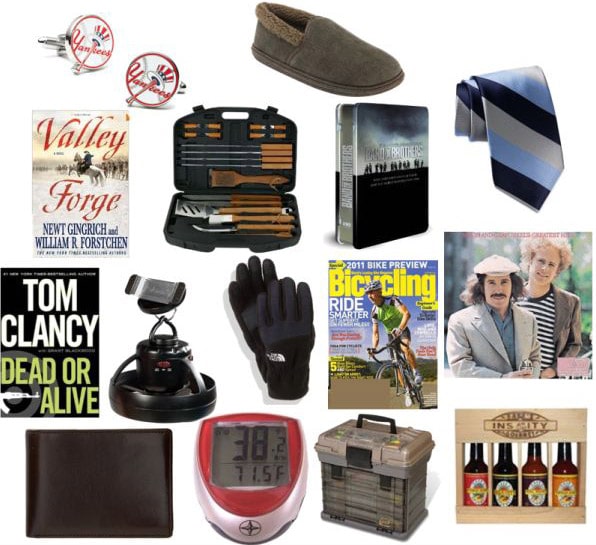 Sports Cuff Links, Slippers, Valley Forge History Book, BBQ Tools, Band of Brothers DVD, Striped Tie, Tom Clancy Book, Ceiling Fan and Light for Camping, Gloves, Bicycling Magazine Subscription, Simon & Garfunkel Greatest Hits, Leather Wallet, Bike Computer Watch, Fishing Tackle Box, Hot Sauce Flavoring
I find that shopping for my dad always proves to be exasperating as he already has everything he could ever want. So for this list, I tried to think outside of the box and forgo the usual present of a tie (although I did add a nice striped one in case your dad loves them).
If your dad is a sports fan, a pair of cuff links representing his favorite team is a perfect gift. Or, you could get him a subscription to one of his favorite magazines, or accessories for his favorite sport, like a computer gadget for his bike or a tackle box for when he goes fishing. If he's a history buff, he'll love the book "Valley Forge" which is about George Washington's adventures, or "Band of Brothers," the quintessential war video. Any of these gifts will show your dad how much you love him.
Thoughts?
What are you getting your boyfriend, brother, or dad this year? Do you like these suggestions? Do you have a hard time picking out gifts for the men in your lives? What's on your holiday wish list? Let us know with a comment!