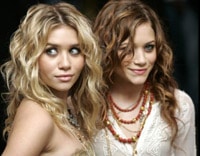 For those of you who haven't heard, Mary Kate and Ashley (yes, the Olsen twins), are in the process of launching a new high-end fashion line called "The Row."
Named after Savile Row, a fashionable area of London, the twins' new fashion line is going to feature high-end tee shirts and casual wear with an emphasis on quality. This isn't your little sister's OMGMARYKATE AND ASHLEY!!!!1 clothing line.
I actually had somewhat high hopes for the line, because I think the Olsens have interesting style. The newly released pictures from their look book, however, leave something to be desired. While some outfits are cute (like the adorable strapless mini dress!), most just seem so… boring.
See the pictures below for yourself. What do you think of "The Row"?
Source:JustJared