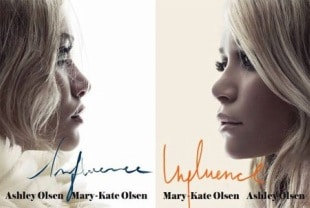 Let me just start this off by saying I'm not really an Olsen fan. I think they have cute and unique styles but I'm nowhere near as obsessed with them as most fashionistas seem to be.
Because I'm not a big fan of theirs, when I heard about their new book Influence a few months ago, I was hesitant at first. What could these girls possibly have to say in a book?
I read up on the book online though, and when I found out it was all interviews with fashion designers, artists, photographers, and more, I was immediately intrigued. A candid interview with Karl Lagerfeld? A chat with Christian Louboutin about his childhood and inspiration? Definitely sounded worth pre-ordering on Amazon.
Here's what the book is about, according to Ashley's introduction:
"The book you are holding in your hands is comprised of conversations my sister and I have had with artists, designers, photographers, writers, and personalities who come from different backgrounds, industries, age groups, and points of view. … It's my hope each one will remain a constantly evolving conversation that will continue to influence every project that I do – and perhaps by reading, you will be similarly affected by these interviews too."
I received and finished the book yesterday and let me tell you – it exceeded all my expectations and then some. Keep reading to see my full review of Influence.
Pro's
1. Less Olsens, more interviews
One of the first things I loved was that Mary-Kate and Ashley didn't make the book so much about them. There are lots of pictures of them, and they do interview each other, but the actual book is more about the designers and artists. For some reason I expected them to talk about themselves a lot, but they totally didn't. First big plus for me!
2. The choice of influencers
Second, the people they chose to feature were amazing choices. Not many people outside the fashion industry know who Alexandre De Betak is for example, but you've probably seen his work if you've ever watched a Victoria's Secret fashion show! There are so many incredible minds in the fashion and art world that don't get 1/8th the public attention of a famous person with a sex tape, and with any luck, this book might change that.
3. The interviews
And this wouldn't be a review without mentioning the interviews themselves.. they're really, really good. We're talking revealing, juicy, in-depth, and multiple pages long. MK&A mostly ask about each person's history, and how they made it in the fashion and art world. They also ask questions about work ethic, inspiration, and personal philosophies. Questions like those yield some great answers, and the book is chock full of memorable quotes. You leave each interview feeling like you know the person!
4. The visuals
Even without the words, Influence would still stand as a fabulous book of eye candy. There are tons of large, color photos of each artist's work – from close ups of Christian Louboutin heels to collections of Chanel sunglasses and Dior fashion show stills. MK&A also chose to feature pieces from their personal collections, like original sketches by Nicolas Ghesquiere and polaroids from Eddie Vedder. Even visually, it's just a stunning book.
Con's
1. Not enough fashion designers
There wasn't much I didn't like about Influence, but if I had to pick something, I wish there were more people featured! I would have loved to see more designers in the book – an interview with Marc Jacobs for example would have been a fabulous addition.
2. The cover
The only other thing I disliked about the book was it's cover, because it looks like the pictures were switched! According to various internet sources and even MK&A themselves on Oprah, the girl who's name is listed first on the front cover is the girl who is pictured. But Mary-Kate's picture looks SO much like Ashley, and vice-versa. It's really frustrating to people like me who don't know the details of their faces well.
Those are really the only negatives I could find about the book. Otherwise, I thought it was amazing.
Who's An Influence?
Here's a list of everyone interviewed in the book, in alphabetical order.
Peter Beard (Artist)
Alexandre de Betak (Fashion Show Producer)
Bob Colacello (Writer)
David Collins (Interior Designer)
George Condo (Artist)
Francisco Costa (Fashion Designer)
Diane von Furstenberg (Fashion Designer)
John Galliano (Fashion Designer)
Lazaro Hernandez & Jack McCollough (Fashion Designers)
Lauren Hutton (Model)
Karl Lagerfeld (Fashion Designer)
Peter Lindbergh (Photographer)
Christian Louboutin (Shoe Designer)
Margherita Missoni (Fashion Designer)
Robert Lee Morris (Jewelry Designer)
Ashley Olsen
Mary-Kate Olsen
Jack Pierson (Artist)
Richard Prince (Artist)
Terrgy Richardson (Photographer)
Giambattista Valli (Fashion Designer)
Evan Yurman (Jewelry Designer)
If you don't know who some of those people are, the book is worth getting just to find out! There are some really fascinating and inspiring people featured, and if you love fashion, they're certainly names to know!
My Overall Rating
I didn't expect to say this, but I give Influence a 5/5. It's really an amazing book and even if you aren't an Olsen fan, I think you'll appreciate the amazing interviews and beautiful images. A must have for any fashion addict. Go buy this book!!
If you've read this book already yourself, I want to know, what do you think? Leave a comment and let me know.
Buy the book:Influence is available at Amazon.com for $25.16 with free shipping.