The following is a post by Megan, a UK Creative Writing student, blogger and self-proclaimed 'life enthusiast' who runs Charade, an assortment of articles all about maintaining a fabulous lifestyle on a student budget. Her mantra is 'Style, Success, Survival' and today she's talking about fashion idols.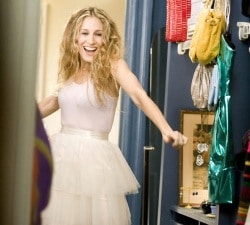 What can we learn from our fashion idols? Why do we have them? And why should we look a little deeper into their relevance?
If you've ever admired, desired, and acquired the look of another then read on…
The Pros:
Channel your ideal look.
With all the appealing trends, access to worldwide style via the internet and more and more budget fashion stores popping up, it's easy for your daily style to become a little wishy-washy. There'll be a bit of gothic chic, a dash of boho babe and a drizzle of 1950's pin-up thrown in for good measure.
This can be all well and good, and even bring about some interesting combinations, but if you want to consolidate your style, be memorable, consistent and make an impact with the way you look, the visual aid of a fashion idol can be indispensable in tying everything you love together effectively.
Let them do the hard work for you.
If someone is rocking your ultimate look to a T then emulating them is easy. If you need a little inspiration one day, instead of trawling magazines, books, the TV, the net, or spending hours pounding the high street (as much as it's fun to do this sometimes, we all have real lives too & its not always practical) you can just check out what your idols been wearing and get your fashion fix.
Let them do the risky things for you!
If they make a mistake (hello Pixie Geldof!) then you can avoid making that same fatal faux pas. Sure, you'll make your own errors in judgement sometimes, but a fashion personality who can afford to take those risks regularly has a whole lot of history you can learn from.
Wear your clothes with confidence.
If your idol is looking great in an ensemble, so can you, and when you know you look great the world is your oyster. Women in the public eye are there to be admired and the clothes we see in them can inspire us to aim for the same empowerment and success through fashion.
"While clothes may not make the woman, they certainly have a strong effect on her self-confidence – which, I believe, does make the woman." – Mary Kay Ashe
The Cons
Lack of Individuality.
The main issue with fashion idols is that they are dangerously tribal. Take a look at the above names and dare to tell me that at least one of them does not appear in nearly every girls list of fashion idols? And doesn't this take all the fun out of having an idol? Aren't we on a dodgy path to some horrific fashion middle ground where we all dress exactly the same?! Ok, perhaps I exaggerate, but what about if we wandered a little outside the box for our fashion idols?
Convincing ourselves that they have something we don't.
The only thing these women have that your average Josephine doesn't is unlimited access to the most exclusive labels and personal stylists; there's no magic element that makes a woman in the public eye any better at dressing than you.
If your reason for having fashion idols is that you think you lack your own personal style then you're wrong, I don't even know you and I'm flatly telling you that you're wrong, you could be wearing canary yellow dungarees for all I'm aware. We all have personal style, it's just that the collective might not necessarily "get" what we have to show them, or perhaps we are unwilling to show it to them.
"You know what? I don't think it's about wearing the right thing. It's wearing what you want to wear, and either it works for whoever is judging you, or it doesn't." – Mary-Kate Olsen
If you want proof that what is quirky can be exquisite and what is unusual can be endearing you only have to check out alternative fashion sites like Painfully Hip.

There are always limitations with an idol.
Don't tie yourself down to one or two single fashion idols. Fashion inspiration should come from everywhere and anywhere. Don't limit yourself to idols strictly within showbiz. What about fashion eras? Fashionable occupations? Art? Film? Literature? There's inspiration everywhere if you look for it, not just on the cover of Vogue.
"Fashion is not something that exists in dresses only. Fashion is in the sky, in the street, fashion has to do with ideas, the way we live, what is happening." – Coco Chanel
Rethinking Fashion
I think as far as we've come and as easy as it can now be to wear whatever you like, there are still a lot of people, myself included, who need consistently need to rethink the way they look at fashion.
In our current culture there is a distinct level of what I call the fashion 'push' – it begins in the media, strutting down the catwalk, and is then socially reinforced, strutting down the sidewalk, and it can be incredibly difficult to shrug off. We wear what we think we are supposed to wear.
Take a certain trend like Topshop's oversize hair bows (pictured below) – would you have ever considered wearing one before they were advertised and socially imposed upon you? So what if you thought of a slightly more individual look now, for example wearing a bird in your hair – would you be too scared to try it out? Only you have the answer.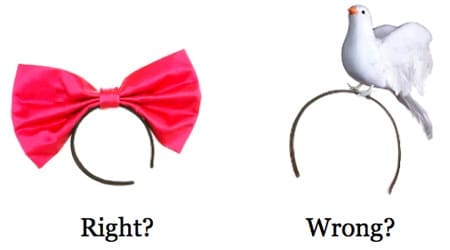 More thoughts on idols?
I guess the conclusion is that fashion idols can be a useful tool in the quest for great personal style but, like all things, should be used in moderation. What do you guys think? Do you live by the mantras of one specific idol? Or do you reject the whole idea?