TV Fashion Recap is a biweekly column featuring the best of TV fashion. Every other week, we recreate our favorite outfits from the most recent episodes of all of the hottest shows. Stay tuned; we may feature your favorite show next!

Every other week, I break down the best of TV fashion, featuring my favorite looks from the last two weeks. This week, I was inspired by Parks and Recreation and Orphan Black. Read on to check out the outfits:
1. Parks and Recreation (Season 6, Episode 20): Donna's Floral Top and Statement Necklace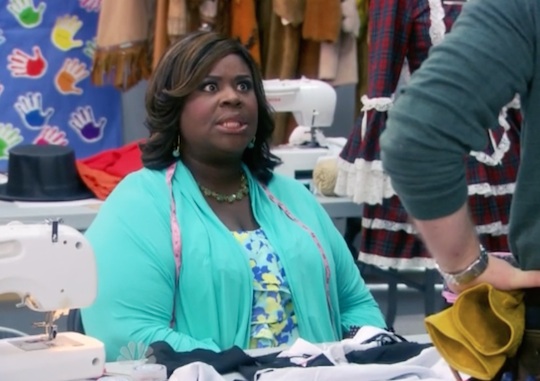 Photo Credit – Screenshot
I'm a huge fan of NBC's hit comedy, Parks and Recreation. It's hilarious and fun, but to be honest, I'll watch anything that has Amy Poehler in it. She's just so funny, sweet, and smart! I'm pretty much in love with her, and with this show in general.
I've covered Parks and Rec fashion before, but this week, Donna's outfit caught my eye. With its bright colors and fun patterns, this look just screams springtime. Plus, I love all of the subtle yet glam accessories.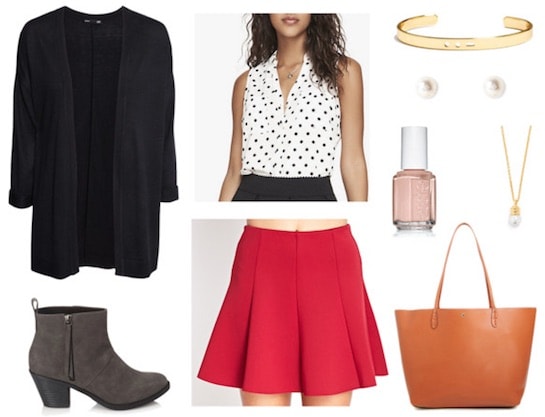 Product Info: Pants, Floral Tank, Mint Top, Bracelet, Earrings, Shoes, Necklace
For this outfit recreation, I swapped out Donna's aquamarine cardigan for a sleeveless mint top – it's such a cute twist for hot summer days! Wear it unbuttoned over a blue floral print tank, then slip on a pair of black jeans.
This look is all about the details, so glam it up with a bib necklace, dangly earrings, and a gold cuff. Just make sure that the pieces are similarly colored – Donna rocks all of her accessories because they coordinate with each other! Lastly, add a pair of colorful flats. I chose pink espadrilles with glitter cap toes because, as Donna says, you've got to "treat yo'self" with fun footwear. That's my kind of philosophy.
2. Orphan Black (Season 2, Episode 1): Cosima's Burgundy Cardigan and Semi-sheer Top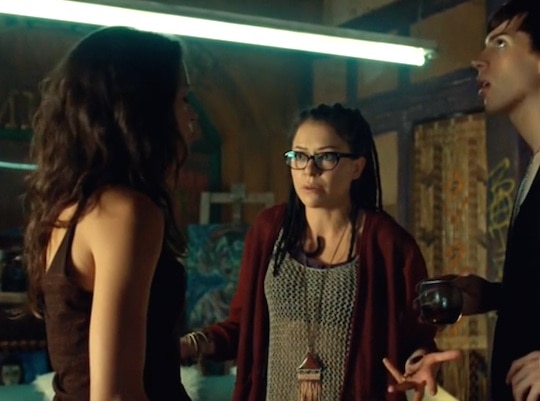 Photo Credit – Screenshot
In my infinite wisdom, I decided that instead of writing my 14-page research paper due in two days, I'd watch the season premiere of Orphan Black – despite having no idea what the show was about. To be honest, I still don't really understand anything, but I'm hooked anyway. As much as I may want to write my paper, I can't, because I have to binge watch this show on Amazon Prime to figure out what on earth is going on. It's all about keeping your priorities straight.
I had to do a bit of Googling, but the show is about a con-artist, Sarah, who sees an identical-looking girl commit suicide. She figures out that she has clones, and that someone wants to kill them all. I'm not doing the show justice, but maybe Wikipedia can explain the convoluted yet fascinating plot. I can't wait to catch up – who needs to sleep or study for exams anyway?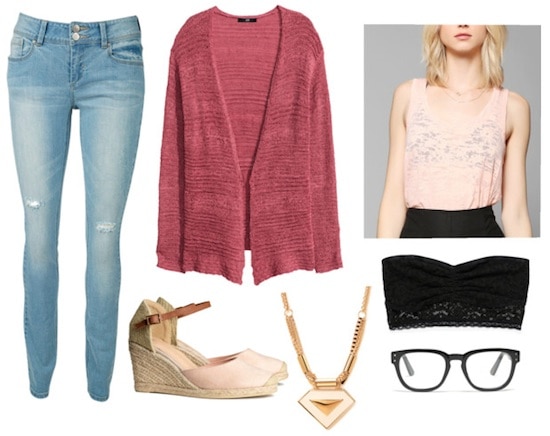 Product Info: Jeans, Sweater, Tank, Shoes, Necklace, Bandeau, Glasses
Cosima, one of Sarah's clones, has a comfy, eclectic style and amazing dreadlocks. I can barely put my hair in a ponytail, so I can't recreate her intricate hairstyle, but luckily, recreating her outfit isn't as difficult!
Start with a cute bandeau top worn underneath a semi-sheer tank. Slip on a loose, unbuttoned raspberry-colored cardigan and a pair of light wash jeans. Cute wedges soften the look for spring, while a long statement necklace adds interest. If you want to go the extra mile, put on a pair of adorable thick-rimmed glasses – they're very on trend!
Your thoughts?
What do you think of these looks? Did we miss any amazing outfits from the past week of TV? Which shows do you think deserve a spot on the next TV Fashion Recap post? Leave a comment below and tell us what you think!