This post may contain affiliate links, which means we may receive a commission if you purchase through our links. Please
read our full disclosure here
.
You knew this was coming. After four weeks of fashion inspired by stylish men (check out our posts on Mick Jagger, Freddie Mercury, Andre 3000, and Kurt Cobain) this week's post is dedicated to the King of Pop, Michael Jackson!
The Guinness Book of World Records calls him the most successful entertainer of all time. The charts prove Michael Jackson is the third best selling artist of all time (behind only the Beatles and Elvis). I like to think of him as one of the most inspiring songwriter and innovative performer our world has seen. His music catalog spans all different genres, and the themes represented in his lyrics are universal – just try listening to Man in the Mirror, Earth Song, We Are the World, or Will You Be There next time you need a pick-me-up!
With such influence in the entertainment world, it's fitting that MJ also knew a thing or two about fashion. Want to steal the look of the gloved one himself? Read on, ladies!
Michael Jackson's Style Elements
Military jackets were among Michael's staple pieces, worn both as costumes and casualwear. These ranged from the formal sequined variety, to marching band or circus ringleader-like styles. You can still see his influence today — Ms Britney Spears rocked this look during her last international tour!
Michael Jackson also loved leather jackets, and wore them in music videos like Thriller and Beat It. He often paired them with cuffed jeans and retro shoes for a rockabilly-esque look.
Many of MJ's outfits were bedazzled with glitter or sequins. Don't be afraid to wear something daring in broad daylight — you just might become a style icon yourself!
Michael Jackson loved quirky accesories, like sunglasses, fedora, suspenders, white socks, and his signature sequined glove. So take a tip from Michael and don't be afraid to spruce up any outfit with a few retro accessories.
Vintage styles heavily inspired Michael Jackson's look and the feel of many of his music videos — take Smooth Criminal and Thriller for example! So pick an era you love and seek it out for some authentic style muses.
Outfit Inspiration
Beat It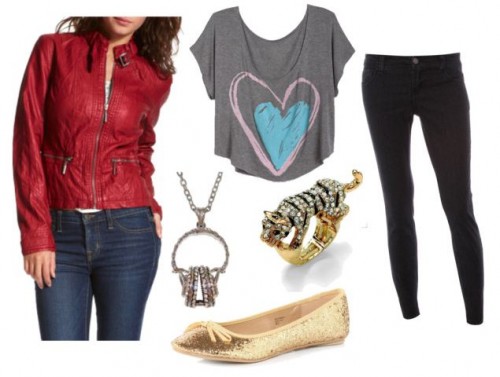 Jacket, Shirt, Jeans, Shoes, Ring, Necklace
This look is inspired by Beat It, one of my all time favorite music videos! A tough red leather motorcycle jacket will look awesome paired with a graphic tee and black skinny jeans. Jazz the look up with some glittery ballet flats, a headphone necklace, and a tiger ring that pays homage to the king himself.
Black or White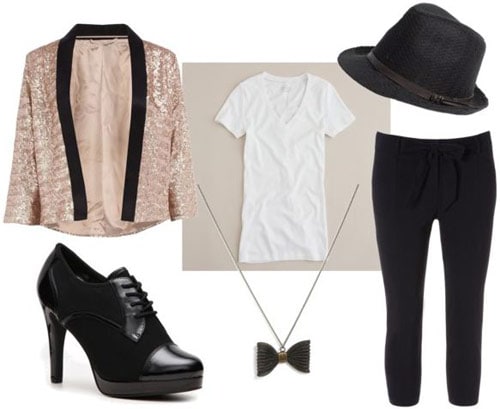 Jacket, T-Shirt, Cropped Pants, Shoes, Necklace, Hat
At black tie events, Michael Jackson sometimes took a break from his loud concert attire and opted for a more classic look. Mimic his style by rocking a simple white t-shirt and a pair of black cropped pants with a fancy sequined jacket. Finish the outfit with a pair of oxford heels, a bow tie necklace, and a fedora!
They Don't Really Care About Us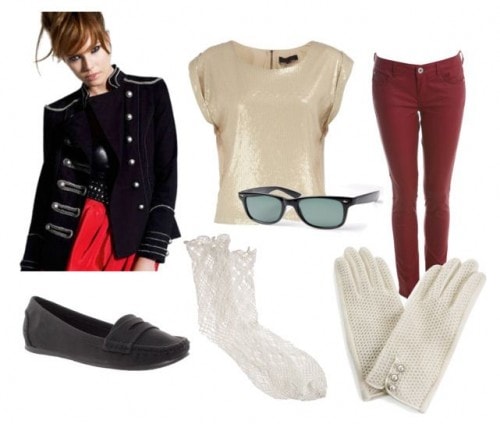 Jacket, Shirt, Pants, Gloves, Sunnies, Socks, Shoes
Glam up a classic military jacket with a shimmering shirt and bright red pair of skinny jeans. For a real touch of MJ flair, add a pair of white socks, loafers, and your trusty pair of wayfarers. Finish with some fancy gloves. (Ditch one of them if you're daring!)
What Do You Think?
What's your favorite Michael Jackson song? Music video? What do you think of his style? What other men would you like to see us cover? Leave a comment and tell us what you think!!