This post may contain affiliate links, which means we may receive a commission if you purchase through our links. Please
read our full disclosure here
.
Fashion inspiration can be found anywhere, and books are incredible sources for style innovation. Book-Inspired Fashion explores these treasure troves, and brings them them to you in looks inspired by vibrant characters, far away lands, brilliantly woven plotlines, and more.
Since I spend so much of my time studying and writing about literature for school, I usually don't like to feature the works I've studied in my CF posts. The exceptions have been Don Quijote and Beowulf, both of which I had read several times for different courses over the years, which enabled me to sit back and think of these books outside of the wide-reaching, but limited net that is academia.
This time, however, I'm going to be covering some poetry that I was introduced to in school just a couple of months ago. The sheer beauty and potency of the language in these works gave me a lump in my throat upon reading. Keats is the best poet that I have personally encountered, and I can't wait to share his works here on CF.
Reading Between the Lines
John Keats was an English poet who wrote in the Romantic tradition, featuring intense emotion and sensitivity to nature and the world around him. The great tragedy of his life was the tuberculosis that claimed first his brother, and then himself at the age of 25 in 1821. Many argue, however, that it was this looming sense of mortality that enabled him to write so beautifully, with both delicate vulnerability and subtle strength, in just a few years before his painful death.
His great love, Fanny Brawne, was a source of both inspiration and torture for Keats. The thought of marrying her motivated him, while the idea that they would forever be separated was a burden that anguished his thoughts after he left England for the warmer weather of Italy.
Mortality, along with love, is heavily featured in his poetry, especially his well-known odes, and nature is omnipresent as a force that perhaps overwhelmed Keats' own frailty.
I find all of his poetry especially compelling, but I chose three of Keats's best-known works to create these outfit sets. Check them out below:
Bright Star
Of snow upon the mountains and the moors—
No—yet still stedfast, still unchangeable,
Pillow'd upon my fair love's ripening breast,
To feel for ever its soft fall and swell,
Awake for ever in a sweet unrest,
Still, still to hear her tender-taken breath,
And so live ever—or else swoon to death.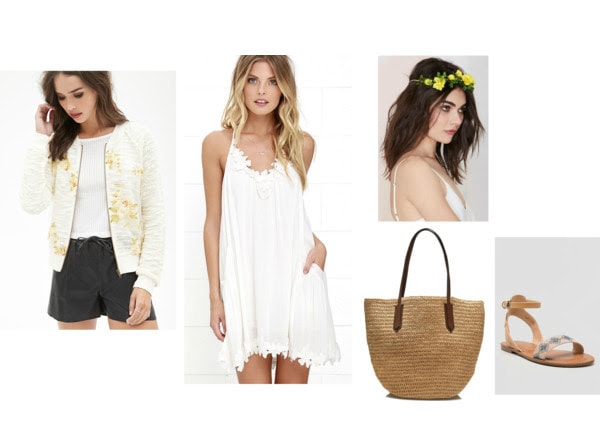 Products: Dress, Jacket, Shoes, Bag, Headband
This is the second half of the poem "Bright Star," and perhaps the lesser read half, but it is no less romantic and gorgeous in its absolute devotion to love. This love is contrasted sharply with the transient nature of life, with references to the snow – which will melt – on the mountains, and the tense moment of awaiting his lover's next breath, though he is the one who is having trouble catching his own.
This outfit set is delicate, simple, and casual – something I wanted to emphasize as opposed to the glamorous, glitzy interpretation of a personified star. I wanted to play with the nature aspect that is still present in this poem, and used white and yellow to represent the purity of the love the speaker has for his star.
The jacket I added as a layer to the outfit functions to take the dress away from a solely beach-oriented look, while maintaining the soft colors and not being too formal. Everything else is youthful, and the little details – the floral lace on the dress and beaded embellishment of the sandals – make it just a little more interesting.
Ode to a Nightingale
Darkling I listen; and, for many a time
I have been half in love with easeful Death,
Call'd him soft names in many a musèd rhyme,
To take into the air my quiet breath;
Now more than ever seems it rich to die,
To cease upon the midnight with no pain,
While thou art pouring forth thy soul abroad
In such an ecstasy!
Still wouldst thou sing, and I have ears in vain—
To thy high requiem become a sod.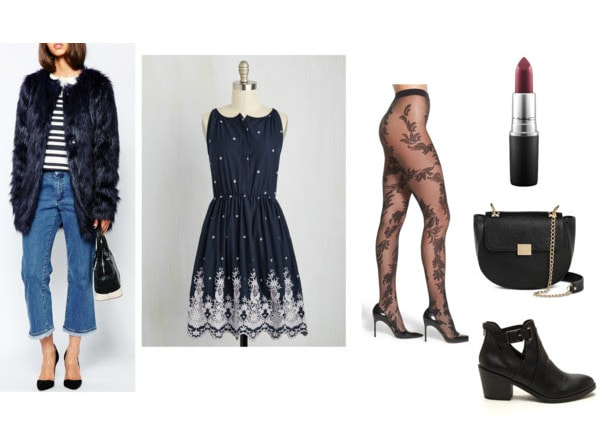 Products: Dress, Coat, Tights, Boots, Purse, Lipstick
This is the sixth stanza of "Ode to a Nightingale," and is a personal favorite of mine. This poem is one of Keats's more tortured works; in it, he compares himself to the nightingale, which immortalizes itself with song and the cyclical nature of life and death. Death for Keats, on the other hand, will unite him with nature while potentially silencing him forever.
It's interesting here, how he seems to almost court Death, not entirely certain of whether or not he would like to numb himself of his painful mortality, or if he should go on being hyper-conscious of his impending doom.
I went with a navy color palette because of the dark, shadowy place in nature evoked by this poem. It also recalls winter, which is the season in which Keats ultimately dies. This look is almost monochromatic, but the white print on the dress and texture differences, from the faux fur to the sheer tights, prevent the whole outfit from looking like one giant navy piece.
The faux fur is also a reference to creatures in the forest, including the nightingale, whereas the leaf print on the tights depicts the foliage itself. The dark berry lipstick actually references an earlier part of the poem, in which the speaker describes the memory of enjoying wine.
To Autumn
Think not of them, thou hast thy music too,–
While barred clouds bloom the soft-dying day,
And touch the stubble-plains with rosy hue;
Then in a wailful choir the small gnats mourn
Among the river sallows, borne aloft
Or sinking as the light wind lives or dies;
And full-grown lambs loud bleat from hilly bourn;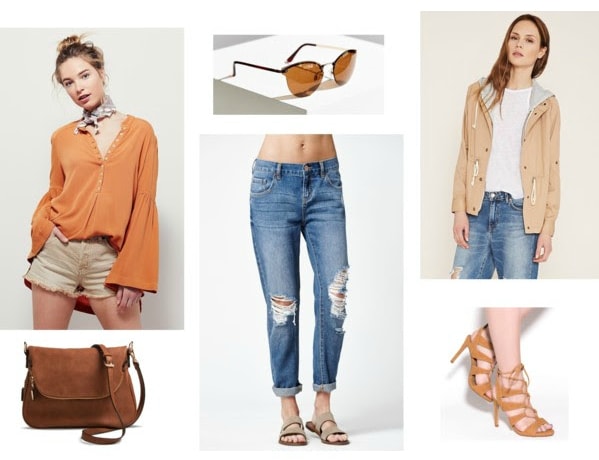 Products: Top, Jeans, Jacket, Shoes, Bag, Sunglasses
This excerpt is taken from the third and final stanza of "To Autumn," which may have been written after all of Keats's other famous odes. A sense of heaviness guides much of this poem, and there is sorrow, both obvious and understated, that creates an unsettling feeling of the future. In particular, the "full-grown lambs" that bleat is an image of almost certain imminent death, as they are slaughtered in autumn and will not live to see spring. This is analogous to Keats's fear on the matter, spring having been his favorite season as well, which he did not end up surviving to see in his final year of life.
I based this outfit vaguely around autumn colors, playing with orange also in reference to the "soft-dying day" and pairing the loose top with distressed boyfriend jeans. I coupled the outfit with heels to represent the almost-opulent beauty of autumn before it withers away – fruit being too heavy and vibrant, animals everywhere, beautiful skies and trees, etc. The heels also keep the outfit from being too relaxed, because like the speaker of the poem, autumn is about anticipating the coming of winter.
Your Thoughts?
Have you ever read any poetry by John Keats? What do you think of the transition to poetry this week? Let us know in the comments below!