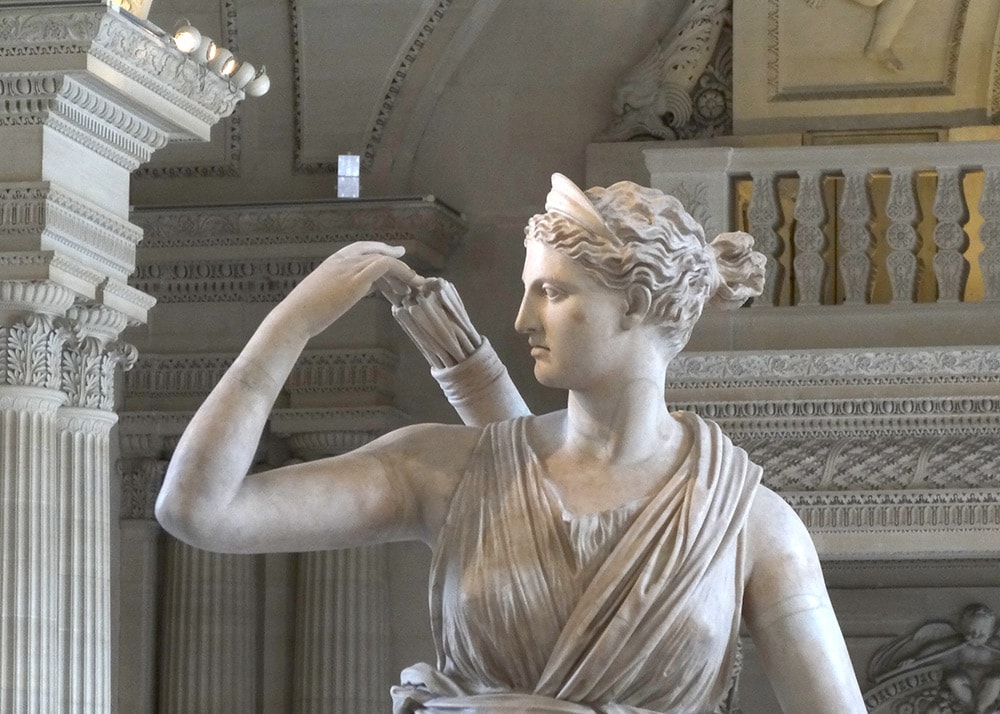 Okay, as a disclaimer, before you accuse me of leading you astray: there are no togas in this article. Well then, how is it even Roman-inspired? you might be asking, but turns out that, historically speaking, women weren't actually allowed to wear togas after the second century BC. You might spot a stola or two, but I don't want to ruin the surprise.
Any classics majors reading this might be cringing at the thought of trying to compress over 1,000 years of fashion and history into one short article. I almost considered making these two eras separate, but let's be real, the Romans borrowed so much from the Greeks it would be a little redundant. In any case, I'm going to try my best not to butcher years of ancient traditions, so here's just a quick look at the history of Greek and Roman fashion.
Fashion Overview
Greek and Roman fashions followed that distinctive draped style for a reason: Practicality demanded it. It wasn't until the medieval ages that clothing started to be woven by tailors on horizontal looms, and so in ancient times most clothing was woven individually on vertical looms. What can you do with a huge rectangle of cloth, then, since cutting and sewing weren't really things? Quite a lot, it turns out!
In ancient Greece and Rome, fabric was usually made of wool or linen, though wealthier families could afford silk or even cotton, both imported from China and India. White fabric was most common, but people did dye or embroider their clothing. Red dye was cheapest, followed by blues and blacks. Saffron yellow was particularly expensive, and reserved mainly for married women, while purple dye was typically worn only by royalty.
This, combined with any number of layers, buttons, folds, and belts allowed for a plethora of interesting and varied clothing styles. For instance in ancient Greece, women had only two different styles of dress: the chiton or the peplos. The Doric chiton was a piece of fabric wrapped around the body and fastened over the shoulders. It was usually belted, but often left open on the side to allow for more range of motion. The Ionic chiton, on the other hand, was often longer and looser and was fastened all the way down to the elbow or wrists with brooches. Peplos were fairly similar, but the top was usually folded over before being fastened, to create a floatier silhouette. A Himation was also often worn over these, and was just a simple cloak worn under one arm and fastened over the opposite shoulder.
In Rome, clothing was fairly similar, though many also wore tunics underneath their clothing. This simple garment could be short sleeved or long sleeved, and was usually knee length. Over this, women wore a stola, which was their version of a toga, and was usually sleeveless and floor length. They also commonly finished the look with a palla, which was like a large shawl worn over the head or around the shoulder.
Outfits Inspired by Ancient Greek and Roman Fashion
Ok, wow, that was a lot! Sorry if you tuned out a little right there, but now we can get to the fun part. As you can see, there's a lot of inspiration we can take from Ancient Greece and Rome, even if it's just learning from their fashion creativity.
Here are three outfits, going from least to most inspired by fashion in antiquity. The first is only slightly Grecian, while the second is a little more Roman, and the third is straight from the forum.
Outfit #1: It's Greek to Me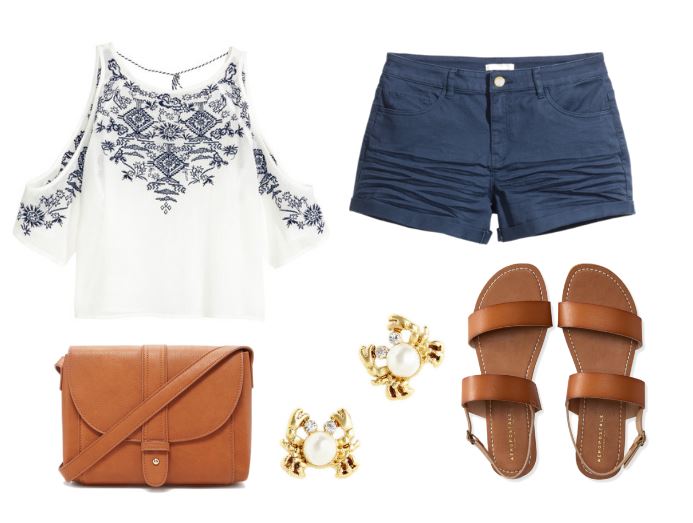 Products: Top, Shorts, Bag, Shoes, Earrings
This outfit is inspired by the Ionian chiton we talked about earlier, as the open shoulder look that's popular now almost feels like a modern day take on the open sleeves of the traditional Greek dress. I picked a simple white top with a pattern since this color combo could definitely have been worn during antiquity as well.
This is also, I should mention, the only look without a skirt. I know shorts aren't Greek or Roman in any way, but I'd like to think that's just because they hadn't gotten there yet. Leather sandals, on the other hand are very, very Greek and Roman, as they typically wore sandals, the olden-time version of flip flops, or soft leather boots. A simple leather crossbody bag matches well with the sandals, and since the look was giving me ocean vibes, I added a small pair of crab earrings to accessorize.
Outfit #2: Empire State of Mind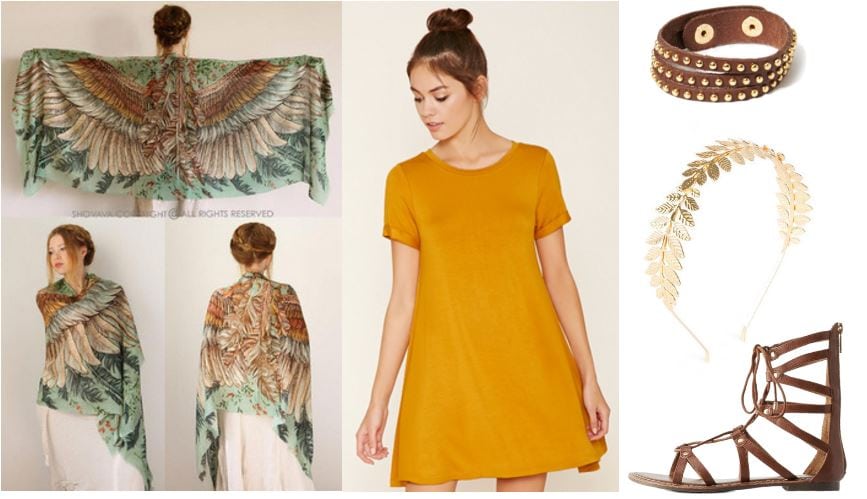 Products: Dress, Scarf, Shoes, Headband, Bracelet
Look number two is far more Roman in nature, since the Romans were the ones to bring the tunic into fashion. A t-shirt dress is the modern woman's answer to the tunica and though this bold saffron yellow was not extremely common at the time, a paler yellow was often worn. I wanted to add a bit of draping and pay homage to the Roman palla, so this gorgeous scarf seemed like the perfect way to do that.
Gladiator sandals are also pretty Roman (though likely not ever worn by gladiators, who usually fought barefoot) and a simple leather cuff pairs well. Finally, I can't speak to the actual historical accuracy of it, but this laurel-inspired headband is giving me Snapchat filter vibes and it felt like the perfect whimsical finish.
Outfit #3: Greece Lightning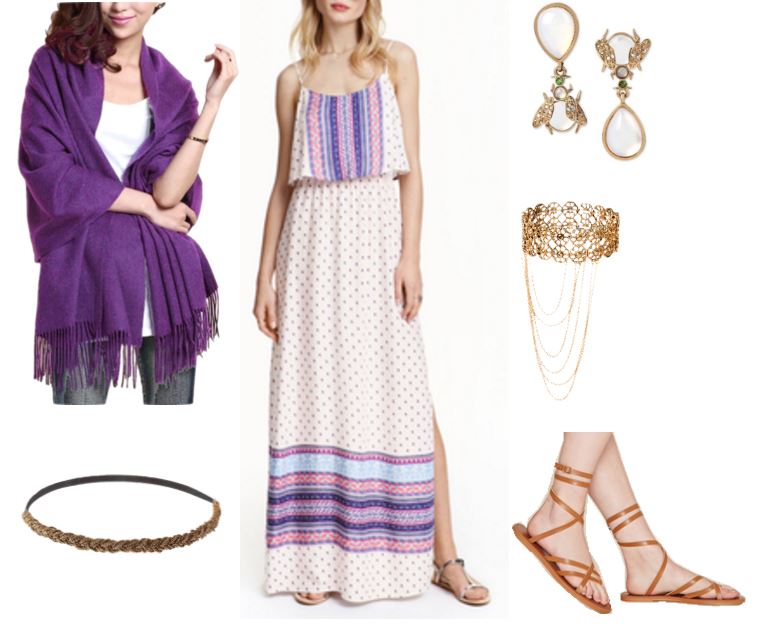 Products: Dress, Shawl, Shoes, Arm Cuff, Earrings, Headband
Since my description of the peplos probably wasn't all that clear, hopefully this dress clarifies it a little, as the overlay is similar to the folded effect of the peplos top. I picked this purple patterned one so you can feel like royalty, especially when you wear it with this soft amethyst shawl. I chose sandals once again, though a slightly different style, since they work well with the Summer theme.
Hopefully it doesn't feel like I've over-accessorized here, but the Greeks really did love their gold jewelry. Gold and white earrings tie back to the dress, and a beaded headband is the perfect hair accessory. Finally, a bracelet would work if you wanted a more casual look, but arm bands were quite popular in Ancient Greece and this lacy one was too cute to pass up.
More Styles by the Decade:
Want to travel to a different decade with your style? See my other posts on '90s fashion, '80s fashion, '70s fashion, '60s fashion, '50s fashion, '40s fashion, '30s fashion, '20s fashion, '10s fashion, and 1900s fashion for more!
What's your opinion on Greek and Roman fashion?
Are you planning to incorporate Greek or Roman style into your look this year? Are there any fashion trends you think I should have included? What's your favorite look? Let us know in the comments, we'd love to hear from you!