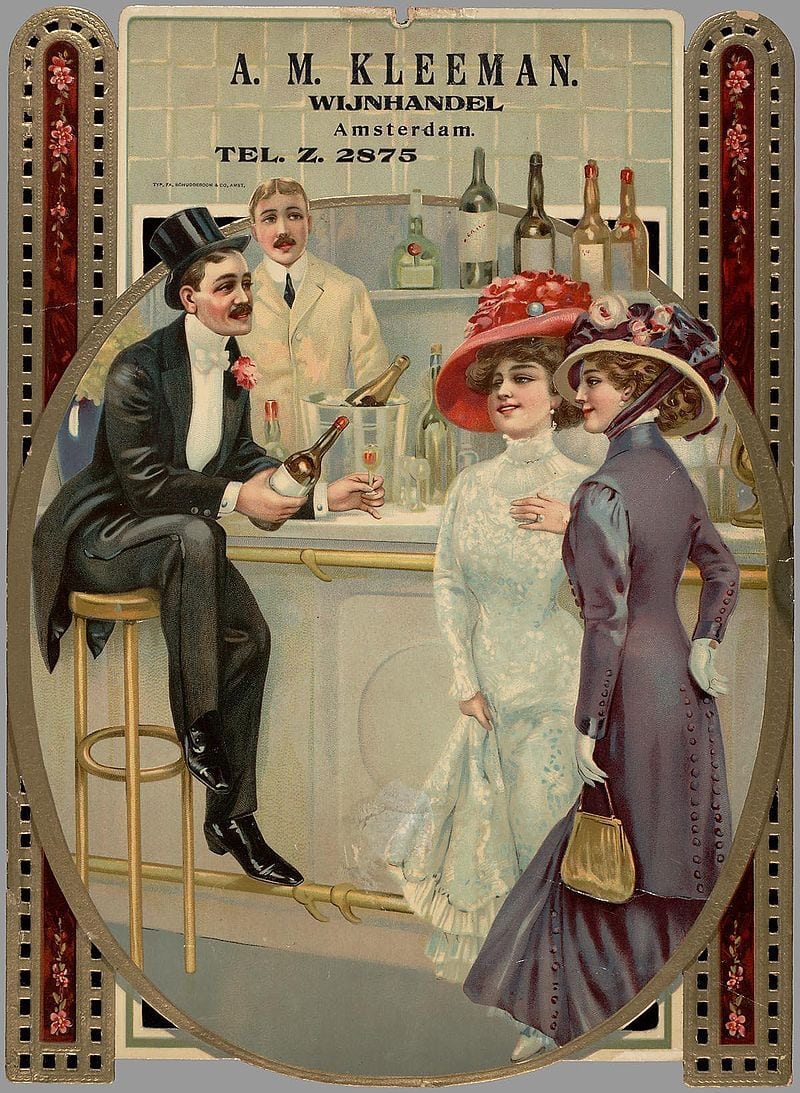 Guys, we made it! A whole century of fashion later, we're at the turn of the century: 1900s fashion. At the beginning of the 20th century, fashion was moving away from the stiff, constricting styles of Victorian period to the…still pretty constricting styles of the Edwardian period.
In my last article, I touched on the over-the-top nature of 1900s Edwardian styles. In the 1900s, Paris was the center of fashion, corsets were still expected of all ladies, and opulence was a necessary part of any look. But for all of the styles of the 1900s that would look out of place today (bustles, for instance), others are still wearable. Before we get to those, let's take a look at the sartorial history of the decade.
1900s Fashion Overview
Not only was fashion important for wealthy ladies of the 1900s, it was practically a pastime. If you were a woman in the Edwardian period, you would have three or four changes of clothes per day. First would be your morning dress, a simple pairing of a high collared blouse and long skirt that you would wear to do errands or visit friends. After that, you'd change into an afternoon dress, for entertaining guests, followed by a loose and lacy affair called a tea dress. Lastly, if you had any parties to attend, you would don an evening gown, which was usually ruffled, embroidered, layered, or all of the above.
Of course gloves and hats were usually worn any time a lady went outdoors. Broad, flat hats embellished with feathers, ribbons, and flowers were popular early in the decade. As for corsets, the iconic look of the 1900s, the 'S' curve was established by the 'health corset', which pushed the chest forward and forced the back into a slight bend. The silhouette was emphasized by bustles on the back of dresses, and extra ruffles and embellishments on the bust to give a girl a sort of pigeon look.
The ideal look of the decade was established by artist Dana Gibson, whose drawings of the 'Gibson Girl' gained fame and popularity during the 1900s. The 'Gibson Girl' was considered the epitome of female beauty, with a perfect silhouette and spectacular fashion sense. Though portrayed as independent and confident, she was still refined and polished, in keeping with her attire.
Outfits Inspired by 1900s Fashion
The 1900s was not a time of great change, but it was certainly a time of great fashion. Having three or four outfits per day certainly required one to be creative with their sartorial choices. There's definitely a lot of inspiration we can find in all aspects of their styles.
Though these outfits still follow the usual format of least to most 1900s, each one is also inspired by the individual looks required for each time of day. For a glamorous evening look, turn to outfit number one. For a comfortable tea dress, look at outfit number two. For a cute and casual outfit for running morning errands, look number three is perfect for you.
Outfit #1: Belle of the Ball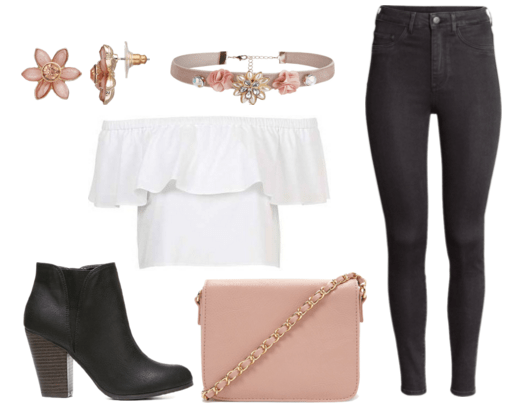 Products: Top, Jeans, Shoes, Purse, Earrings, Choker
In the 1900s, Paris was the center of haute couture, and all European and American ladies who could afford it made twice-yearly trips to Paris to have their clothing for the next six months made. Paris was also the center of La Belle Epoque, at this time, and during this gilded age fashion became more and more opulent and ritzy.
Surprisingly, the evening looks from this era were usually low cut and even off the shoulder to emphasize the chest. A simple peasant blouse is a toned down version of this look, especially when paired with casual high-waisted jeans. Ankle boots weren't necessarily what would have been worn for a party, but they were popular during the 1900s, and are far more comfortable than strappy sandals.
To add back in some of the glitz of the era's evening gowns, I picked a sparkly choker and matching flower earrings, as well as a pale pink purse to hold your phone while you dance the night away.
Outfit #2: Two for Tea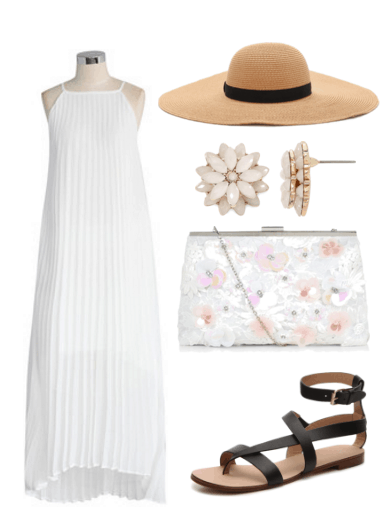 Products: Dress, Hat, Earrings, Purse, Shoes
By far the most casual look of the 1900s, tea dresses were what ladies wore at home between the afternoon and evening when they had the chance to take off their corsets. These dresses were usually white and often embellished with lace and ribbons. Though far more revealing than would have been allowed in the decade, this white dress can give you the same feeling of elegance and comfort.
For a summery feel, I paired the dress with sandals and a sun hat, which acts as a more modern take on the overly decorated wide brim hats popular in the 1900s. Accessorized with a floral purse and earrings, the outfit is too cute to just relax at home in.
Outfit #3: Gibson Girl Meets World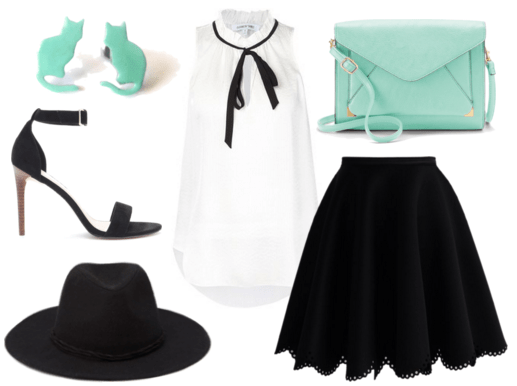 Products: Top, Skirt, Shoes, Hat, Purse, Earrings
While this look is inspired by Gibson Girl drawings, I promise you don't need perfect hair or a tiny waist to wear it. Hopefully, though, it will make you feel both stylish and confident.
As most morning dresses were simple and structured looks, I wanted to stay along the same lines with a high collared blouse and high waist skirt. With summer coming though, a short skirt and sleeveless top make this outfit a bit cooler, and a wide brim hat also serves to shade your face from the sun. I chose heels for this look, but you could swap them out for sandals if you'd prefer. Finally, for a pop of color, since morning looks were often a bit drab, I added a mint crossbody bag and adorable cat earrings to finish the look.
More Styles by the Decade:
Want to travel to a different decade with your style? See my other posts on '90s fashion, '80s fashion, '70s fashion, '60s fashion, '50s fashion, '40s fashion, '30s fashion, '20s fashion, and '10s fashion for more!
What's your opinion on 1900s fashion?
Are you planning to incorporate 1900s style into your look this year? Are there any 1900s fashion trends you think I should have included? What's your favorite look? Let us know in the comments, we'd love to hear from you!