This post may contain affiliate links, which means we may receive a commission if you purchase through our links. Please
read our full disclosure here
.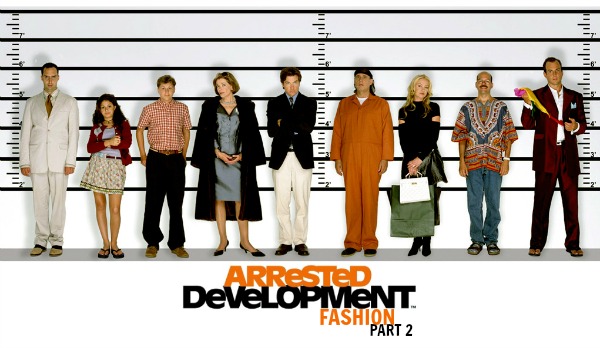 The latest season of Arrested Developmenthas premiered on Netflix, and we're here to continue our Arrested Development fashion series.
If you haven't seen all the new episodes yet, don't worry: this post is a season 4 spoiler-free zone. Simply scroll on down to see outfits inspired by the rest of the Bluth clan:
Gob Bluth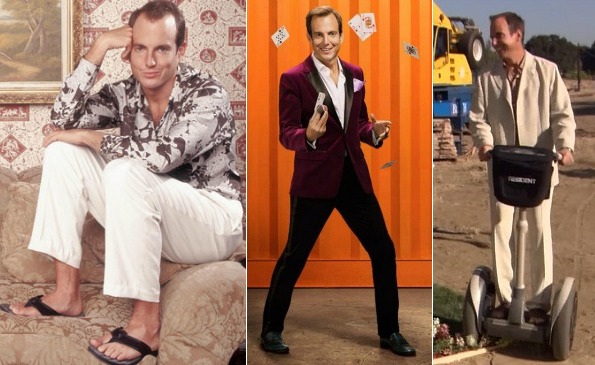 Michael's older brother Gob (Will Arnett) not only considers himself quite the ladies' man, but he's also a professional magician. Unfortunately, he's not very adept at either. Come on!
Outfit Inspired by Gob: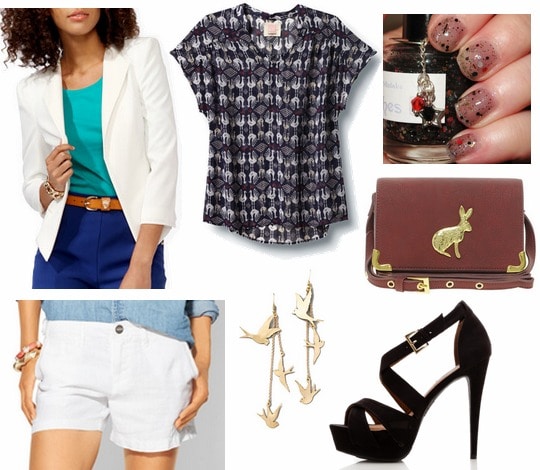 Product Info: Blazer- Forever 21, Top- Quiksilver, Nail Polish- Etsy, Bag- ASOS, Shorts- Piperlime, Earrings- Shopbop, Shoes- Forever 21
It may not be a $3,000 suit, but pairing a white blazer with matching linen shorts makes for a chic nighttime ensemble. Add a black-and-white printed top, then, since Gob loves his mandals, channel his style with a pair of sky-high platform shoes.
As far as accessories go, grab a satchel adorned with a rabbit and some dove-shaped earrings – both tributes to Gob's magic tricks, or rather, illusions. Lastly, paint your nails with this glitter polish aptly named "Huge Mistake".
George Michael Bluth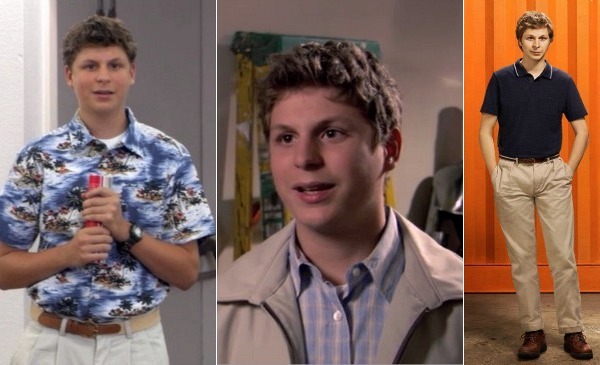 Michael's son George Michael (Michael Cera) works as a banana salesman over at the Bluth's Frozen Banana Stand. He's probably the most kind-hearted and responsible member of the Bluth family, but George Michael has one tiny problem – he has a crush on his cousin Maeby.
Outfit Inspired by George Michael: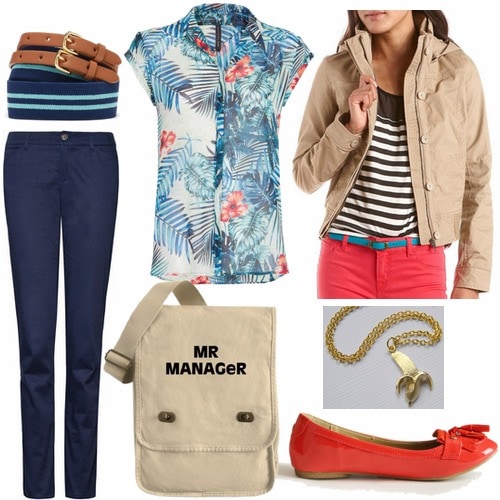 Product Info: Belt- Club Monaco, Top- Mango, Jacket- Charlotte Russe, Pants- Mango, Bag- Cafepress, Necklace- Etsy, Shoes- Ruche
George Michael loves his short-sleeved button-ups, and, lucky for us, tropical prints are actually on-trend this season! Start by pairing a tropical print blouse with navy blue slacks. Add a practical belt, as well as a super-stylish version of GM's trusty windbreaker.
Red loafers add a pop of color, while this fruit-shaped necklace symbolizes his job at the banana stand. Lastly, tote around a canvas bag that will show everyone that you're Mr. Manager. (We just say manager.)
Lindsay Bluth Fünke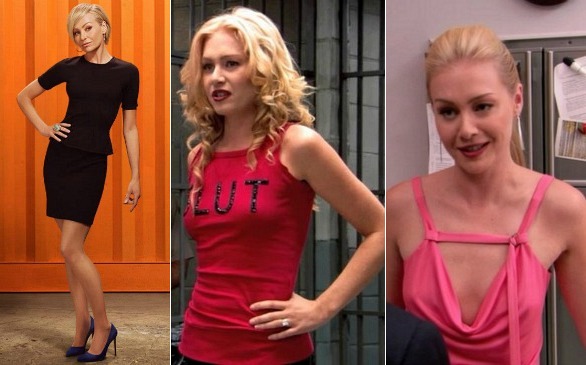 Tobias and his wife Lindsay (Portia de Rossi) have a strained marriage, to say the least. When she's not out shopping at Neiman's, Lindsay can be found saving the wetlands and protesting the war.
Outfit Inspired by Lindsay: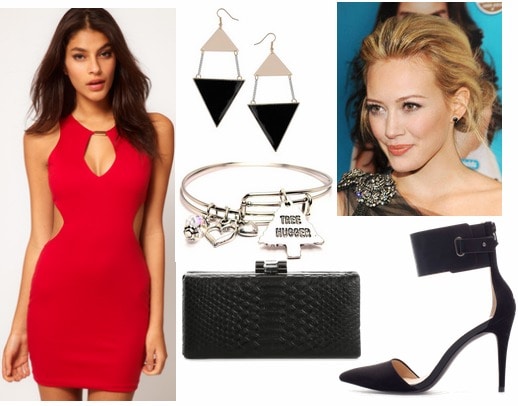 Product Info: Dress- ASOS, Earrings- Miss Selfridge, Bracelet- Etsy, Bag- DSW, Shoes- Zara | Hair Photo: ELLE
Alas, I wasn't able to find anything emblazoned with the same phrase as Lindsay's memorable tank top, but this frock is a similar crimson color (and decidedly much more wearable). Lindsay always keeps up with the latest trends, so there's no doubt that she'd love this stylish cocktail dress with cut-out details. Continue the trendy vibe with ankle strap pumps and color-blocked statement earrings.
The tree hugger bracelet and crocodile-skin clutch represent Lindsay's off-and-on attitude regarding charitable events. Finally, since Lindsay won best hair in high school, style your locks into a chic and voluminous chignon. This sultry look would be ideal for your next date night – maybe you and your date can chow down on some hot ham water?
George Bluth, Sr.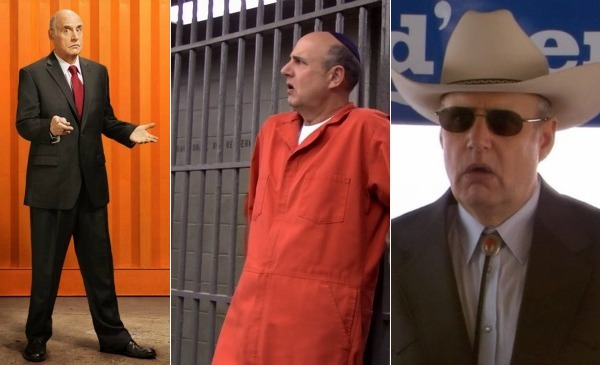 No touching! Bluth Company founder and family patriarch George Sr. (Jeffrey Tambor) has a run-in with the law at the start of the series, which lands him spot in the Orange County Prison. At first, he enjoys life in prison, but later escapes, resulting in George Michael having Pop Pop in the attic.
Outfit Inspired by George Sr.: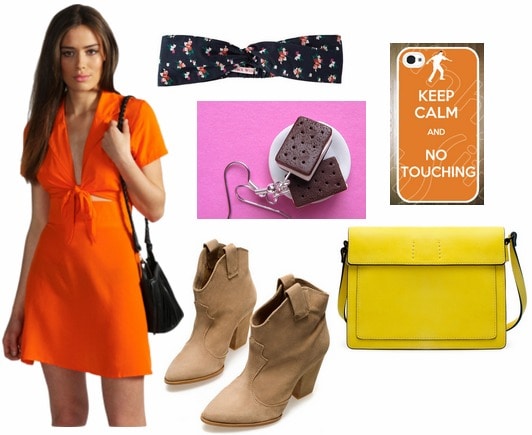 Product Info: Dress- BooHoo, Headband- Jack Wills, Earrings- Etsy, Phone Case- Etsy, Shoes- Zara, Bag- Zara
Why yes, I did create an outfit based on a prison jumpsuit. However, you won't be mistaken for an inmate in this stylish getup. Start by pairing an orange tie-waist dress with a pair of taupe ankle booties. Add a navy blue headband, which alludes to the makeshift yarmulke George Sr. fashioned out of part of his shoe, as well as his Caged Wisdom videos.
Accessorize with a pair of earrings modeled after George's beloved ice cream sandwiches, then grab a bright yellow handbag, which serves as a reminder that there's always money in the banana stand. For the finishing touch, grab an Arrested Development-inspired case that will hopefully prompt others not to touch your phone.
Buster Bluth
Hey brother!Buster (Tony Hale), the youngest son of the Bluth family, has one woman in his life – his mother Lucille. After all, he did spend 11 months in the womb. There is one time he does go against his mother's wishes, and as a result, his hand gets bitten off by a loose seal. Also, the man loves his juice.
Outfit Inspired by Buster: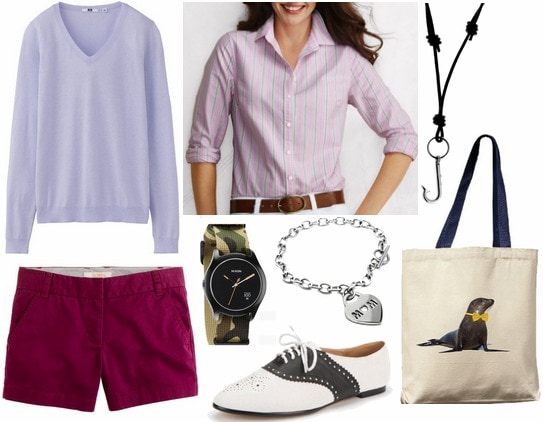 Product Info: Sweater- Uniqlo, Top- Lands' End, Necklace- HauteLook, Shorts- J. Crew, Watch- Nordstrom, Bracelet- Fantasy Jewelry Box, Shoes- Urban Outfitters, Bag- Etsy
Snag Buster's style for yourself by pairing a striped oxford shirt underneath a periwinkle blue sweater, allowing the collar to peek through. Add some grape juice-colored shorts and a pair of saddle shoes. A camo print watch represents his time in Army, while this bracelet proclaims his motherboy love. Accessorize with a hook-shaped necklace, as well as a bag adorned with the loose seal.
Your thoughts?
What do you think of these outfits? Which character is your favorite? Have you seen the new season of Arrested Development yet? As always, be sure to leave a comment below and tell me what you think!