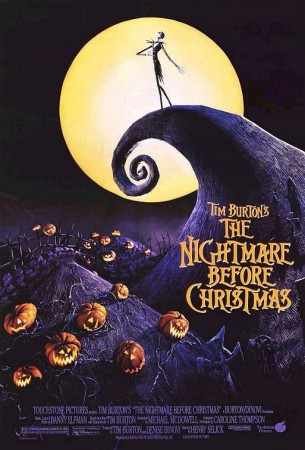 Since Halloween is quickly approaching, I knew that now would be the perfect time to cover fashion inspired by my favorite seasonal movie, Walt Disney and Tim Burton's The Nightmare Before Christmas. I can remember my 4 year old self watching this movie over and over, and to this day, it never gets old for me. While writing this article, I was so inspired that I decided to separate it into two parts.
Like the previous articles in this series, the purpose of this article is to use childhood films as inspiration for outfits that you can actually pull off as a college student. All it takes is a little creativity!
For more Disney-inspired looks, check out our past articles on Walt Disney's Snow White, Walt Disney's Sleeping Beauty, Walt Disney's The Little Mermaid, Walt Disney's Cinderella, Walt Disney's Princess Jasmine, Walt Disney's Princess Tiana, Walt Disney's Pocahontas, Belle from Disney's Beauty and the Beast, Jane Porter from Disney's Tarzan, Megara from Disney's Hercules, Emeralda from Disney's The Hunchback of Notre Dame, Walt Disney's Mulan, Walt Disney's The Lion King, Disney Fairies Part 1- Silvermist and Fawn, and Disney Fairies Part 2- Rosetta and Iridessa, and Disney Fairies Part 3- Vidia and Tinkerbell.
About The Nightmare Before Christmas
The story takes place in Halloween Town, a frightening place where life revolves around celebrating, you guessed it, Halloween. The most popular guy in town is Jack Skellington, the Pumpkin King. Everyone looks up to Jack because he is amazing at terrifying the world for Halloween. Despite his fame and glory, Jack feels like there's something missing in his life.
One day, while walking through the woods, Jack discovers a portal to Christmas Town, filled with joy and happiness, full of bright colors and beautiful decorations. This, he discovers, is what he had been missing. Jack rushes back to Halloween Town to explain Christmas to the townspeople. He decides that instead of organizing Halloween, Halloween Town will take over Christmas.
Preparations begin, and the most important job, creating a Santa suit, is given to Sally, a doll-like creation of the town's mad scientist. Sally is secretly in love with Jack, and they have a lot in common – both characters dream of living a more fulfilling life. Although Sally loves the idea of Christmas, she warns Jack that she has a terrible feeling that something will go wrong. But Jack, consumed with excitement about Christmas, ignores her warning.
As Sally predicted, Jack's plans soon start to go wrong. Although Jack thought it would be nice to capture Santa Claus so he could relax and not worry about his Christmas duties, Santa ends up being held by the Oogie Boogie, the most terrible man in all of Halloween Town. The Oogie Boogie plans on killing Santa, so Sally rushes in and tries to help.
As if that wasn't bad enough, the people of Christmas Town are horrified by the creepy presents Jack delivers to their children, and they put out a warning of a Santa Claus impersonator. Jack's sleigh is shot down from the sky.
Rather than being upset at his failures, Jack looks on the bright side and is proud of himself for discovering something new and trying his best. Realizing people need to stay true to who they are, he rips off his Santa suit and declares himself the Pumpkin King once again. He rushes back to Halloween Town and rescues Santa and Sally from the horrible Oogie Boogie.
In the end, Santa Claus saves Christmas, despite the damage Jack had done. Grateful to Jack for saving his life, Santa gives the gift of snow to Halloween Town. Finally, Jack sees Sally walk out of town, so he follows her to his favorite hill in the pumpkin patch. There, they realize that they are meant to be together.
Jack's Lament
After celebrating Halloween, rather than feeling accomplished with his great work, Jack Skellington feels like something is missing in his life and expresses himself through the song "Jack's Lament." For an outfit inspired by Jack, I chose a striped dress to match his suit, a form-fitting blazer, and purple shoes for a pop of color. I also added a spiky necklace, reminiscent of Jack's collar.
Tights- Forever 21, Dress- Topshop, Necklace- ASOS, Shoes- Amazon, Blazer- Jane Norman
What's This?
When Jack discovers the joyous land of Christmas Town, he sings the song "What's This" because everything he sees is so new to him. To make an outfit inspired by the scene, I used a long sparkly sweater, reminiscent of the snow, and red leggings. I also added some edgy earrings and boots, because even though Jack is in Christmas Town, he is still a tough guy.
Leggings- American Apparel, Sweater- Oasis, Bag- Spiegel, Earrings- Betsey Johnson, Boots- Forever 21
Mr. Oogie Boogie Man
To me, one of the most memorable scenes in the movie is the one where the evil Oogie Boogie captures Santa Claus. It is wretched and creepy, but the colors are so vivid. With this scene as inspiration, I made an outfit with a very bright color palette.
Top- Tilly's, Shoes- Forever 21, Jeans- Uniqlo, Vest- Alloy, Bracelets- Tilly's
Sally's Song
Sally sings her song to herself to express her love for Jack and the anxiety she feels about his plan to take over Christmas. I drew inspiration from her outfit by including lots of different patterns, but ensuring they look put-together. I also chose a bag and necklace inspired by leaves, since Sally is stuffed with them, and added adorable cat earrings since she pets a stray cat in the song.
Bag- , Tights- Anthropologie, Dress- Modcloth, Coat- Modcloth, Earrings- Avalaya, Necklace- Amazon, Boots- Urban Original
What do you think?
Are you inspired by The Nightmare Before Christmas? Which looks are your favorite? Which Disney movies would you be interested in seeing posts about in the future? I want to know what you think, so be sure to leave your thoughts in a comment!