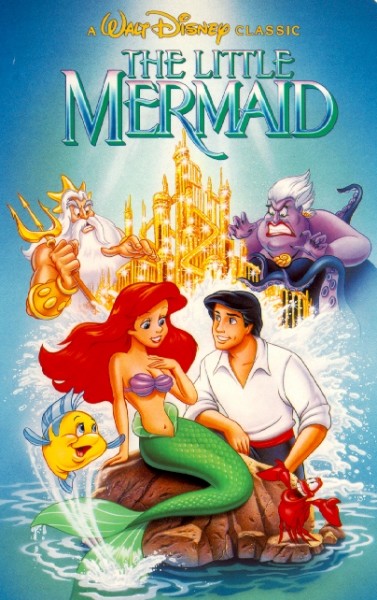 My last two posts about fashion inspired by Walt Disney's Snow White and Walt Disney's Sleeping Beauty got an amazing response from you guys – I'm so happy you enjoy the series so far! As I've shown in past weeks, it's possible to be inspired by Disney princesses and still dress like an adult. It's all about creativity!
This week, I'm going to show you how to get the look from one of the most beloved Disney films of all time (and one you guys requested over and over in the comments): The Little Mermaid.
About The Little Mermaid
In case you need to brush up on the plot of the story, here is a brief summary:
Princess Ariel, the kindhearted mermaid daughter of King Triton, is obsessed with humans… even though her father thinks of them as a huge threat to the mermaids. She even has a secret grotto full of human artifacts that she has collected. One night, Ariel brings her unwilling friends, Flounder and Sebastian, to the ocean surface where they witness a shipwreck. Ariel rescues a human, Prince Eric, by bringing him to the shore. He wakes up alone, vaguely remembering her beautiful voice.
Down on the ocean floor, everyone knows Ariel is in love. Determined to be with Prince Eric, Ariel seeks out the help of sea witch Ursula, who bestows Ariel with human legs for three days in exchange for her voice. However, the only way Ariel can get her voice back and remain human is to get Prince Eric to kiss her. Ariel accepts this arrangement, and gives her voice to Ursula where she keeps it in a shell necklace.
Ariel spends time on land and nearly succeeds at getting Prince Eric to kiss her, but Ursula is determined to not let this happen. She uses a number of tactics to stop Ariel and Eric from ending up together, but she is eventually defeated when the merpeople, including King Triton, help Ariel. He transforms her into a human permanently and she is able to marry her Prince.
1. Under the Sea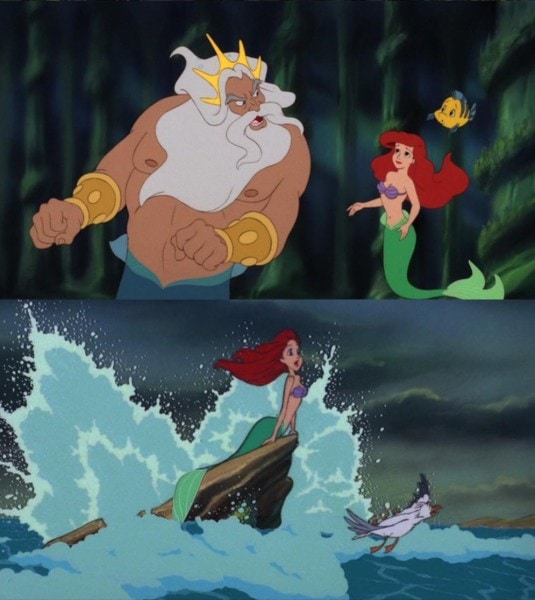 The first outfit is based on Princess Ariel in her mermaid state. The purple bandeau bikini top is similar to her seashell top, and the green cover-up shorts are the same color as her fins. You can put the shell bracelet and starfish shoes in the adorable tote if you decide to go for a swim.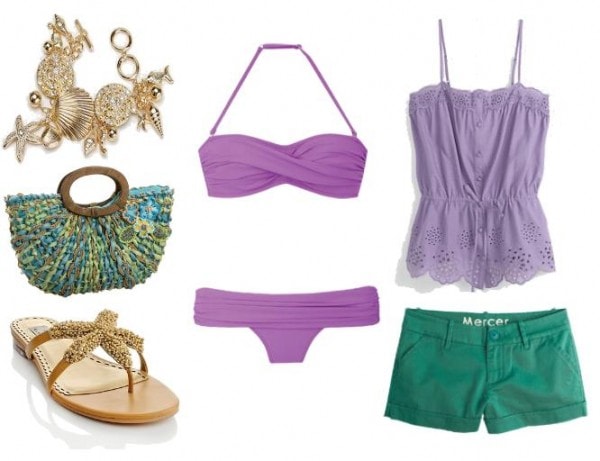 Bracelet- Lori's Shoes, Bag- Endless, Shoes- HSN, Bikini- Delia's, Top- PacSun, Shorts- Delia's
2. Dinner with the Prince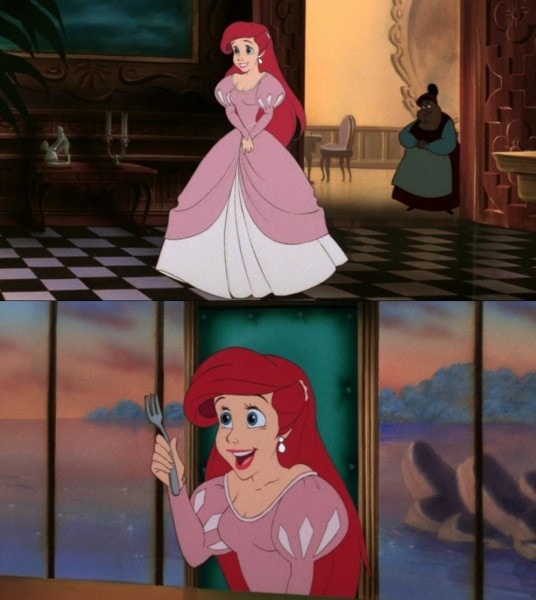 For Ariel's first dinner with Prince Eric, she wears a lovely pink and white dress with puff sleeves. When given a fork, she calls it a "dinglehopper" and thinks that its function is to brush hair. The outfit I put together is a little pink dress with slightly puffed sleeves, and super feminine accessories. I also included earrings in the shape of a fork and knife, bringing to mind the "dinglehopper" incident.
Headband- Modcloth, Purse- Yes Style, Dress- ASOS, Earrings- Rokit, Pumps- Wet Seal
3. Kiss the Girl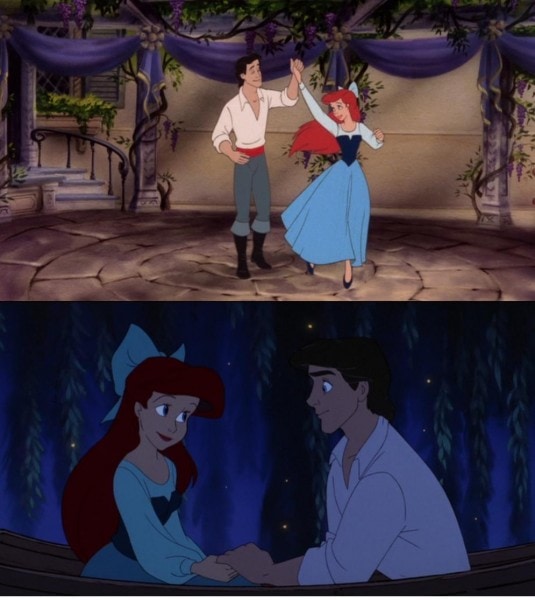 For a day out on the town with Prince Eric, Ariel wears a casual blue outfit. While wearing this outfit, she comes so close to getting him to kiss her; her friend Sebastian the crab even sings a song to convince Prince Eric to kiss her. The outfit I chose is a casual patterned corset top, navy skirt, and sky blue cardigan. I also included a bow headband, similar to the large bow Ariel wears, and crab earrings.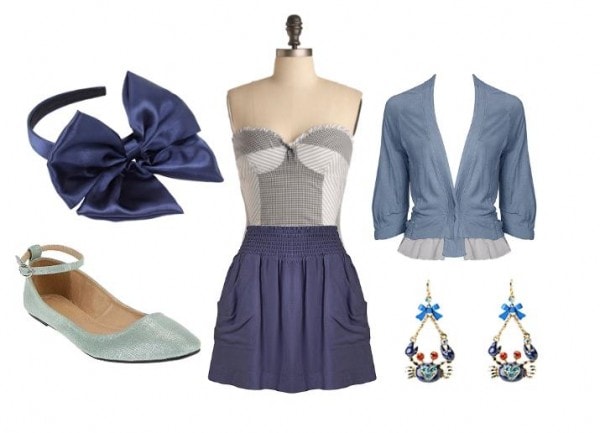 Headband- ASOS, Shoes- Urban Outfitters, Top- Modcloth, Skirt- Forever 21, Cardigan- Forever 21, Earrings- Betsey Johnson
4. The Little Mermaid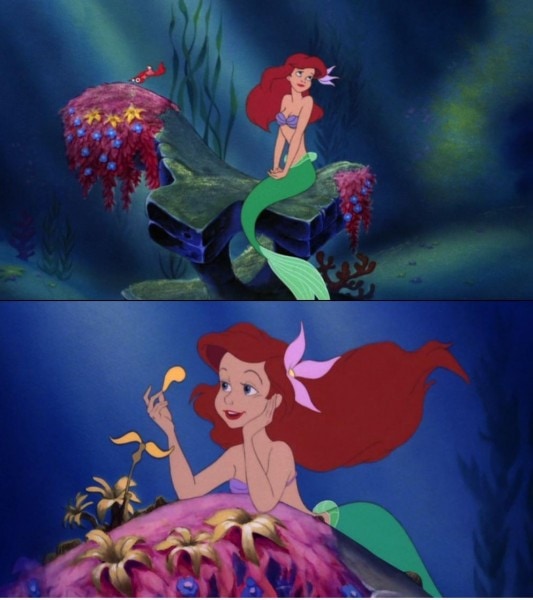 Even though Ariel ultimately chooses to live as a human, most people think of her as a perpetual mermaid. Although she isn't shown wearing lavish outfits, you can still get inspiration from her mermaid look for an outfit that is appropriate to wear places other than the beach or pool.
I chose this beautiful mint green dress with flowy sleeves because it is the same color as her fins and reminds me of the sea. I added a few touches of purple, like her top, in the shoes and flower hair accessory. The necklace is similar to the shell necklace in which Ursula keeps Ariel's voice.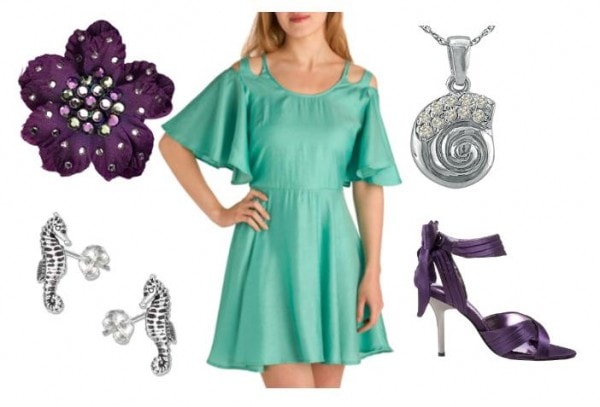 Hair Flower- Tara Tarantino, Earrings- Zulu Moon, Dress- Modcloth, Necklace- Overstock.com, Shoes- Amazon
Thoughts?
Are you inspired by The Little Mermaid? Which other Disney-inspired looks would you like to see featured here in the future? We want to know what you think, so leave your thoughts in a comment!