Editor's note: After the unbelievable reception our Disney fashion series received, we've decided to do another Disney-inspired post. By popular request, this post will focus on fashion inspired by the newest Disney princess, Rapunzel. Fairytale fans, this one's for you!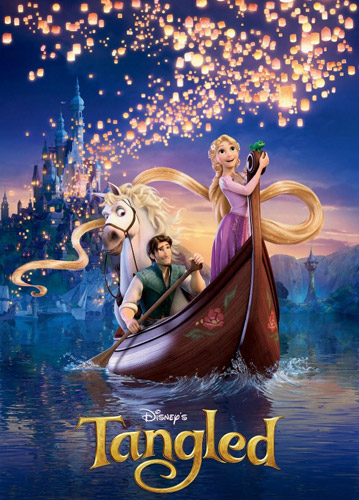 It's not often that Disney welcomes a new princess into their royal family, thus making their newest fairytale Tangled a flick worth watching. Even though it is a princess story, the movie doesn't follow a Cinderella-meets-Prince-Charming storyline. After being locked in a tower for her entire life, Rapunzel, with the help of her new friend Flynn Rider, sets out on an adventure to arrive at the kingdom just in time for their annual lantern-releasing ceremony. As always, Disney throws in some twists and turns to keep things interesting. Overall, the film is a heartwarming story sure to make you laugh (and maybe cry).
As much as I'd love to dress up in a Disney princess costume everyday (plastic shoes and all), the Disney look is not something to be worn around campus and to class. However, with these tips and ideas for outfit inspiration,you can dress like a modern-day Rapunzel without looking like you're headed to a costume party. No hair extensions required!
About Rapunzel
Rapunzel is a very unique princess. Being locked away in a tower for the majority of her life, she constantly searches for hobbies to pass the time. From painting to reading, and even fashion design, there's not one boredom buster Rapunzel hasn't tried.
Looks-wise, her most unique feature is her extremely long golden hair, which also has the power to heal (and can act as a makeshift pulley). Throughout the course of the movie, she is seen wearing her signature lilac-colored dress. In case you haven't seen the film, here are a few fun facts about Rapunzel's character:
Her signature dress is a combination of light purple, dark purple, and light pink.
She has a pet chameleon named Pascal, who is also her sidekick while on adventures.
Her golden braided hair is accented with colorful flowers during certain scenes in the film.
She is very artistic and loves to paint, specifically pictures of the lantern ceremony.
Now for the fashion! The following outfits are wearable looks inspired by Rapunzel's overall aesthetic. Use these as a source of inspiration for your own wardrobe!
Rapunzel Outfit #1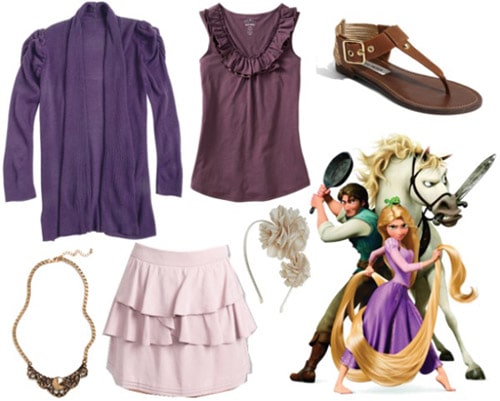 Products:
The above outfit is a simple take on Rapunzel's pretty purple dress. Since she goes barefoot throughout the entire movie, the gladiator sandals help to achieve that look without actually going shoe-free. The necklace, with its crown-like appearance, is a nod to her royal status. The floral headband tops off her innocent and whimsical look.
Rapunzel Outfit #2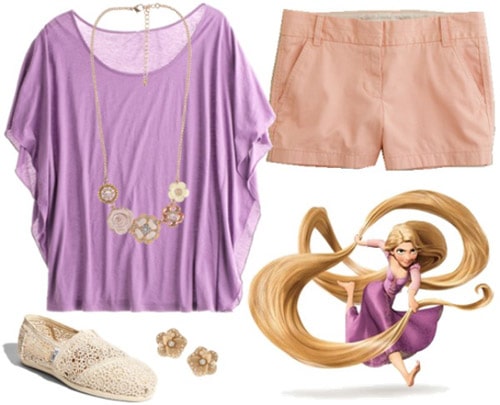 Products:
This outfit is a little more relaxed than the others, but the flutter sleeves on the tee keep with the girly, princess-y vibe. Again, since Rapunzel doesn't wear shoes, the simple lace TOMS above still maintain a soft, natural look. Finish the look off with neutral floral jewelry for extra princess appeal.
Rapunzel Outfit #3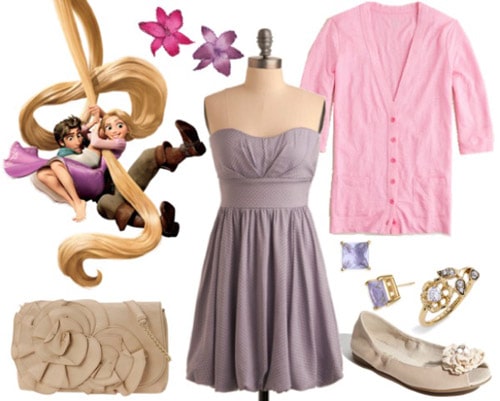 Products:
This outfit is a little more dressy than the other two while still keeping things simple. The strapless light purple dress paired with a light pink cardigan achieves a girly look, complemented by the floral bag and peep-toe flats. Subtle jewelry gives the look a classic appeal. Finally, the bright flower clips are a nod to Rapunzel's signature locks.
Also read: Fashion Inspiration: Walt Disney's Sleeping Beauty
What do you think?
Did you see the movie Tangled? Are there any other Disney-inspired posts you'd like to see here? Would you wear any of the looks above? Which look was your favorite? Let me know in the comments!
Related posts: