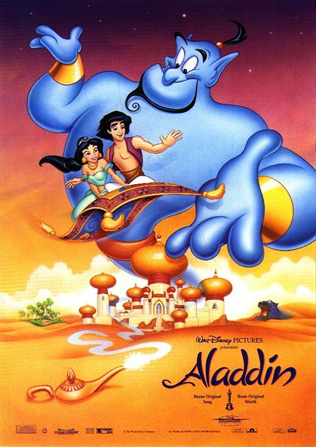 After the many requests from you guys, our Disney inspiration series continues today with fashion inspired by the independent and adventurous Princess Jasmine from the movie Aladdin.
Like the previous articles in this series, the purpose of this article is to use a childhood idol as inspiration for outfits that you can actually pull off as a college student. All it takes is a little creativity! For more Disney-inspired looks, check out the articles on Walt Disney's Snow White, Walt Disney's Sleeping Beauty, Walt Disney's The Little Mermaid, and Walt Disney's Cinderella.
About Princess Jasmine – Story Recap
Princess Jasmine is the daughter of the Sultan of Agrabah. She is frustrated with her life because she is denied the right to make important decisions for herself. All she really wants is to have adventures, but there is a law stating that she must get married. Of course, the princess refuses to get married to someone that she does not love.
Angry with her circumstances, she sneaks out of the palace dressed as a peasant, vowing never to return. When she enters the marketplace, she meets a young man named Aladdin and his pet monkey Abu. Meanwhile, the Grand Vizier to the Sultan, an evil man named Jafar, is on the hunt for a genie in a lamp. He finds out that Aladdin is the only one who can retrieve this lamp, so he has him captured and the Princess is returned to the palace. Before being separated, Aladdin finds out Jasmine's true identity.
Jafar tricks Aladdin into getting the lamp, then attempts to steal it from him and leave him trapped in a cave. However, Jafar is unable to escape with the lamp. Now Aladdin has a genie to grant him wishes, and his first wish is to become a Prince so that he can marry Princess Jasmine.
Aladdin rides into Agrabah in a huge parade to make a grand entrance for the Princess. Jasmine, however, is not impressed and thinks Aladdin (now known as Prince Ali) is just like all of the other rich, pompous princes. That evening, he takes her on a magic carpet ride around the world, where she recognizes that he is the boy from the marketplace, but he lies and says that he is truly a Prince who dresses as a peasant from time to time.
The Princess is in love with Prince Ali and tells her father she wants to marry him. After the Sultan formally announces their engagement, Jafar steals the lamp from Aladdin and gains control of the genie. He reveals to everyone that Prince Ali is really just Aladdin, and makes Jasmine his personal slave. Fortunately, Aladdin tricks him into wishing he was the most powerful genie in the world, and Jafar then ends up locked in a lamp for all eternity.
Everything goes back to normal, and Jasmine tells Aladdin that she loves him even though he isn't really a Prince. Her father recognizes her bravery and her love for Aladdin, so he changes the law and allows the two to marry.
1. Jasmine's Aqua Outfit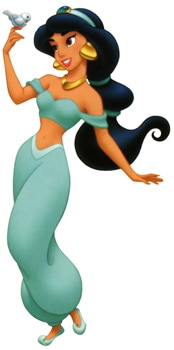 Princess Jasmine's everyday outfit consists of a cropped off-the-shoulder top and matching aqua pants. The outfit I made consists of a gorgeous shoulder-baring aqua dress, a headband similar to Jasmine's, and cute pointy flats.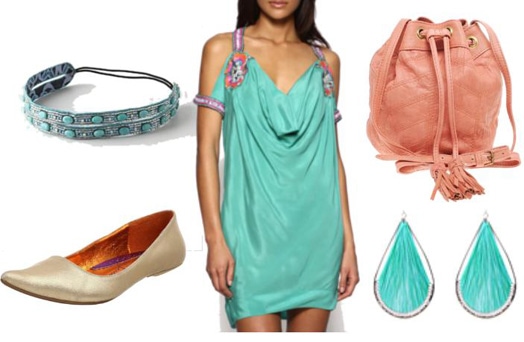 Headband- Anthropologie, Shoes- Endless, Dress- French Connection, Bag- ASOS, Earrings- Papaya Clothing
2. The Big Announcement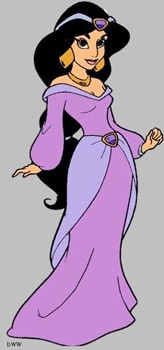 When the Sultan announces "Prince Ali" and Jasmine's engagement, Jasmine is pictured wearing a gorgeous purple dress with volume around the waist. My outfit inspired by her purple dress consists of a sparkly lilac top, a voluminous skirt, and a headband. I also included tiger eye jewelry because, of course, Jasmine's best friend is a tiger.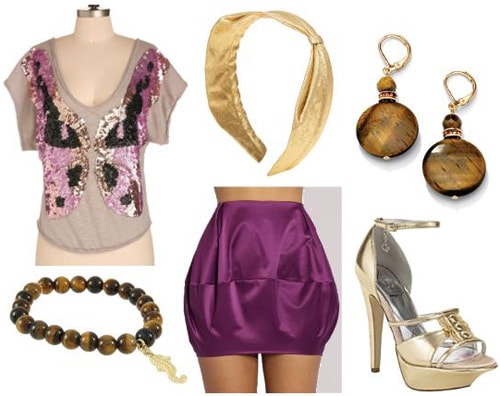 Top- Modcloth, Bracelet- ASOS, Headband- Barney's, Skirt- ASOS, Earrings- Jessica London, Shoes- Baby Phat
3. Jafar's Slave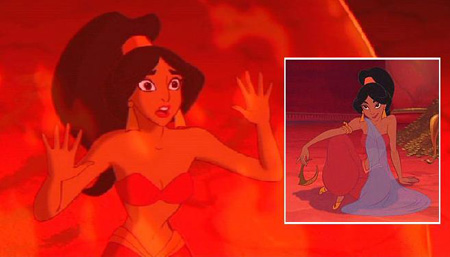 When Jasmine is forced to be Jafar's slave, she wears an outfit that is similar to her everyday outfit, except in red. Since her slave look is more sultry than usual, my "inspired by" outfit includes a sexy body-con dress and black and gold accessories, including a snake arm cuff like the one Jasmine actually wears.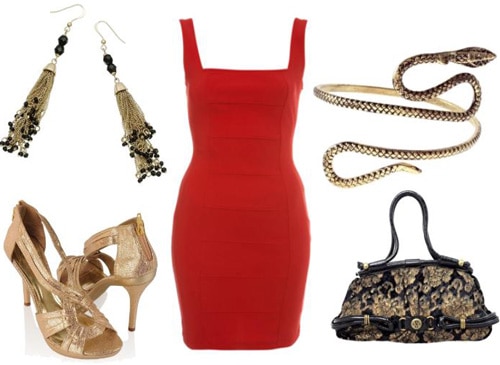 Earrings- Monsoon, Shoes- Forever 21, Dress- Miss Selfridge, Arm Cuff- ASOS, Bag- ASOS
4. Another Aqua Outfit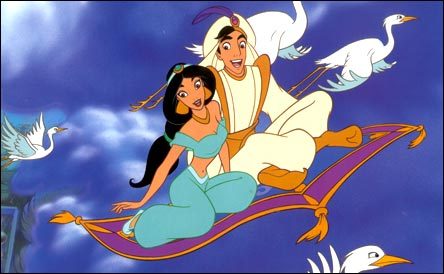 Since Princess Jasmine is most often pictured in her aqua outfit, I decided to make another outfit inspired by that particular look.
Most Disney Princesses are depicted wearing dresses the majority of the time, but since Jasmine rarely wears dresses, I took the opportunity to make an outfit with pants that would be appropriate for work. For the outfit below, I chose harem pants with a similar shape to Jasmine's, but in a neutral color so they don't look like a costume. The top echoes the aqua in her outfit, and the accessories are inspired by the atmosphere of Agrabah, creating a very Jasmine-esque vibe.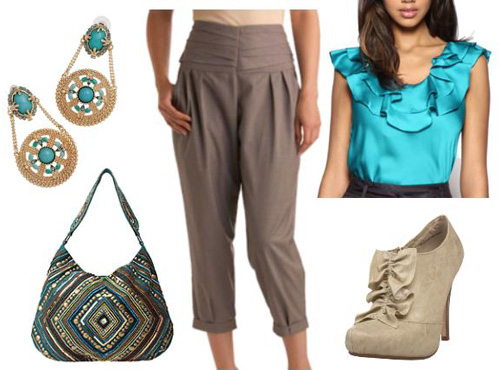 Earrings- We Like Fashion, Bag- Nine West, Pants- Modcloth, Top- ASOS, Shoes- Endless
Bonus: Genie Fashion for Guys
Since the genie is one of my favorite characters in the movie, I decided to make a genie-inspired outfit for guys. (I know some of you read CF, too!) Whether your boyfriend or your closest guy friend really needs your fashion guidance, or if you just want to give him a new look, this genie outfit is sure to be a crowd pleaser. Since the genie has a fairly simple look, I used dark jeans, a blue t-shirt, and a lighter blue cardigan to achieve a similar aesthetic. For genie-inspired accessories, I added a red belt and gold watch.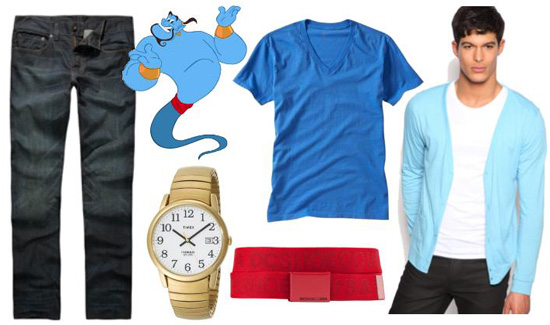 Jeans- Levi's, Watch- Endless, Tee- Gap, Belt- DC, Cardigan- ASOS
Thoughts?
Are you inspired by Princess Jasmine's looks? Which other Disney characters would you like to see posts about in the future? I want to know what you think, so be sure to leave your thoughts in a comment!