Editor's Note: If you're new here, we know what you might be thinking: why is a college website talking about Disney characters? But as you'll see, inspiration can be found everywhere, and with creativity, it's possible to create real-life-wearable looks inspired by unconventional muses. Don't think it can be done? Read on and see for yourself!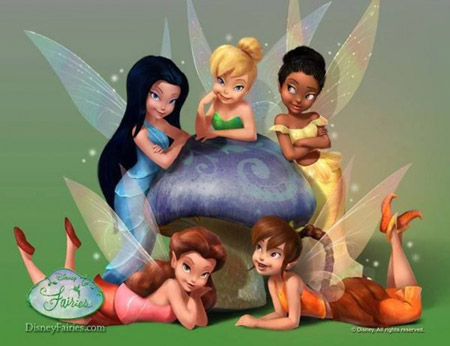 Growing up, most of us watched Peter Pan and were intrigued by the feisty little fairy, Tinkerbell. Recently, Disney has made three movies that take an in-depth look at Tinkerbell's life before Peter Pan. We didn't grow up watching these movies, but I have watched all three of them, and they are adorable! The world of fairies is such an interesting place, and Disney does a great job of answering all the questions you've ever had about Tinkerbell and where she comes from.
Tinkerbell isn't the only fairy to star in her movies. Her friends, Silvermist, Fawn, Iridessa, Rosetta and Vidia all play important roles in her story, and each of them have different fairy talents. This article focuses on Vidia and Tinkerbell.
For more Disney-inspired looks, check out our past articles on Walt Disney's Snow White, Walt Disney's Sleeping Beauty, Walt Disney's The Little Mermaid, Walt Disney's Cinderella, Walt Disney's Princess Jasmine, Walt Disney's Princess Tiana, Walt Disney's Pocahontas, Belle from Disney's Beauty and the Beast, Jane Porter from Disney's Tarzan, Megara from Disney's Hercules, Emeralda from Disney's The Hunchback of Notre Dame, Walt Disney's Mulan, Walt Disney's The Lion King, Disney Fairies Part 1- Silvermist and Fawn, and Disney Fairies Part 2- Rosetta and Iridessa.
Vidia, the Fast Flying Fairy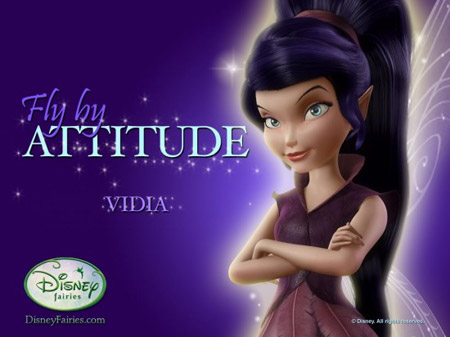 Vidia isn't exactly the sweetest fairy around Pixie Hollow. In the first movie, she is quite unpleasant and vicious, but she ends up being a big part in rescuing Tinkerbell in the third movie. She is never the most friendly character, but deep down, she cares about Tinkerbell and the other fairies.
Casual Outfit Inspired By Vidia
Vidia's outfit shows off her hourglass figure by cinching the waist, so I used a dress with a similar silhouette. Since she is a tough girl, I added boots and a faux leather bag.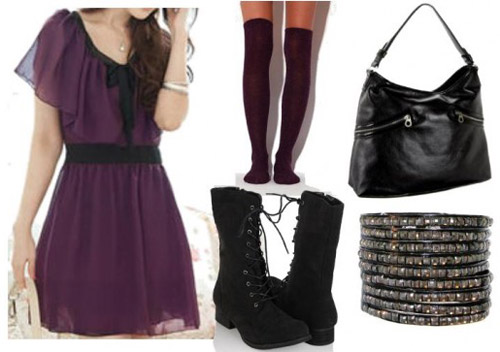 Dress- Yes Style, Socks- Urban Outfitters, Boots- Forever 21, Bag- Endless, Bangles- Girl Props
Dressy Outfit Inspired By Vidia
This form-fitting dress is something Vidia would love. To accessorize, I used feathered earrings, since Vidia's outfit is made of feathers, and other edgy pieces, such as studded pumps.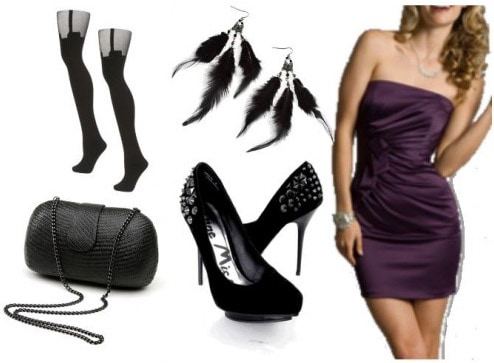 Tights- Topshop, Bag- Lori's Shoes, Earrings- Avalaya, Shoes- AMI Clubwear, Dress- Windsor Store
Tinkerbell, the Tinker Fairy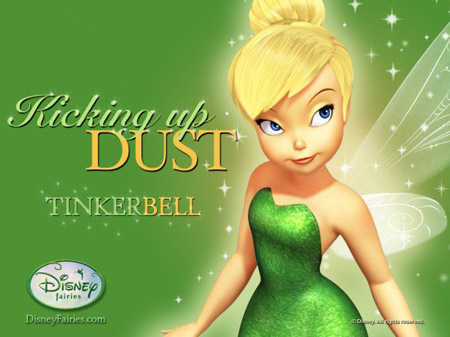 Tinkerbell is a Tinker Fairy, which means she's got a knack for inventing things. However, she is no ordinary Tinker Fairy. She invents loads of useful things for the fairies, and she even ends up being allowed to travel to the main land for the changing of the seasons, something that no Tinker Fairy had ever been allowed to do.
Casual Outfit Inspired By Tinkerbell
The skirt I chose for this outfit is perfect for Tinkerbell – it's her favorite color (green), and it has a simple and sleek design, like her dress. I used a strapless corset top shaped like the neckline of her dress, and a mouse necklace, since one of her best animal friends is a mouse named Cheese. (It's also a little nod to Disney!)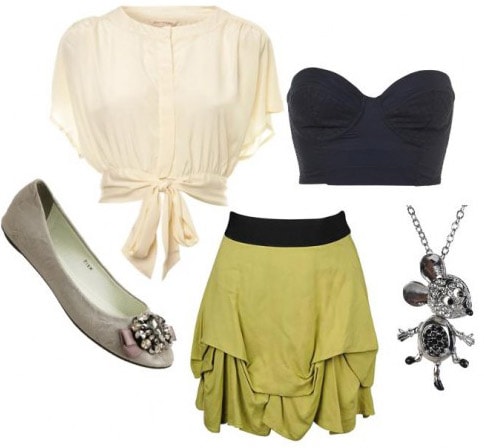 Shoes- Love My Shoes, Top- Miss Selfridge, Corset- Topshop, Skirt- Forever 21, Necklace- Forever 21
Dressy Outfit Inspired By Tinkerbell
For a dressier Tinkerbell outfit, I used a gorgeous green dress with tiny ruffles. I used glittery gold shoes and a sequined clutch because they remind me of Tink's pixie dust. To finish off the look, I used bell-shaped earrings, because of her name, of course! (Fun fact: Tinkerbell finds out that when fairies try to speak to humans, all that the human can hear is the sound of a bell.)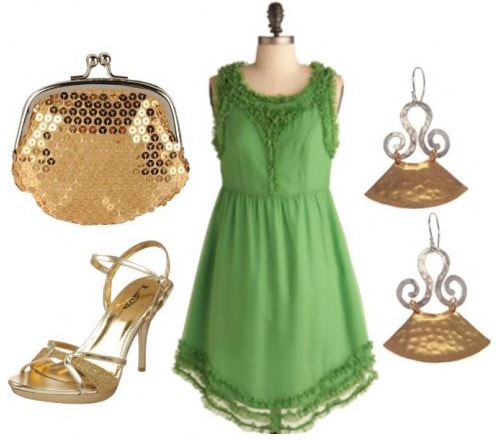 Clutch- Forever 21, Shoes- Endless, Dress- Modcloth, Earrings- Max and Chloe
Thoughts?
Are you inspired by the fairies of Pixie Hollow? Which looks are your favorite? Which Disney movies would you be interested in seeing posts about in the future? I want to know what you think, so be sure to leave your thoughts in a comment!