This post will show you 6 extremely cute amusement park outfits plus tips on what to wear to theme parks.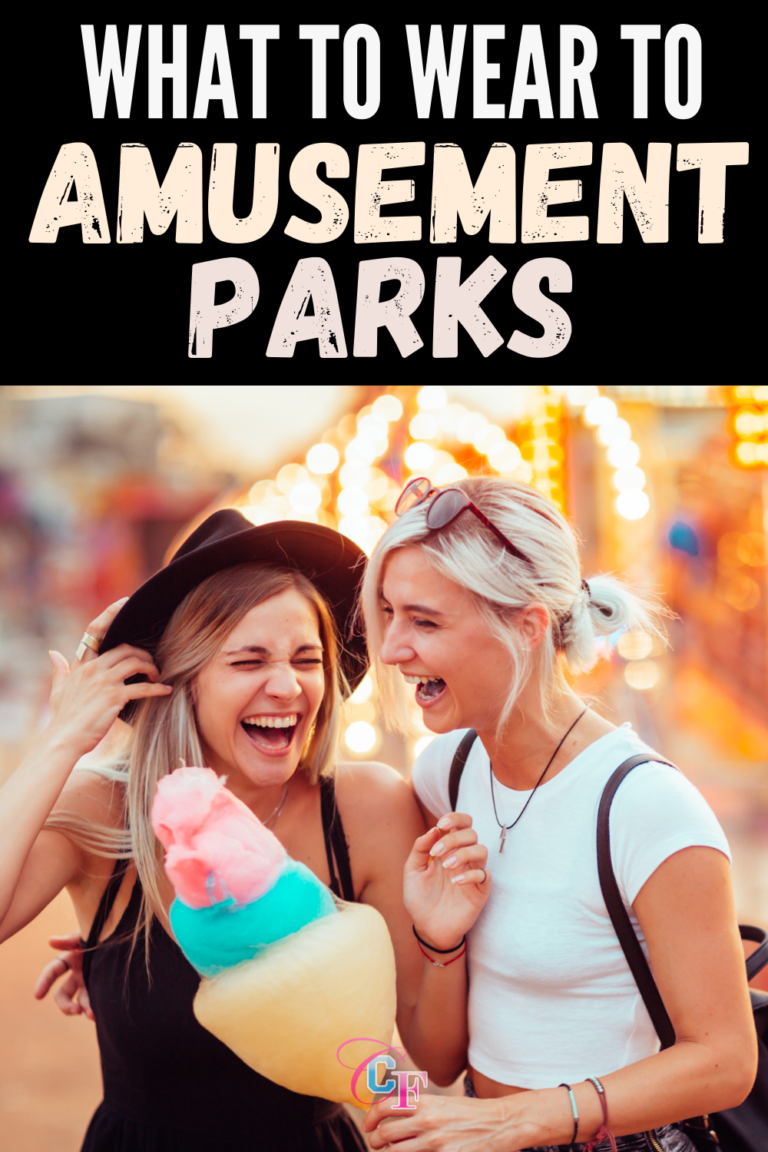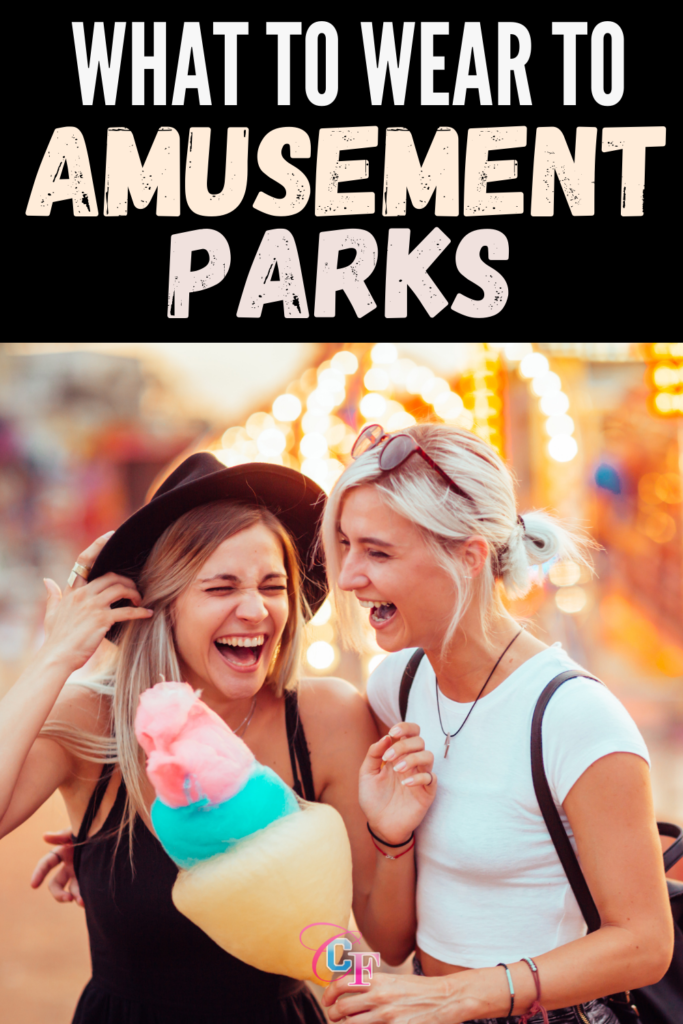 Summer will be here very soon! And summer, for me, means trips to amusement parks — so fun. However, one thing that can be difficult about going to an amusement park is deciding what to wear.
In fact, we received the following reader question from Lauren about this:
"Hi, I was wondering if you could do a post about what to wear to a theme park? Especially during the summer. I'm stuck on how to be fashionable, but also keep cool, dry off quickly when wet (like on a water ride), and mostly have good support in walking shoes when you're on your feet ALL DAY LONG, but maybe not wearing, like, running shoes. And what about if it's hot during the day but gets colder at night? And that won't be disgusting if you get all sweaty? Those sorts of issues. If you had any tips I would be very grateful!"
After reading Lauren's message, I realized there are a lot of factors to consider when dressing for amusement parks. And there would be nothing worse than having one of those perfect, sunny amusement park days ruined by a wardrobe malfunction or just generally feeling uncomfortable in what you're wearing.
Therefore, I decided to do an in-depth look at what to wear to different amusement parks, from basic ones with rides that may get you wet, to actual water parks, and finally, I'll cover what to wear if you're going to a park during the day and plan to stay out once the sun goes down!
Here are six outfits that will be absolutely perfect for an amusement park:
1. Amusement Park Outfit #1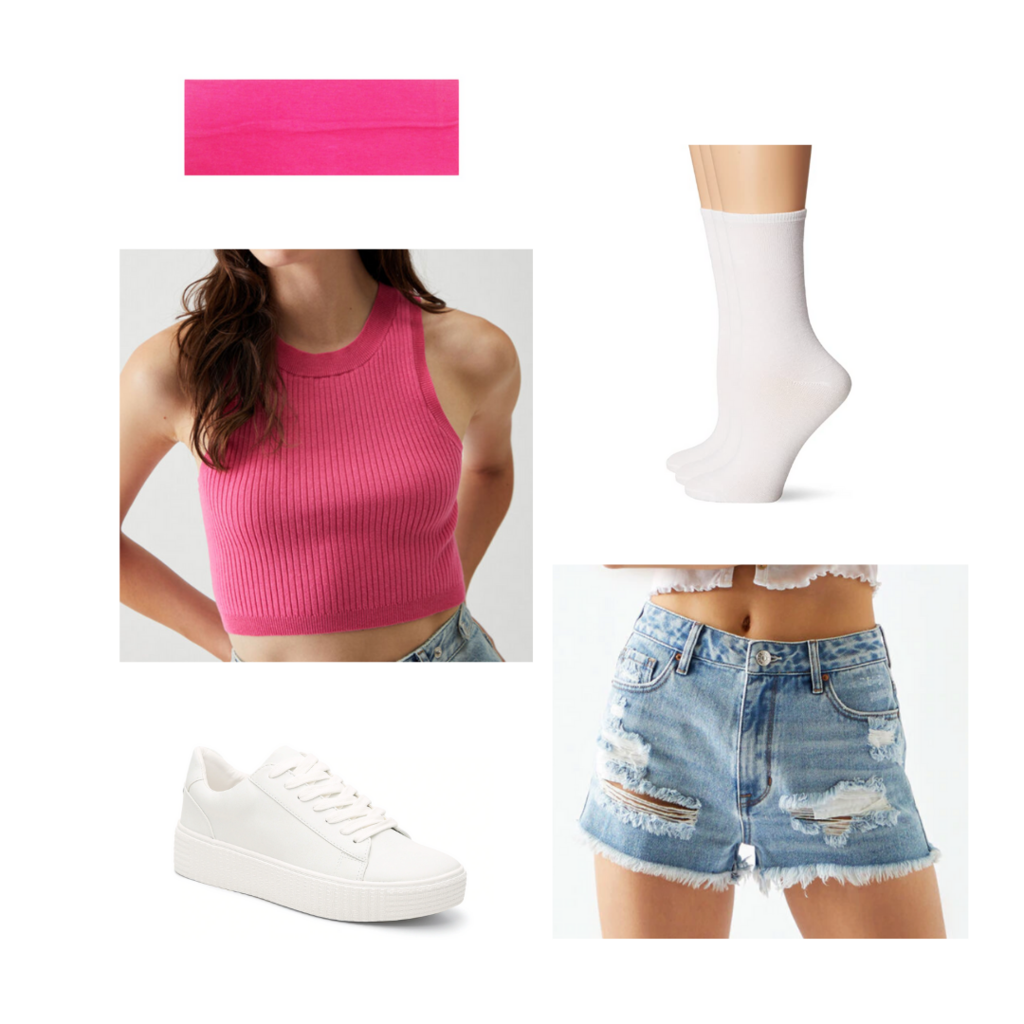 Products:
If you're going to an amusement park, I highly recommend any outfit that includes jean shorts. Jean shorts are always my go-to clothing item when the weather is really warm.
Not only will jean shorts keep you cool and comfortable throughout the day, but also they can look super cute if paired with the right items.
I absolutely love this trendy jean shorts outfit, which includes an adorable pair of ripped jean shorts with a hot pink cropped tank top and headband to match.
For shoes, you can pair the outfit with some white sneakers and white ankle socks (comfy for walking all day at the amusement park), and you will be good to go!
2. Amusement Park Outfit #2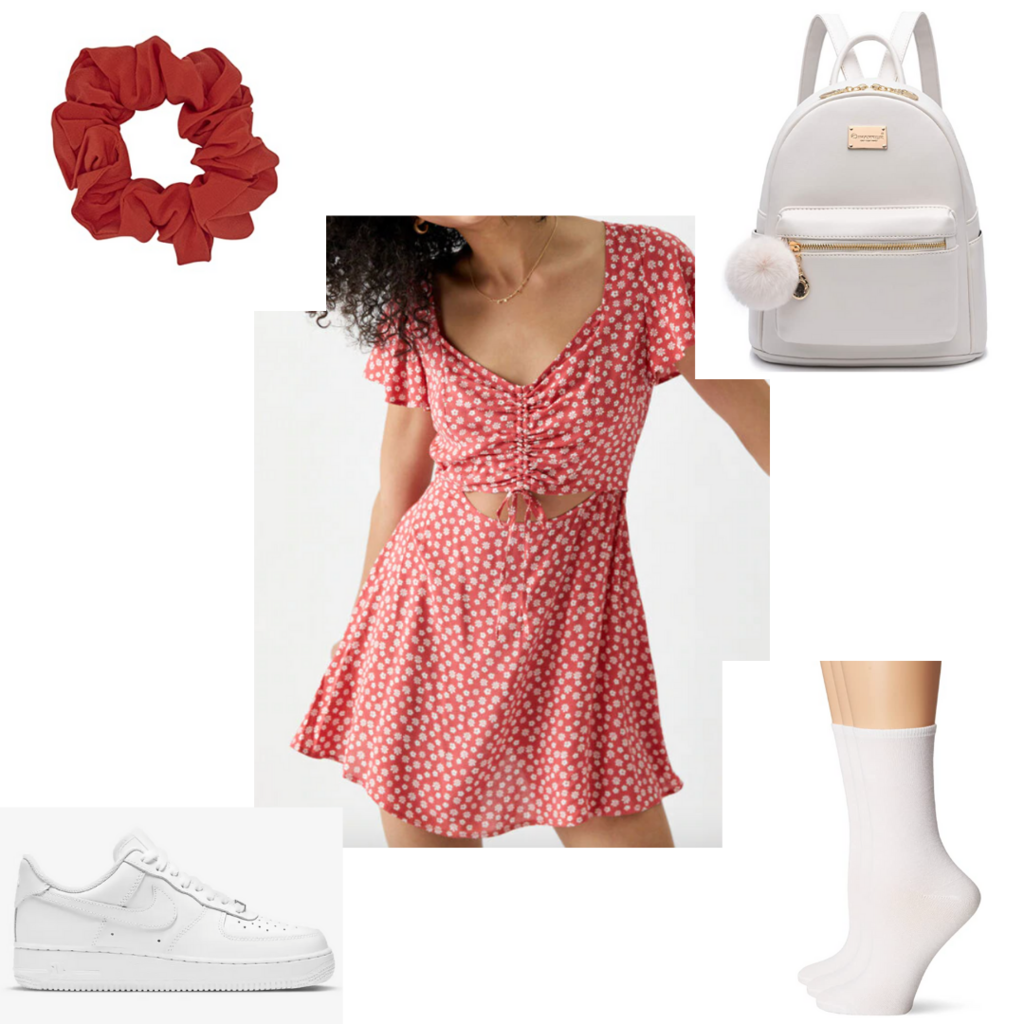 Products:
Another outfit that you may not have thought of wearing to an amusement park is a flowy dress! Flowy dresses are great because they can keep you cool if the weather is warmer, and they are so insanely comfortable. They're also super pretty for dates if you're going during the evening.
Note: Dresses are definitely best if you're planning to do a lot of strolling around, playing games, and eating — they're not the best choice for extreme rides that might put you upside down. However, you can wear short biker shorts underneath if you plan to go on any rides where your legs will be out.
I love this cute red and white dress for summer — the bow design and cutouts are so cute.
If you want to do something to your hair with this outfit, you could put it up with this red scrunchie. This will also help to keep you cool in warmer weather.
Next, just put on some white sneakers like these Nike air force 1s and some ankle socks and your amusement park outfit will be complete!
If you want to also bring something to carry your belongings in, this adorable mini white backpack is a great choice.
3. Amusement Park Outfit #3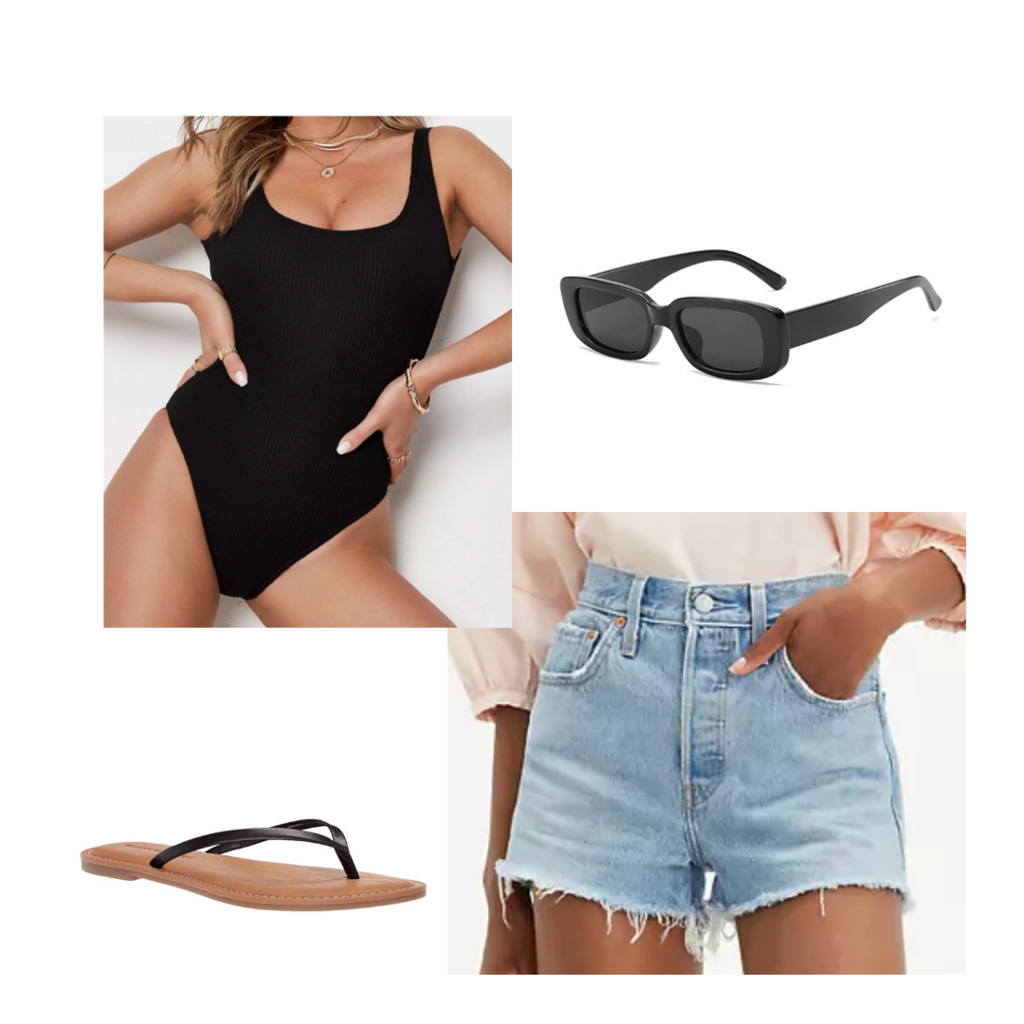 Products:
You may also be going to a water park or an amusement park with water rides, so you might want to wear an outfit specifically for that. While this might sound tricky, this is actually very easy!
All you need to do is find a one-piece swimsuit (which you can wear like a bodysuit). This black swimsuit will definitely do the trick! Then, you can pair the swimsuit with some jean shorts like these, and you will look like you are wearing an actual outfit.
This will be perfect if you are going to an amusement park with water rides because you won't have to worry about changing your clothes.
Just pair this outfit with some black flip-flops and sunglasses to match, and you will be ready for the water park!
4. Amusement Park Outfit #4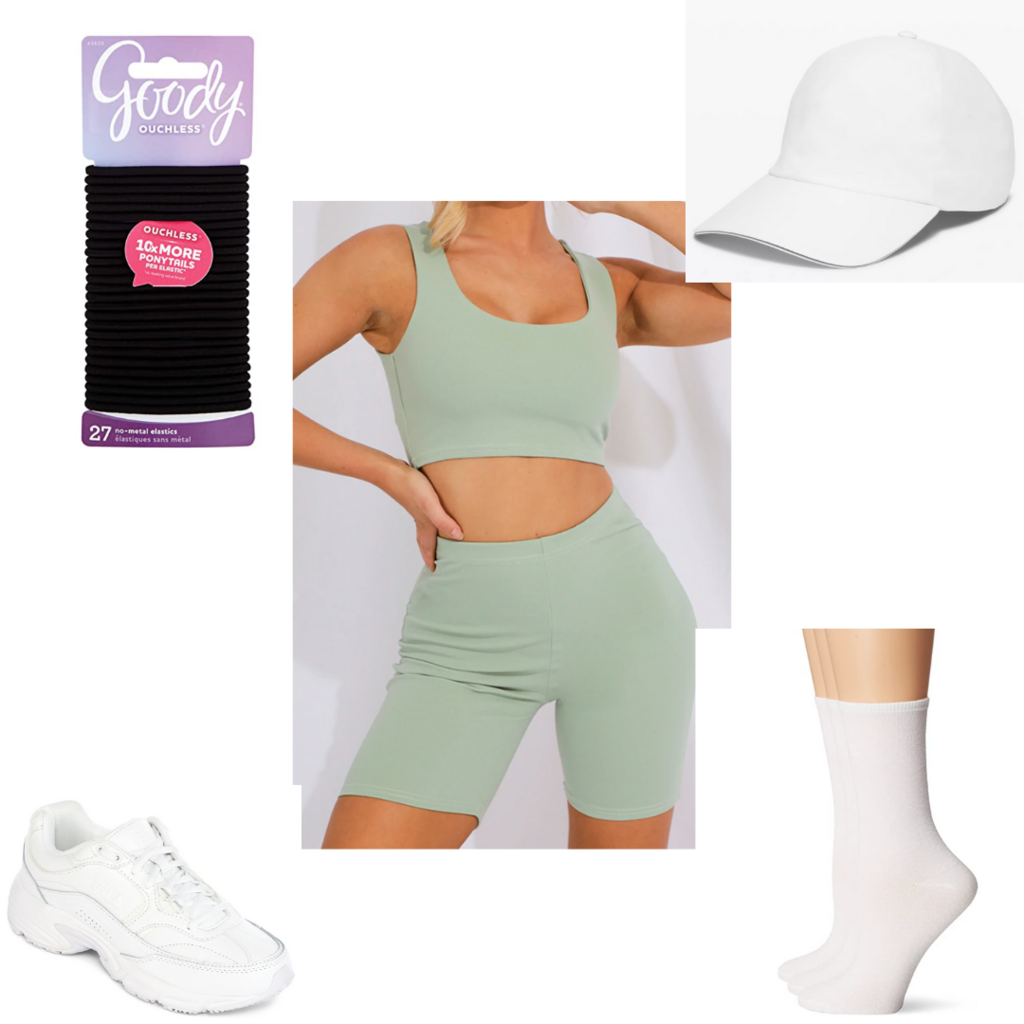 Products:
Another great outfit that you can wear to an amusement park is one that includes workout clothes If you are one of those people that loves the athleisure vibe, this is especially perfect for you!
Everyone knows that going to an amusement park means you will be walking pretty much all day long. This means that wearing workout clothes will keep you comfortable and prepared for your day full of activities.
You can even make the outfit look cute by wearing some trendy workout clothes like this green cropped tank top and biker shorts set. Biker short sets are very popular right now, and this will also work perfectly as a workout outfit for an amusement park because it will keep you cool!
For shoes, you can wear some trendy white sneakers like these, which will also go with the workout outfit, and they will prevent your feet from becoming sore after a long day of walking.
Also, if you want to do something with your hair, I would recommend putting it up in a ponytail and wearing a baseball cap, which is also a trendy accessory right now.
5. Amusement Park Outfit #5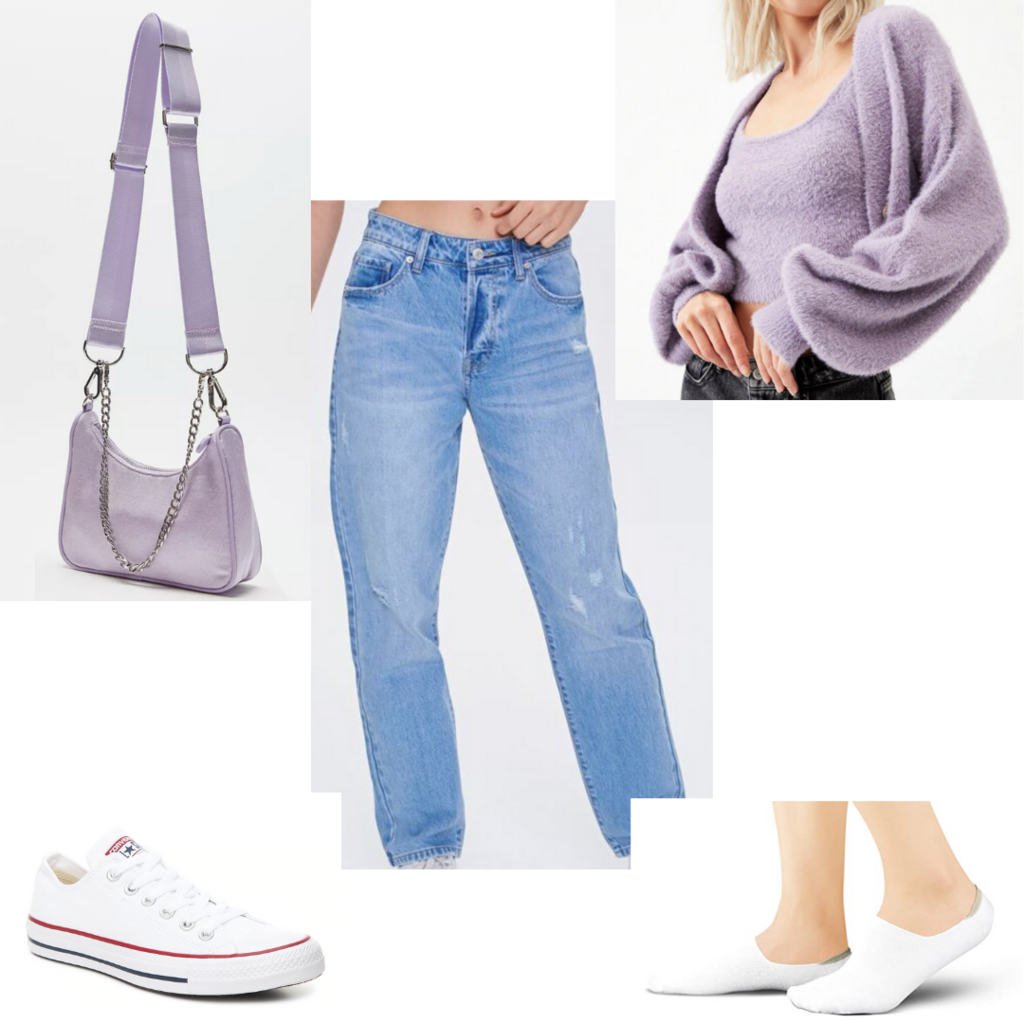 Products:
You may be going to the amusement park during the nighttime, so you may also want to have an outfit prepared for a night look.
You will need a pair of jeans like these trendy '90s jeans for this kind of outfit. Then, grab a cropped top to go with it like this adorable fuzzy purple cropped top.
You will have to keep in mind that the nighttime may bring cooler weather, so you could prepare for this by also bringing this matching purple fuzzy cardigan to match. You can just throw it on if you get chilly.
Then, pair the outfit with these white converse and no-show socks to go with them. Lastly, you will most likely want a purse to go with this outfit, so you should use this adorable matching purple purse that has a long strap, which will make it easy to carry around.
6. Amusement Park Outfit #6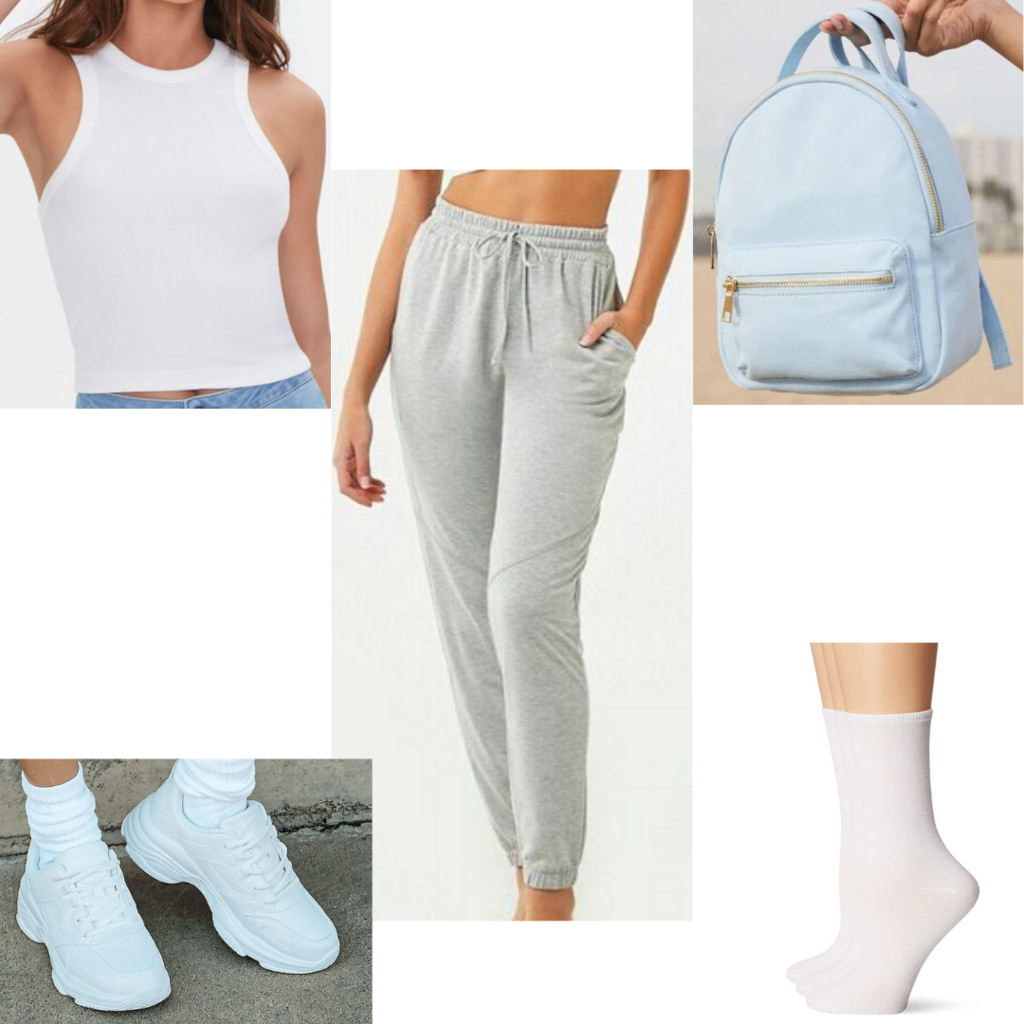 Products:
You might also be thinking about wearing something super comfy to an amusement park considering that you will probably be there all day long.
Don't worry because you can wear an outfit that is comfy, but also cute! To get this outfit, you will need joggers. Joggers are a popular clothing item right now, and they will also work great for an amusement park. To stay cool, you can pair the joggers with this white racerback tank.
Then, just put on some white sneakers and some ankle socks, and you will have a comfy, but also cute outfit for the amusement park.
If you need to carry belongings with you, a mini backpack like this light blue one would be the perfect addition to this outfit.
What do you think of our guide to what to wear to an Amusement Park?
What do you usually wear to amusement parks in warm weather? What other summer activities do you find are tricky to dress for? Are these looks that fit in with your favorite summer trends? Let us know in the comments!
And if you have any "What Do I Wear There?" questions, leave them below — yours may be featured in a future article!
If you liked this article on the best amusement park outfit, consider checking out some of our favorites below —
Editor's note: This post was originally published in 2010; it was completely updated and revamped in 2022 with new photos and information.