This post may contain affiliate links, which means we may receive a commission if you purchase through our links. Please
read our full disclosure here
.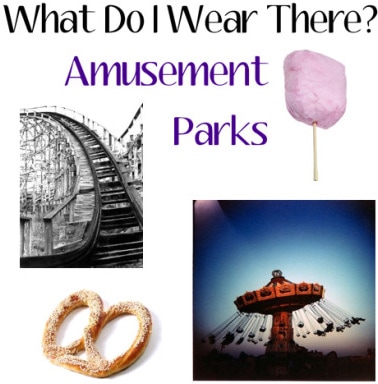 In one of my early "What Do I Wear There?" posts, I wrote a quick segment about what to wear to theme parks in the fall. However, I recently received the following question from Lauren:
"Hi, I was wondering if you could do a post about what to wear to a theme park? Especially during the summer. I'm stuck on how to be fashionable, but also keep cool, dry off quickly when wet (like on a water ride), and mostly have good support in walking shoes when you're on your feet ALL DAY LONG, but maybe not wearing, like, running shoes. And what about if it's hot during the day but gets colder at night? And that won't be disgusting if you get all sweaty? Those sorts of issues. If you had any tips I would be very grateful!"
After reading Lauren's message, I realized there were a lot of unanswered questions I left in that last post. And there would be nothing worse than having one of those perfect, sunny amusement park days ruined by a wardrobe malfunction or just generally feeling uncomfortable in what you're wearing.
Therefore, I decided to revisit this topic and do a more in-depth look at what to wear to different amusement parks, from basic ones with rides that may get you wet, to actual water parks, and finally, I'll cover what to wear if you're going to a park during the day and plan to stay out once the sun goes down!
Look One: Typical Amusement Park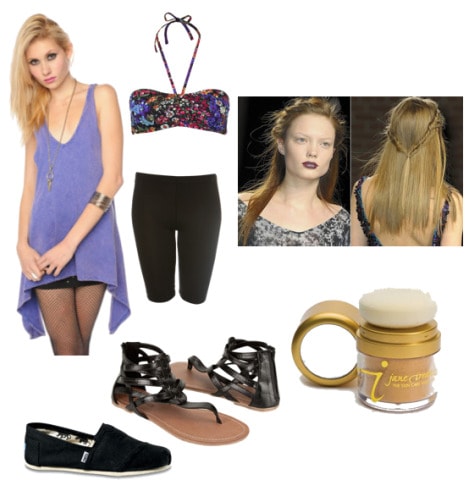 Product Information: Tank: Shopnastygal.com, Bikini Top: Coggles.com, Bike Shorts: Missselfridge.com, Shoes: Tomsshoes.com, Sandals: Tillys.com, SPF Powder: Shop.janeiredale.com
From my extensive amusement park fashion "research," I've noticed that jean shorts and a tank top are the unofficial amusement park uniform. And while there is nothing wrong with this, I wanted to get more creative! I love the idea of wearing bicycle shorts rather than jean shorts, as they are a bit longer (I don't know about you, but I have totally burned my upper thighs sitting on a ride seat that has been in the sun all day!) and will dry quicker than denim if they get wet.
Just like with leggings, you want to pair bicycle shorts with a longer tunic to cover you up. I love the purple color and asymmetrical hem of this tank–just be careful that it doesn't get caught on anything when you are climbing in and out of rides! It may be a good idea to tie the ends of a shirt like this if you're nervous about the sides getting stuck in machinery.
If you think you will be going on some rides that will involve water, I suggest adding a cute touch with a printed bandeau bikini top under your tunic. The bandeau shape is great because it will keep you secure no matter how rides twist and turn, so you won't have to worry about the top slipping at all like you do with traditional triangle bikini tops.
When it comes to shoes, it's a matter of personal preference. I prefer to wear sandals with straps (so they will not fall off on rides), but I know many people who don't like to wear sandals to amusement parks at all. If you're one of those people, go for a cute, comfy slip on shoe like Toms that is comfortable but still more stylish than plain old sneakers!
As for your hair and makeup, the simpler the better for a long day out in the sun! I would really skip most makeup, as it will only melt and smudge during the day, not to mention what may happen if your face gets wet. However, one product that you definitely need is sunscreen. The powder sunscreen above is great since it'll give you a bit of color and coverage while providing essential SPF protection. It can also be used on your scalp part line, where it will not only protect the delicate skin but also absorb any oil!
For a hair style, I love the two fishtail braids at the crown done in the Doo.Ri S/S '10 show (seen above). The braids are cute, will keep your hair off your face, and will only look better if they're mussed up a bit on rides! To learn how to do a fishtail braid, check out this great tutorial.
Look Two: Water Park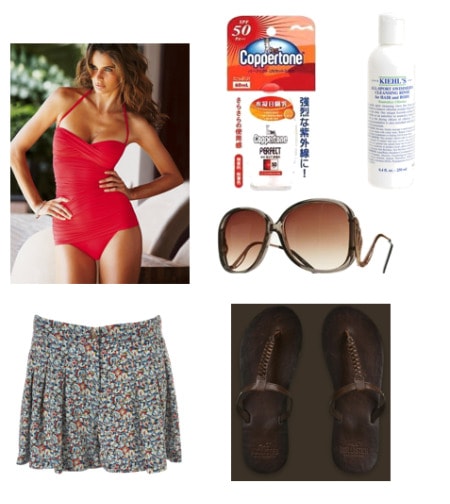 Product Information: Suit: Victoriassecret.com, Shorts: Topshop.com, Sunscreen: Yesstyle.com, Swimmer's Cleansing Rinse: Barneys.com, Sunglasses: Houseofsunglasses.com, Flip Flops: Hollisterco.com
There is nothing more fun and refreshing than going to a water park on a hot summer day. However, deciding what to wear can be tricky, especially if you do not want to be running around in just your bathing suit all day. You also have to take into consideration how extreme the rides you want to go on are to avoid having any "oops" moments!
To start this outfit, I began by looking for a practical suit that would be flattering on most body types. I love the balance of sexy and sophisticated that this suit provides–I sometimes feel self-conscious walking around in a bikini all day at water parks, and this is a great alternative. If you do still want to cover up a bit between rides, try these swingy, floral shorts. Mixed with the detailing on the suit, it gives the look a really fun, retro vibe.
Flip flops are essential for water parks, as you'll be throwing your shoes on and off between rides and dips in the pools. Waterproof sunscreen is therefore a must as well! I also suggest throwing a pair of sunglasses in your bag in case you decide to lounge in the sun. I love how this pair's subtle detailing picks up on the retro feel of the look.
If you choose to wear any makeup, it obviously will have to be waterproof. If anything, I would just stick to some waterproof mascara. Let your hair go natural, as it will probably be too difficult to style while running in and out of water. Before and after you go to the park, it's a good idea to use a chlorine specific shampoo to ensure that the harsh chemicals don't harm your strands too badly (especially if you color your hair or heat style it often).
Look Three: Day-to-Night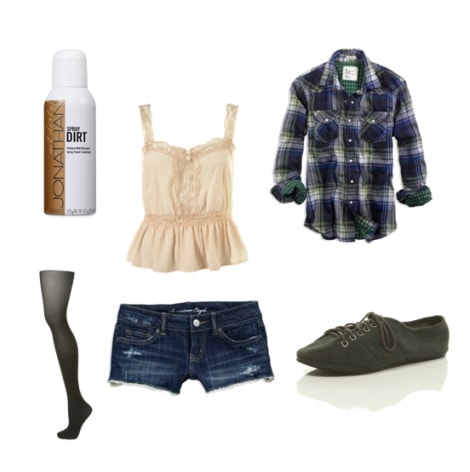 Product Information: Hair Product: Jonathanproduct.com, Tank: Topshop.com, Flannel: Ae.com, Tights: Topshop.com, Shorts: Ae.com, Shoes: Topshop.com
Many amusement parks offer awesome activities once the sun goes down, such as parades or concerts. And while it's great that you can make a day of an amusement park, dressing for day-to-night can provide some tricky clothing concerns. After all, you want to dress cool enough that you aren't sweating in the sun but warm enough that you aren't shivering at night!
For a base, I went simple with a pair of denim shorts and a pretty, airy tank that screams summer. For shoes, I chose a lightweight pair of canvas sneakers that look promising for providing hours of comfortable walking around.
I suggest getting a locker when you first arrive during the day where you can stash the layers that you'll want to add on at night. These layers depend on the weather in your area, but for summer nights in general, you should be fine just adding a cozy flannel on to your day look. If it's chiller, bring a pair of tights to put on under your shorts.
I also recommend bringing along a hair texturizer, such as Jonathan's genius "Spray Dirt." This product is perfect for giving you a bit of oomph if your hair falls flat after a day in the sun and will also give you some hold if you decide to pull it up into a textured ponytail or bun.
What do you think?
What do you usually wear to amusement parks in warm weather? What other summer activities do you find are tricky to dress for? Are these looks that fit in with your favorite summer trends? Let us know in the comments!
And if you have any "What Do I Wear There?" questions, leave them below–yours may be featured in next week's article!