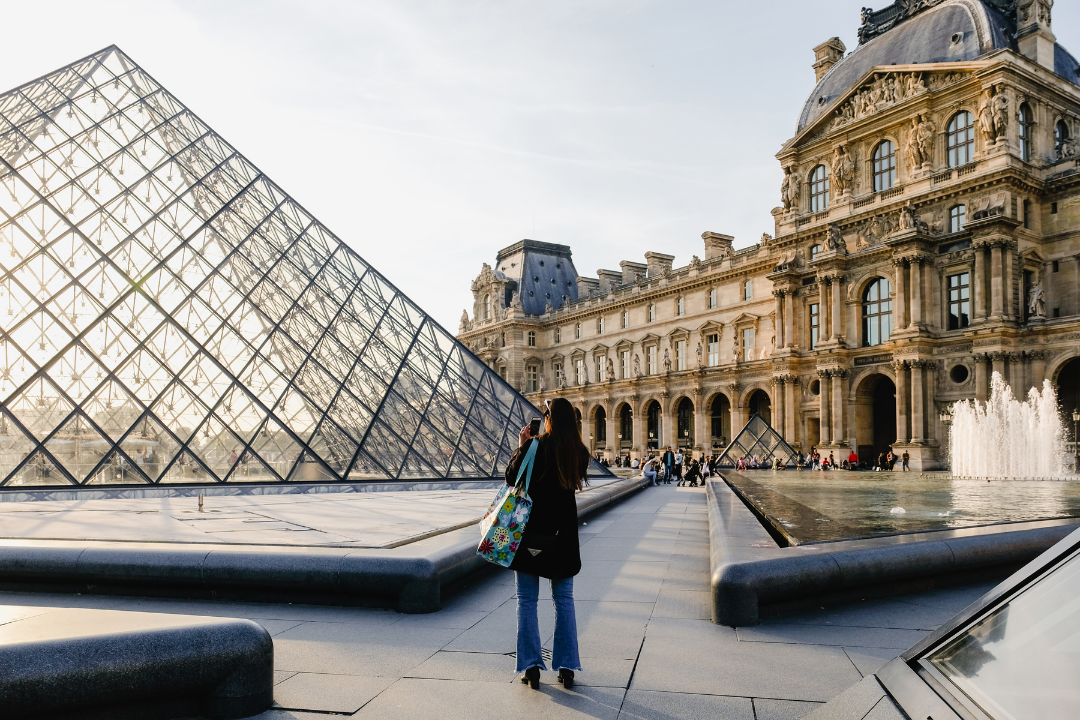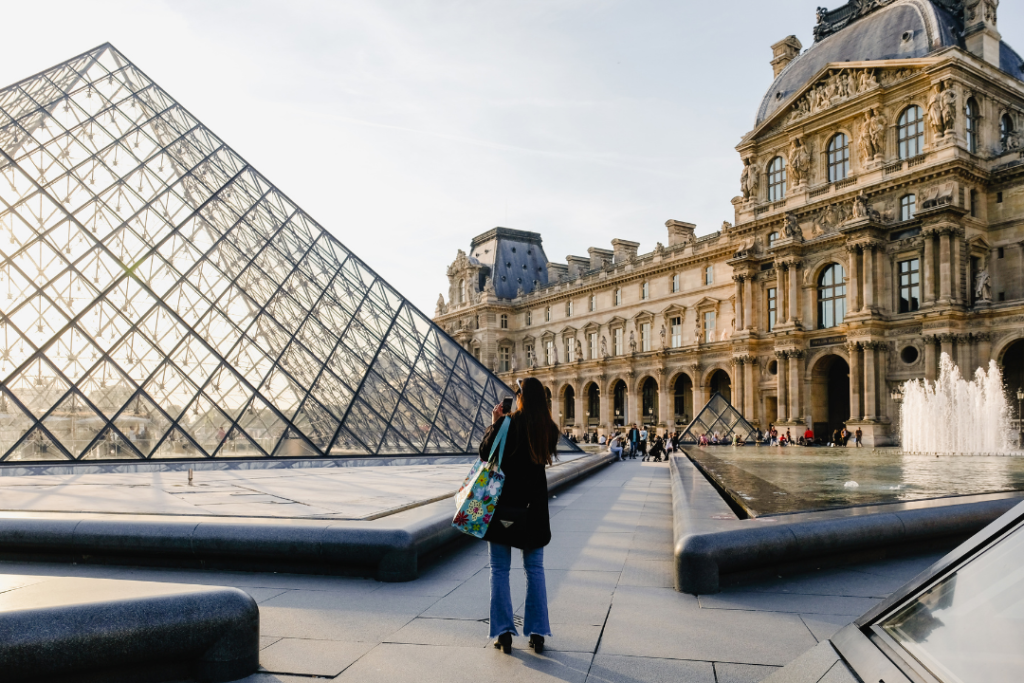 With school already started or just around the corner, the anticipation of learning new things should be filling you with excitement! (I am a teacher at heart, you know.) But there's no reason to confine your learning to the classroom alone.
Fascinated by the works of Andy Warhol? Want to study Michelangelo's work in the Sistine Chapel? Interested in learning about our missions to space? There are entire museums dedicated to these specific subjects and you could spend a day (or more!) exploring each one!
Not sure what to wear while perusing the exhibits? Below, I've created different three outfits that would be appropriate, functional and fashionable for three types of museums: museums abroad, major museums (basically, the top ten in the US), and your local museums (unless you are lucky enough to live in NYC, then the majors are your locals!). I'll also share some museum recommendations for each category.
1. Museums Abroad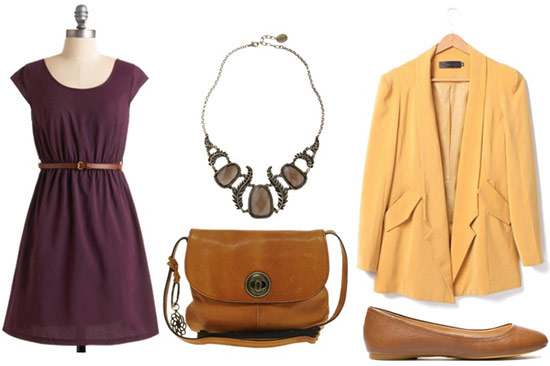 Dress – ModCloth, Necklace – ModCloth, Purse – ASOS, Blazer – chicnova.com, Flats – Zara
I had the amazing opportunity to study abroad in Rome, Italy during my Fall '09 semester. During those three months, I learned the ins and outs of dressing for museums… the hard way. Let me save you the frustration and embarrassment with some advice!
First, WEAR COMFORTABLE SHOES! Many of these museums are enormous and very quiet. Heels would not only be uncomfortable, but could also be quite distracting to your fellow museum-goers.
Second, wear something modest, like a dress with sleeves and a hem that sits right above the knee. To be safe, bring along a blazer, which will look chic and be your safety net if the guards think your sleeves aren't long enough. (This dress code is most heavily enforced at the Vatican Museum. They will make you wear something similar to a poncho if they deem your outfit inappropriate, so just stay on the safe side.)
Finally, be mindful of your accessories. A cross-body bag is ideal, as your hands will surely be wrapped around your camera. Of course, not all museums allow pictures, so I'd advise checking the website beforehand. Keep your jewelry simple, since most museums require you to go through a metal detector. A statement necklace is the perfect single piece of jewelry to wear.
European Museums to Visit:

Louvre Museum (Paris, France):
This is the MOST visited art museum in the world and for good reason! It is the home to "The Big Three" — the Mona Lisa (everyone says this, but it's so small in person!), Winged Victory, and Venus de Milo. The grandiose museum displays nearly 100,000 pieces in its 652,300 square feet. You will very easily get lost, which isn't a bad thing! You could spend days exploring different rooms throughout the museum.
The Louvre is free on the first Sunday of every month. If you're interested in taking advantage of free admission, get there early! The line literally wraps around the museum! Admission is 10 euro normally.
I highly, highly recommend paying a visit to the Louvre if you have the chance! Oh, and you can take as many pictures as you want!

Vatican Museum (Vatican City):
Millions and millions of people each year flock to the Vatican Museums to see world-renowned masterpieces. This museum is home to works done by the likes of Caravaggio, Leonardo da Vinci, and Michelangelo, just to name a few. You could spend hours simply exploring the Sistine Chapel. Unfortunately, no pictures are allowed in the museums, so be sure to soak up as much as you can with you eyes.
General admission is 15 euro with free admission on the last Sunday of the month from 9-12:30 pm. Like I mentioned above with the Louvre, THIS shows you just how long the lines can be on free admission day, so get there early!

Accademia Gallery (Florence, Italy):
Although this museum is significantly smaller than the previous museums, it does not fall short of impressive works. Here, Michelangelo's other masterpiece, the statue of David, is proudly displayed. I was in awe at the size of this statue and blown away by its intricacy.
As for admission, it's fairly reasonable: though I'm not aware of any free days, the 10 euro admission price is worth every penny just to see David!
2. Major US Museums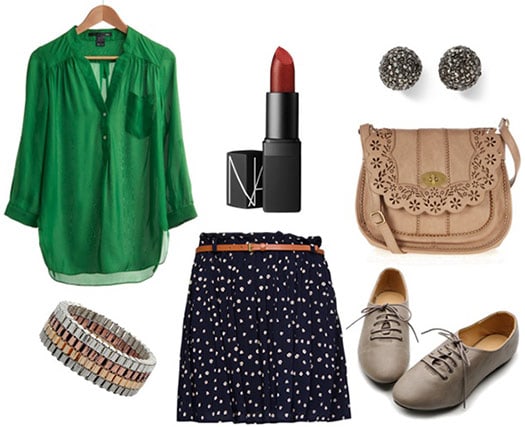 Top- ModCloth, Bracelet- wallisfashion.com, Lipstick- NARS, Skirt- Mango, Earrings- White House Black Market, Purse- Oasis, Shoes- Amazon.com
The major museum category houses those venues in the United States that are considered the cream of the crop. Lots of walking is involved when visiting the majority of these museums, so comfy shoes, again, are vital. Oxfords are like tennis shoes + flats combined– cute and ideal for walking!
I am in love with polka dots this season, and this flouncy skirt fits the bill for a day at the museum. I paired the skirt with a green blouse, as I love the green/blue combo too. Again, keep the jewelry simple and instead let your lips be the center of attention. A deep red lip is the perfect accessory for museum hopping. Again, throw on a cross-body bag to keep your hands free for pictures.
Major US Museums to Visit:

Smithsonian Museums (Washington DC, NYC, Virginia):
Being that this is the world's largest museum complex, with 19 museums and a National Zoo with FREE admission to all, you'd be silly to pass up an opportunity to explore these spots. AND you can take pictures! What more could you ask for?
Some of the museums include the National Air and Space Museum, National Museum of Natural History, and the National Museum of American History. The majority of these museums are located in Washington DC within walking distance of one another. I definitely recommend taking a weekend trip to visit them!

Metropolitan Museum of Art (NYC):
The MET is the largest art museum in the US. Within its permanent collection alone, the museum is home to over two million works. These works range from rooms dedicated to Ancient Egyptian collections, to modern art. The museum is always introducing new temporary exhibits, so each visit will be nothing like the previous.
If you want to make a date night out of a MET visit, the museum stays open until 9 pm on Saturdays. Admission for students is $12 and well worth the price. You could spend an entire weekend here exploring!

The Museum at Fashion Institute of Technology (NYC):
Is there a museum better suited to the girl who loves fashion? The FIT museum is home to over 50,000 garments and accessories — some dating back to the 18th century. When visiting, you'll see works by the likes of Balenciaga, Chanel, Dior, Saint Laurent, and more.
The best part? Admission to the museum is FREE! No photographs are allowed, but if you're a lover of fashion, you'll thoroughly enjoy a visit here.
3. Local Museums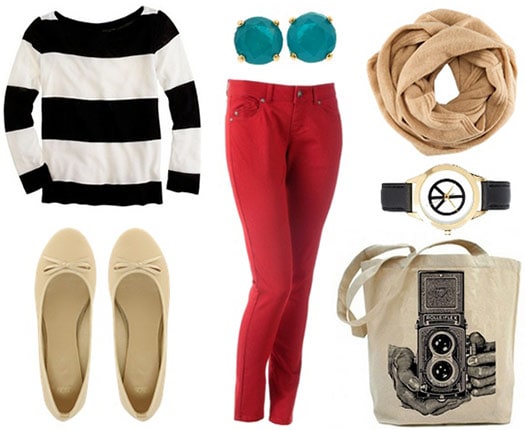 Top- J.Crew, Flats- ASOS, Earrings- Kate Spade, Jeans- Kohl's, Scarf- H&M, Watch- ASOS, Tote- Etsy.com
If studying abroad or weekend trips to major cities aren't in your budget, do not fret — your local museums are just as interesting and diverse as the big guys!
This outfit would be an ideal museum-going ensemble with fall in mind. Colored jeans and a neutral striped top form a simple but bold outfit. (The best part is, it's comfortable!) I kept the accessories mostly neutral, adding just a pop of color on your ears. You'll look incredibly stylish while admiring pieces by local artists.
Local Museums to Visit:
Of course, it would be impossible to list all of the amazing local museums in cities across the US! So because I am a native to Pittsburgh, I thought I would share with you two of my favorite local museums:

Andy Warhol Museum (Pittsburgh, PA):
The unconventional Pittsburgh artist, Andy Warhol, pushed boundaries with his eccentric art and lifestyle. This museum features many of Andy's paintings, sculptures and photographs, along with feature films and over 4,000 videos. I will forewarn you that not all of Warhol's work is kid-friendly! Admission for students is $6.

Mattress Factory (Pittsburgh, PA):
This unique museum features installation art that's interactive. You can literally walk on the art. What I find most intriguing is that many of the works are created by artists in residence. A visit to this museum will only set you back $6 and for the unconventional experience, it is definitely worth it.
What do you think?
Have you been to any of these museums? Do you have any recommendations? Which outfit do you like the most? Let us know in the comments below!