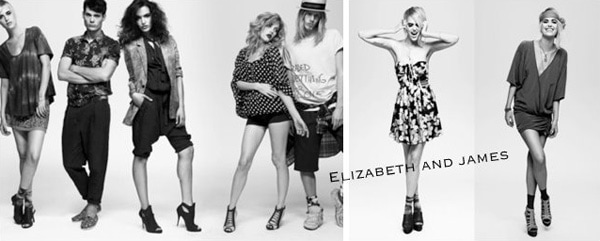 Most of us grew up with Mary-Kate and Ashley Olsen and, whether you're a fan of their infamous hobo-chic style or not, it's hard to deny their unique fashion sense. In 2007, they debuted their first lower-end luxury collection, Elizabeth & James, and followed it up with an equally fabulous Spring collection.
While we named the collection one of our top 5 celebrity clothing lines worth the hype, here's what another blog had to say about it:
The Elizabeth and James aesthetic marries masculine and feminine design aspects in a clean, well-edited way (example: a trim, cropped tuxedo jacket, complete with tails, paired with silk hot shorts). The Olsens' enthusiasm for vintage apparel shows through as well. The dramatic collar on a leopard print coat reminds us of something a Hitchcock heroine would wear and the Sequined Dress was literally inspired by one of Mary Kate's thrifty finds. The Elizabeth and James collection also incorporates thoughtful details into the garments, from an Edwardian row of little buttons up the back of the plaid Bonfire Shirt to neat-o zippers on the outside of the Button Leggings. – WhoWhatWear
Fashion blogs like WWW (quoted above) categorized the pieces as 'mid-market priced', but with most pieces sporting price tags over $200 dollars, they don't quite fit within the average college student budget. You can check out the entire collection at both Neiman Marcus and ShopBop, but keep reading to learn how to recreate the Elizabeth and James looks for under $25!
Boyfriend Shirts
The Elizabeth & James Spring 2010 collection was full of button-up shirts – from thin and gauzy to structured and tailored. Below are a few of my favorites from the collection: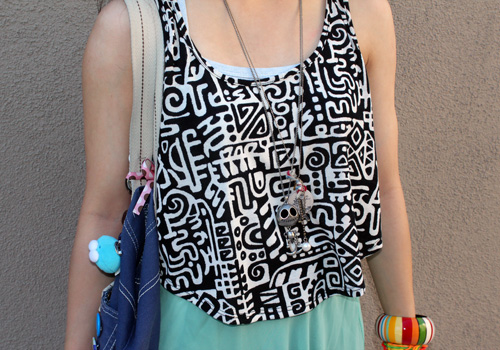 The great thing about the classic button-up shirt is that it goes with just about anything. Check out the looks above – from black tailored shorts to ripped denim, the tops work with any bottom perfectly. By opting for a looser fit, you'll get a look that is more bohemian than J. Crew and definitely more effortless. In the summer, a loose top also doubles as a great bathing suit cover-up that can take you from day to night.
Here are some pieces under $25 each to help you get the look: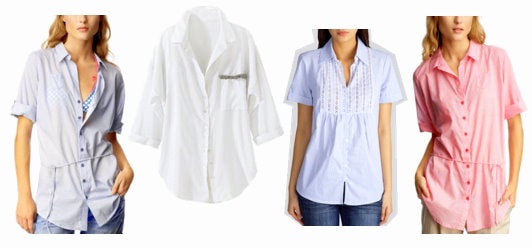 Product Information: Gap, Newport News, Charlotte Russe, Gap
Statement Sandals
Let's be honest, girls are known for their love of shoes. And although it isn't true of all of us – it is of enough of us for it to have become a national assumption. Well shoe lovers, the Elizabeth and James collection does not disappoint in the footwear department.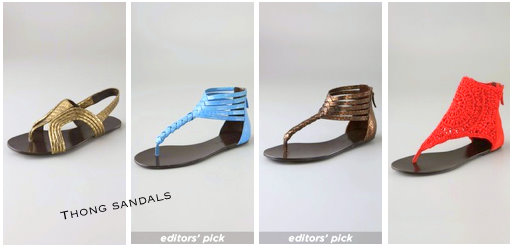 One of my favorite parts of the Elizabeth and James collection is the sandals. They aren't just any boring old sandal though, the E&J shoes have details and a character of their own.
Think of sandals, like the above and below, as jewelry. They are an accessory that makes an outfit – and definitely a statement! I recommend saving up some money for a great pair of sandals – they're perfect to dress up or down (and won't kill your feet!). Don't have any extra money coming your way this Spring? No worries, I tracked down cute and affordable styles for less than $25.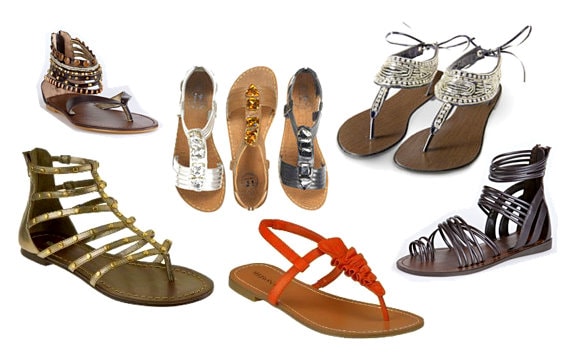 Product Information (Clockwise): Charlotte Russe, Spiegel, Newport News, Charlotte Russe, Target, Target
Chic Bottoms
I'm a denim lover, but the non-denim bottom options the Olsen's came up with for their collection are enough to make me convert.
Grey sweatpants, black shorts, leggings and white trousers – this collection has pretty much everything you could ask for in the way of non-denim bottoms. The best part? The monochromatic colors will go with everything in your closet! A comfortable pair of pants that still looks put-together? Sign me up.
Although pants and shorts like the above and below are great for the office and your internship, paired with sandals and a gauzy shirt, they create the perfect chic summer look. Take a look through the entire collection on ShopBop and you'll see just how versatile the pieces are within the collection itself, and on their own.
Get the look for cheaper with these bottoms under $25: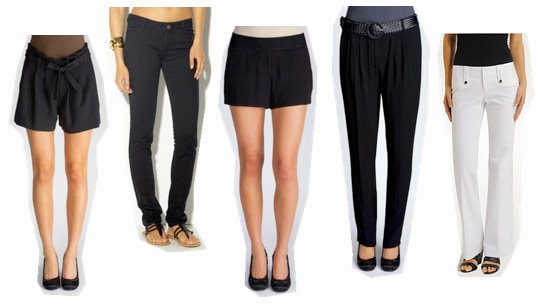 Product Information: Charlotte Russe, Roxy, Charlotte Russe, Charlotte Russe, Forever 21
Tying it All Together
There's no denying that Mary-Kate and Ashley Olsen are strong forces in the fashion world, and it was only a matter of time before they made the jump from teen clothing to a true, mature fashion collection. With Elizabeth and James, they've combined their style sense with everyday closet basics and unexpected details to create the perfect looks for any girl.
So what do you think of the collection? Likes, dislikes? We love hearing from you! Are you MKA fans like I am? Still hoarding their VHS tapes in your parents' houses? Ok, maybe those questions have nothing to do with fashion but hopefully this post did give you some good inspiration for your Spring and Summer shopping. Be sure to leave a comment!