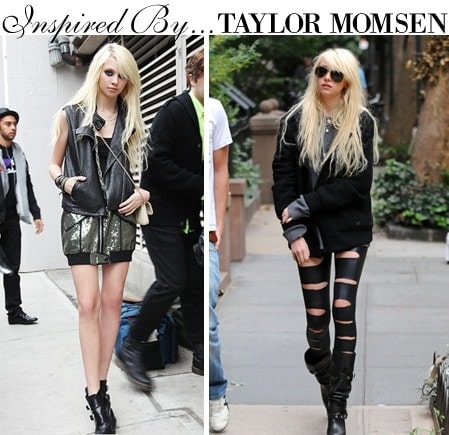 For the next part of our series on the top celebrity fashion icons, today we're going to focus on Taylor Momsen and her style.
Taylor is best known for her role as Jenny Humphrey on the mega-successful TV show Gossip Girl, but she's also a budding rocker with her own band! She also has a slew of TV and movie credits under her belt. With all her success, it's hard to believe she's only 16 years old.
Below, I'll break down Taylor's sense of style and show you some sample outfits that will help you get her look!
Elements of Taylor's Style
Taylor's style can be described as quintessential rocker chick meets fashion girl – she's a big fan of the color black, dark eye makeup, ripped jeans, and anything that gives off a tough-girl vibe. At the same time, that whole rocker look is very big in fashion right now – so that probably influences Taylor's style as well.
Here are a few key elements of her style, as well as a look at the pieces Taylor loves:

Lately, she's obsessed with patterned tights. Almost all of her recent candid photos have her wearing various pairs – from rosettes to faux garter belt patterns, she's tried them all!

She is always wearing black. It's definitely been her color of choice over the past year. It's rare that one of her outfits won't include the color somewhere! And if they don't include black, they probably have grey. Taylor is definitely a fan of monochrome.

Taylor loves bad-girl details – studs, silver sequins, rips, chains; you name it, she'll wear it. This girl never plays it safe with her accessories.

She's almost always wearing heels. At 5'8″ tall, she hardly needs the height, but the extra inches definitely make her look even more modelesque.

Her personal style is very close to her character Jenny's style on Gossip Girl. While Jenny's looks are more calculated than Taylor's thrown-together chic, the two still rock very similar pieces. So the TV show is a great place to find inspiration if you love Taylor's look!
Taylor's Daytime Looks & Outfit Inspiration
Taylor's Style – Daytime:
During the day, Taylor looks very thrown together and effortless – like she reluctantly rolled out of bed at 3PM and threw on whatever amazing designer pieces happened to be strewn across her floor. She wears lots of black during the day and often wears heels as well. When she's filming Gossip Girl (which is most of the time), her looks are a little more polished but still very true to her rocker-chic style.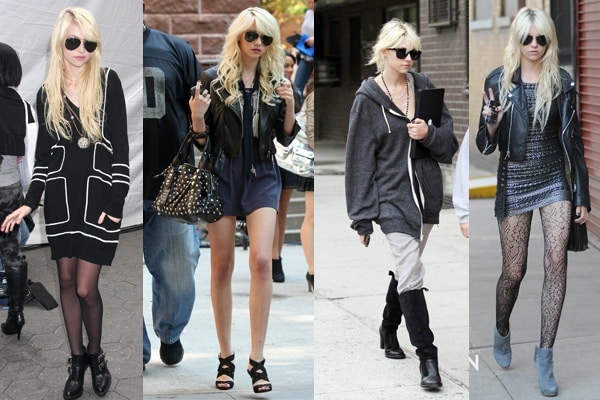 All photos from Taylor Momsen Network.
Daytime Look Inspired by Taylor:
For this look, I paired Taylor's favorite patterned tights with a basic tee shirt dress, rocker accessories, a fabulous faux leather jacket and an amazing pair of faux Ray-Bans. This outfit would be perfect for wandering around vintage boutiques in NYC during the fall.
Product Information: Dress – Saks Fifth Avenue, Necklace – Lucky Brand at Zappos, Faux Leather Jacket – Forever 21, Purse – TopShop, Tights – Juicy Couture at Zappos, Ankle Boots – Nordstrom, Studded Bangle – Forever 21, Aviator Sunglasses – TopShop
Taylor's Evening Looks & Outfit Inspiration
Taylor's Style – Night:
In the evening, Taylor definitely likes to glam it up with full-on makeup and ultra daring ensembles. "Demure" is definitely not a word I'd use to describe her evening style!
Occasionally she strays from her signature black ensembles at night – usually opting for something short and neutral colored that she can add black accessories to.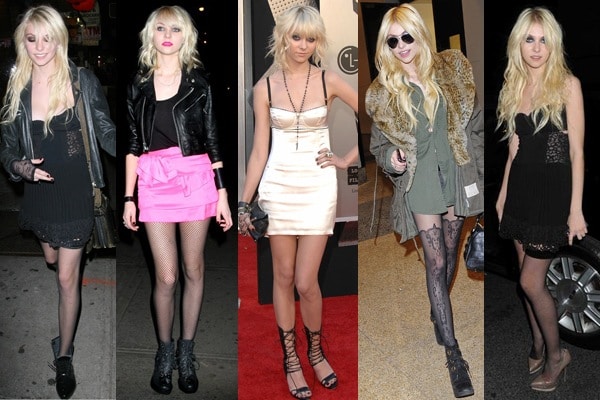 Evening Look Inspired by Taylor:
Because Taylor occasionally wears color at night, I wanted this nude dress to be the focus. I offset the dress with black and grey accessories, including lacy thigh-highs that Taylor would totally wear. Tough girl ankle boots and plenty of dark eye makeup keep this look from being too pretty.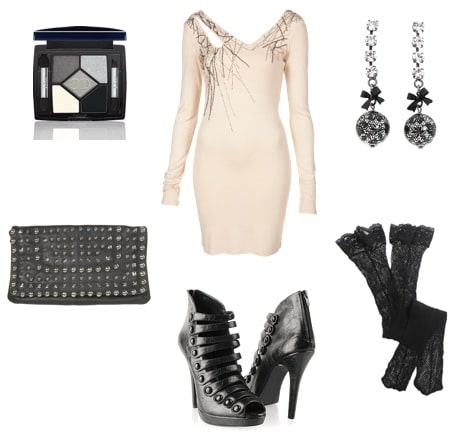 Product Information: Dress – TopShop, Earrings – Betsey Johnson at Zappos, Thigh-highs – Aerie by American Eagle, Ankle Booties – Forever 21, Clutch – TopShop, Eye Shadow – Sephora
Want to see more of Taylor's style?
Obviously, I couldn't fit all of Taylor's fabulous outfits into one article! For even more style inspiration courtesy of Ms. Momsen, check out the photos at Taylor Momsen Network – there are TONS of candid pictures and snaps from her many red carpet appearances.
Also, if you don't watch, you should really catch Gossip Girl on the CW – Talyor's character Jenny has a style that's very similar to Taylor's. For more on how to dress like Jenny, see our articles How to Dress Like Jenny Humphrey, and How to Dress Like the NEW Jenny Humphrey.
What do you think?
Are you a fan of Taylor's style? Which of her looks would you most like to emulate? Which other celebrities inspire you? Tell us your thoughts in the comments section.