Every two weeks, I bring you a style mash-up of two popular pop culture figures. This week, I'm mixing an ultra-popular TV fashion icon with a kids cartoon character who's a bit lesser known.
This week, I'm combining the cheerful, yet laid-back vibe of Kuki Sanban (also known as Numbuh 3) from Codename: Kids Next Door with the sophisticated, edgy style of Serena Van Der Woodsen from Gossip Girl. Though the two have little in common, you'll be surprised at how their styles combine.
Numbuh 3 is often seen in an oversized green sweater, black leggings, green socks, and black and white sneakers. As a cheerful fan of Rainbow Monkeys, it's no surprise she would approve of bright colors. She's also the most feminine member of Sector V, so she loves girly details, such as pink and ruffles, even though she wears a somewhat tomboyish outfit.
As the protagonist of one of TV's all-time most fashionable shows, there is no denying that Serena has envious style. She likes to wear unexpected pieces together, such as a sparkly blazer with bright pants. She also likes to elevate her looks with quirky accessories, whether it'd be embellished bags and/or layered necklaces.
Now, I will show you three Serena x Kuki outfits with unexpected details and splashes of color.
Numbuh 3 x Serena Look 1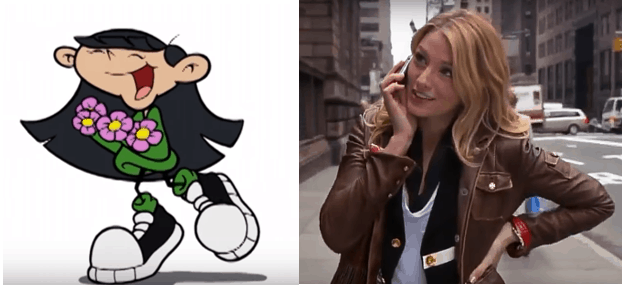 Numbuh 3 loves her green sweatshirt — it's her signature outfit. Serena, on the other hand, mixes it up. Above you see her wearing a brown leather jacket and red bracelets.
Both of these girls love tights: Serena tends to wear tights with skirts and dresses, and Numbuh 3 looks like she's wearing a dress with tights above.
Leggings Turned Tights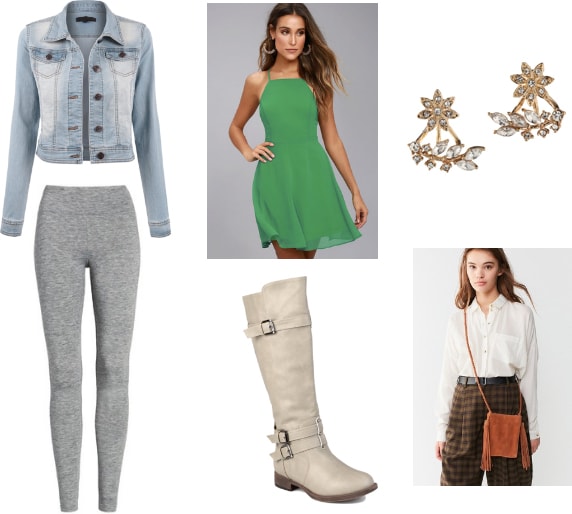 Products: Dress – Lulus, Jacket – Amazon, Leggings – Nordstrom, Boots – Amazon, Earrings – Lord & Taylor, Bag – Urban Outfitters
I know that leggings are a staple of every college girl's wardrobe. So why not get creative and wear your leggings as tights? It's a great way to stretch the versatility of your wardrobe.
For this look, start off with neutral leggings and add a green dress that matches Numbuh 3's sweatshirt. Serena loves jackets, so a denim one looks great with the dress and leggings.
Serena-approved knee-high boots make your leggings look like tights. Floral-shaped earrings reference the flowers Numbuh 3 is holding and add a pop of quirkiness to the look. Finally, fringe is trending right now, so I recommend a crossbody bag with fringe to add bohemian flair to the outfit and a dash of Serena.
Numbuh 3 x Serena Look 2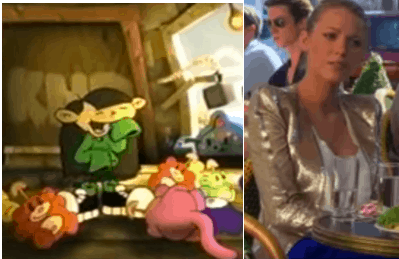 Numbuh 3 is a huge fan of Rainbow Monkeys. Above, she laughs around them, again wearing her signature sweatshirt. Serena is seen wearing a sparkly gold jacket and bright blue pants. She wore this look when she went to one of the most stylish capitals of the world, Paris.
Rainbow Sequins
Products: Tank Top – River Island, Blazer – Boohoo, Pants – UNIQLO, Shoes – Etsy, Layered Necklaces – Charlotte Russe, Bag – Nordstrom Rack
This quirky yet laid back look strikes a mix of both styles and can be worn to class or for a casual night out.
A black tank top can be styled in so many Serena-esque ways. By pairing it with yellow trousers, pops of color, Serena, and Numbuh 3 are thrown in. Ms. Van Der Woodsen and Kuki would approve of the wrap blazer. It also dresses up the tank and pants combo while adding a quirky, contrasting bright color. Trendy sneakers with rainbow sequins hint at Rainbow Monkeys. (You could replace them with a neutral heel for a more dressed-up vibe.)
Add layered necklaces for some cool-girl boho flair like Serena and a stylish handbag with a girly bow for some Numbuh 3.
Numbuh 3 x Serena Look 3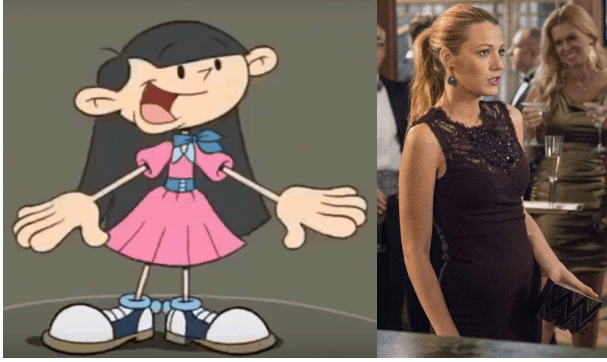 When she's not wearing her signature green sweatshirt, Numbuh 3 often wears pink, as shown in the screenshot above. Serena is seen above wearing a little black dress with a lace panel on top (the panel makes her dress anything but basic). Her chevron-print clutch and green earrings elevate her party look.
Pretty in Pink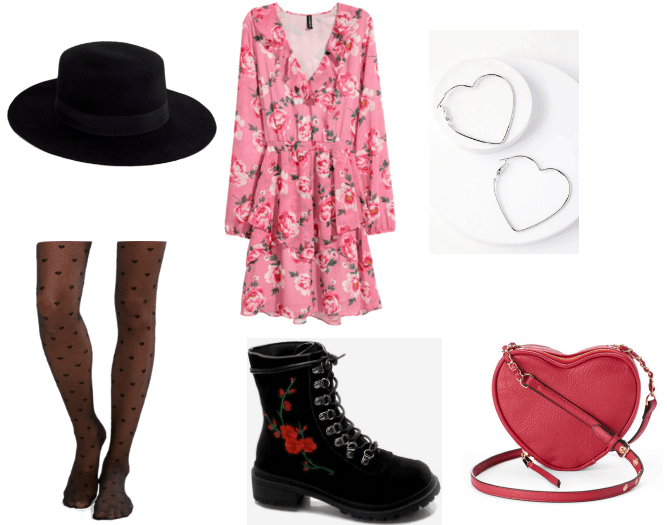 Products: Dress – H&M, Hat – ASOS, Tights – ASOS, Boots – Gamiss, Earrings – Lulus, Bag – Kohl's
For this final look, I took inspiration from Numbuh 3's pink dress and chose a pink floral dress. Numbuh 3 would approve of the flowers on the dress, while the boho shape adds a dash of Serena. Quirky printed tights throw in pops of both Numbuh 3 and Serena. Rose-print boots make the look edgy for more of a Serena feel. (Embroidered shoes are also ultra-trendy!)
A black fedora is very Serena, while heart-shaped earrings put in a dash of Kuki into the outfit. Complete the look with a heart-shaped crossbody bag for another final hint of Numbuh 3's cutesy femininity.
Did you enjoy the crossover?
Did you like seeing the vibes of a Cartoon Network character and a CW character mixed together? Do you like the outfits I styled? Would you wear any of them? Are there any Weekly Crossover article you want to see next? I'd like to hear what you think in the comments.