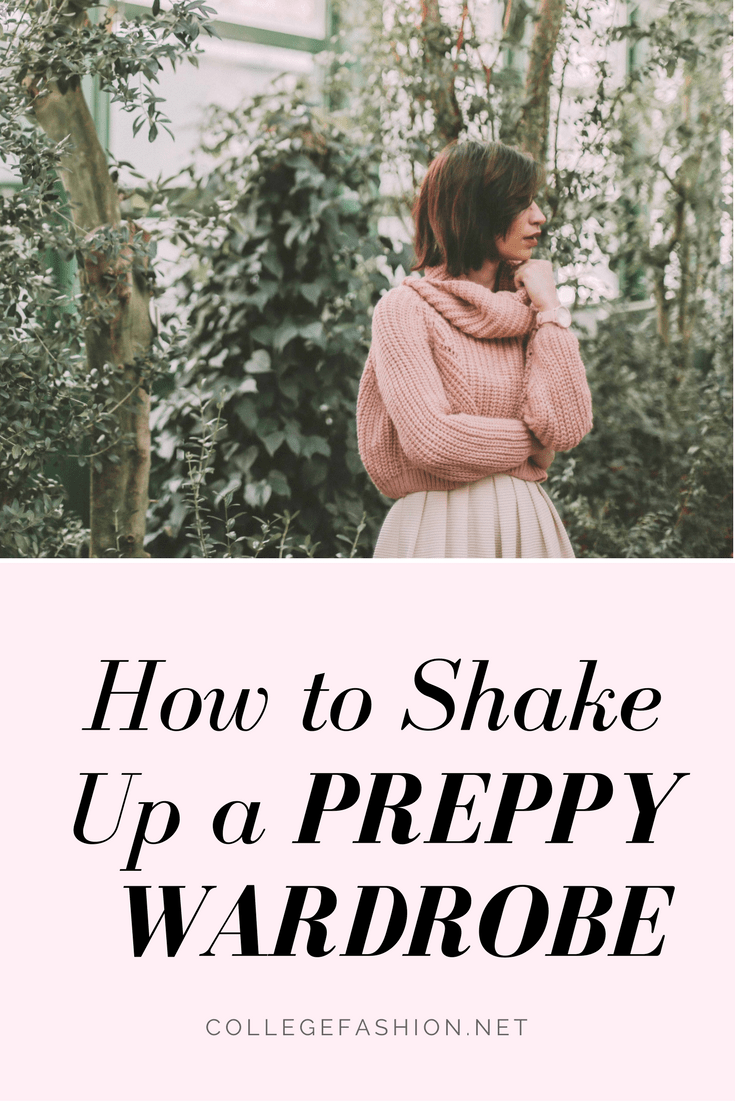 Welcome to the latest edition of Ask CF! Every two weeks, we select a reader fashion question and answer it here on the site. Do you have a specific fashion question for us? Scroll to the bottom of this post to learn how to send it our way!
Ask CF Question
Hi CF!
My sense of style is very Blair Waldorf: I absolutely adore plaid skirts and colorful tights, but I can't help feel like a fashion outsider when I see the effortless trendiness of others in class. Although I don't want to abandon the urban preppy I love, I also want to look a little less buttoned-up and a little more modern. Any tips for incorporating trends into my outfits?
XOXO,
Gossip Girl
Our Response
Dear Gossip Girl,
While the preppy look will always look classy and put-together, it is definitely understandable that you want to switch things up a bit; after all, lots of people wonder what it would be like to dress in a different way from the way that they currently do! And, as a college student, you are in the perfect position to experiment a little with a different look.
That is not to say, of course, that you have to change your whole look. Even just small changes — for example, wearing a garment in a different fabric or cut than you normally would — can make a big difference!
Ahead, see three preppy-but-modern outfits that I have styled for you, along with some tips on how to update your style.
(For even more on this, see our Modern Prep styling guide from last year!)
Preppy but Modern Outfit #1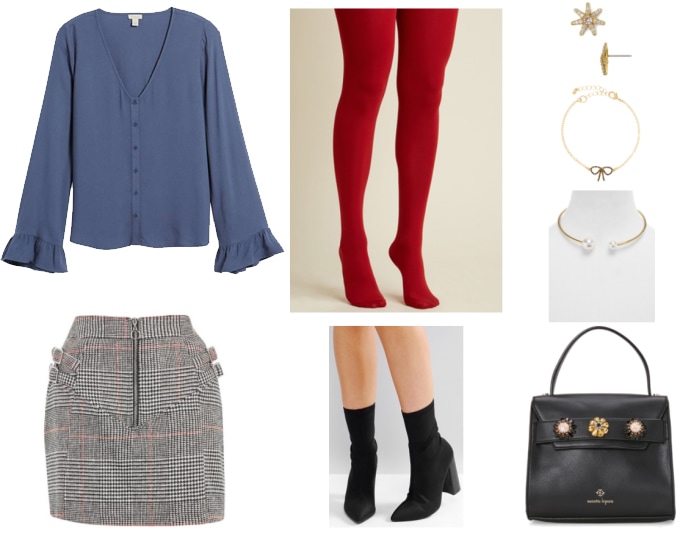 Products: Top – Nordstrom, Skirt – Nordstrom, Tights – Modcloth, Boots – ASOS, Earrings – Bloomingdale's, Bracelet – Brooks Brothers, Necklace – Bloomingdale's, Bag – Century 21
If you're a little unsure about where to start when it comes to adjusting your style, this look is a good jumping off point, as it's probably not too different from what you're already wearing. However, there are many smaller aspects of this look that set it apart from a more "typical" preppy look.
To start, tuck this cute blouse into a plaid mini skirt. (The top would also look cool with jeans, by the way.) I chose these specific pieces because of the tunic's pretty sleeve details, which make it stand out a little more than your average button-up, and also because the skirt's buckle details add a touch of edge to the look overall.
Next, put on some bright red tights that are sure to excite your inner Blair Waldorf, as well as a pair of trendy sock boots to add some modern flair.
Accessorize with a fun pair of starburst earrings, a bracelet with a preppy-yet-sleek black pavé bow, and a pearl collar necklace that puts a new spin on the classic pearl necklace.
Finally, grab a ladylike embellished top-handle bag to complete this classic, but also current, ensemble.
Preppy but Modern Outfit #2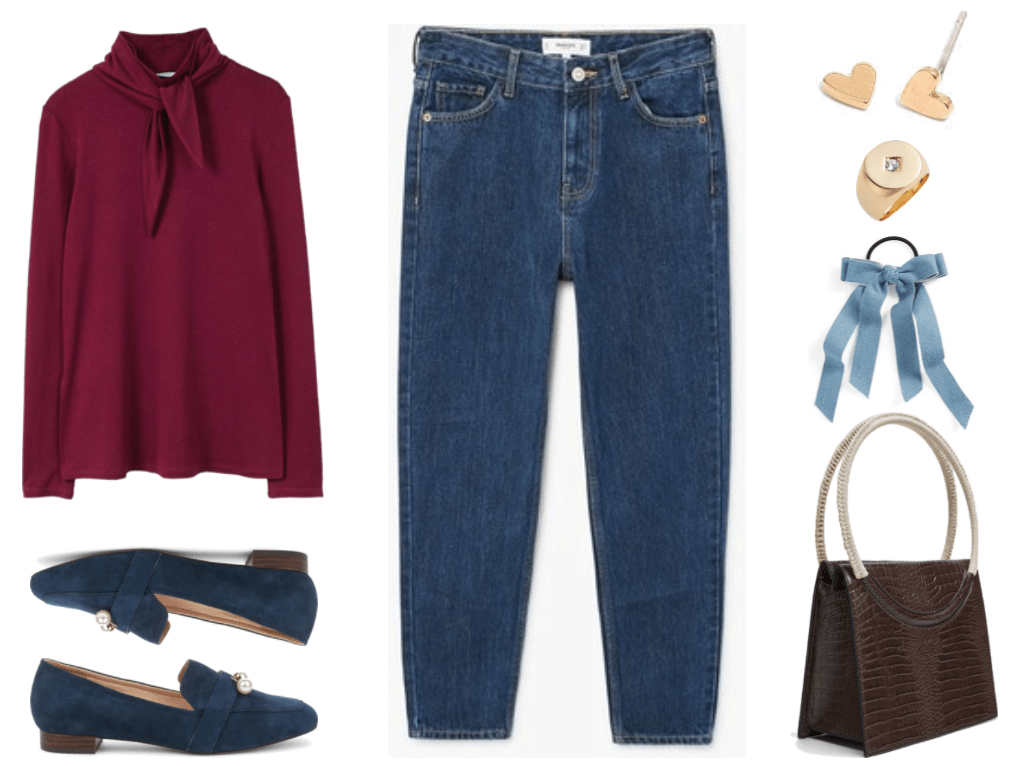 Products: T-Shirt – Mango, Loafers – Sole Society, Jeans – Mango, Earrings – Madewell, Ring – Nordstrom, Hair Elastic – Nordstrom, Bag – Zara
For a more relaxed take on the preppy look, consider styling a prim tie-neck turtleneck with looser-fitting mom jeans.
Pearl-embellished loafers and a signet ring with a touch of sparkle offer feminine takes on traditionally masculine staples, while a pair of heart stud earrings and a denim bow-embellished hair elastic are the perfect ways to add a little sweetness to the outfit.
To finish off the ensemble, pick up an embossed bag with round rope handles for a unique take on a timeless style.
Preppy but Modern Outfit #3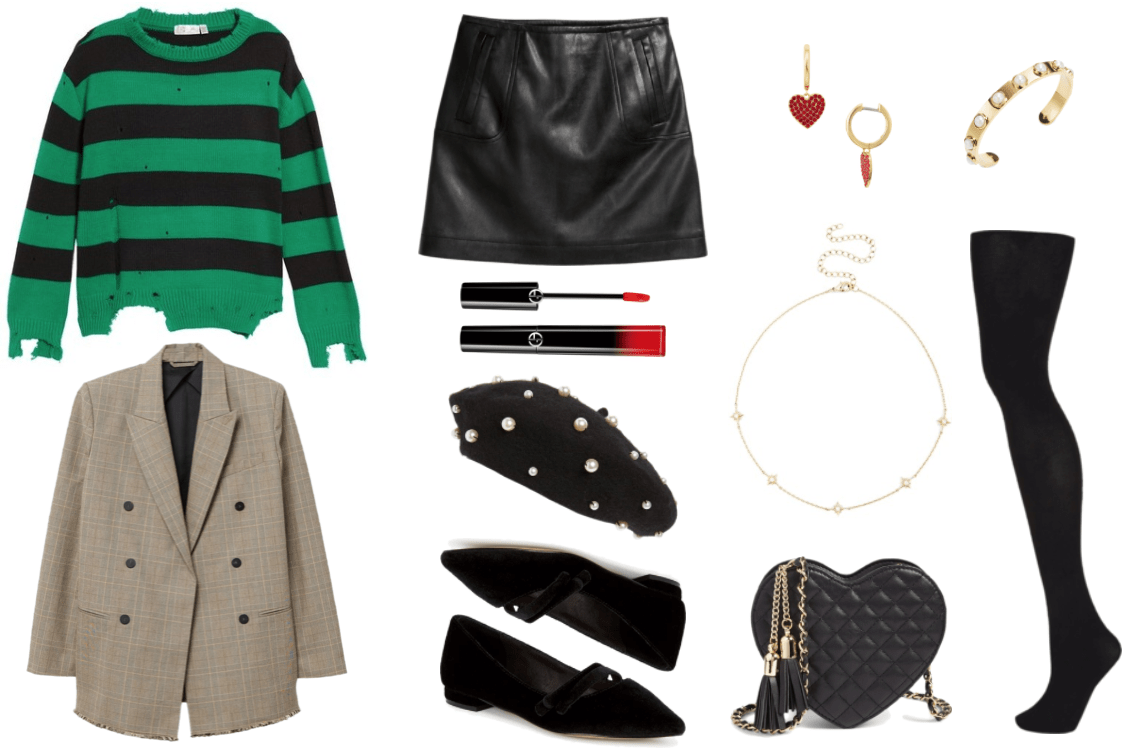 Products: Sweater – Nordstrom, Blazer – Mango, Skirt – H&M, Liquid Lipstick – Barneys, Beret – Nordstrom, Flats – Saks Off 5th, Earrings – Bloomingdale's, Necklace – Sole Society, Bag – Nordstrom, Bracelet – Gilt, Tights – Topshop
This outfit is definitely the boldest of the three. It is inspired by Polo Ralph Lauren, and, more specifically, their Fall 2014 Ready-to-Wear Collection, which, in my mind, will always be a classic example of how to mix up preppy pieces in a fun and fresh way.
To get the look, put on a destroyed rugby-stripe sweater that is the perfect blend of preppy and edgy. Next, add a faux-leather mini skirt and opaque black tights for a sleek, street-style vibe.
These velvet pointed-toe Mary Jane flats are a chic alternative to the standard preppy shoe staple, while a black pearl-embellished beret is an on-trend way to keep warm this season.
As for jewelry, I've chosen an adorable pair of red heart hoop earrings that will stand out against the sweater's color scheme, as well as a dainty choker necklace and a classy pearl cuff bracelet.
Top the outfit off with an oversized checked blazer for an extra dose of preppiness, and carry a cute heart-shaped quilted bag.
This look would be fine as it is; but, if you're feeling a little braver, swipe on some glossy liquid lipstick in a bright red shade that'll ensure that all eyes remain on you!
I hope that these outfits and suggestions will be helpful to you as you explore new ways to tweak and evolve your style. Thanks for your question!
Do you have a fashion question? Send it to us!
Is there something in your closet that you want to wear but have no idea how to style? Do you need advice on what to wear to an upcoming event? Do you have a specific fashion conundrum?
If you have a fashion-related question that you would like to see answered in this column, simply email it to askcf @ collegefashion.net, and one day you might see your question answered right here on the site!
What do you think?
How do you keep up with current trends while staying true to your personal style? Have you ever wanted to change up your look, either a little or a lot? If so, how did you do it?
Let me know in the comments!