As a consumer and self-pronounced fashionista, I can get behind many trends, especially footwear fads. From furry slides to jelly sandals to flatforms, I've tried them all (and loved them).
When the idea of sock boots reached my ears, though, I wasn't convinced.
Truth be told, I'm still not completely sold. I have found a few cute pairs that I'll show below, but there is something about the combination of the stretchy sock material and the sturdy chic boot that bothers me.
With that being said, this trend isn't leaving anytime soon, according to British Vogue. Sock boots have been sported by ladies attending London Fashion Week, taking this athleisure trend to the streets. Even popular Youtubers like Carli Bybel have made DIY videos on how to make your own sock boots.
Here at CF, we are open minded about all trends and fads, so below I have curated 3 sock boot outfits. Make sure to leave me a comment below and let me know whether you are going to try this trend, or leave it in the dust.
Sock Boots Outfit 1: All That Glitters is Magenta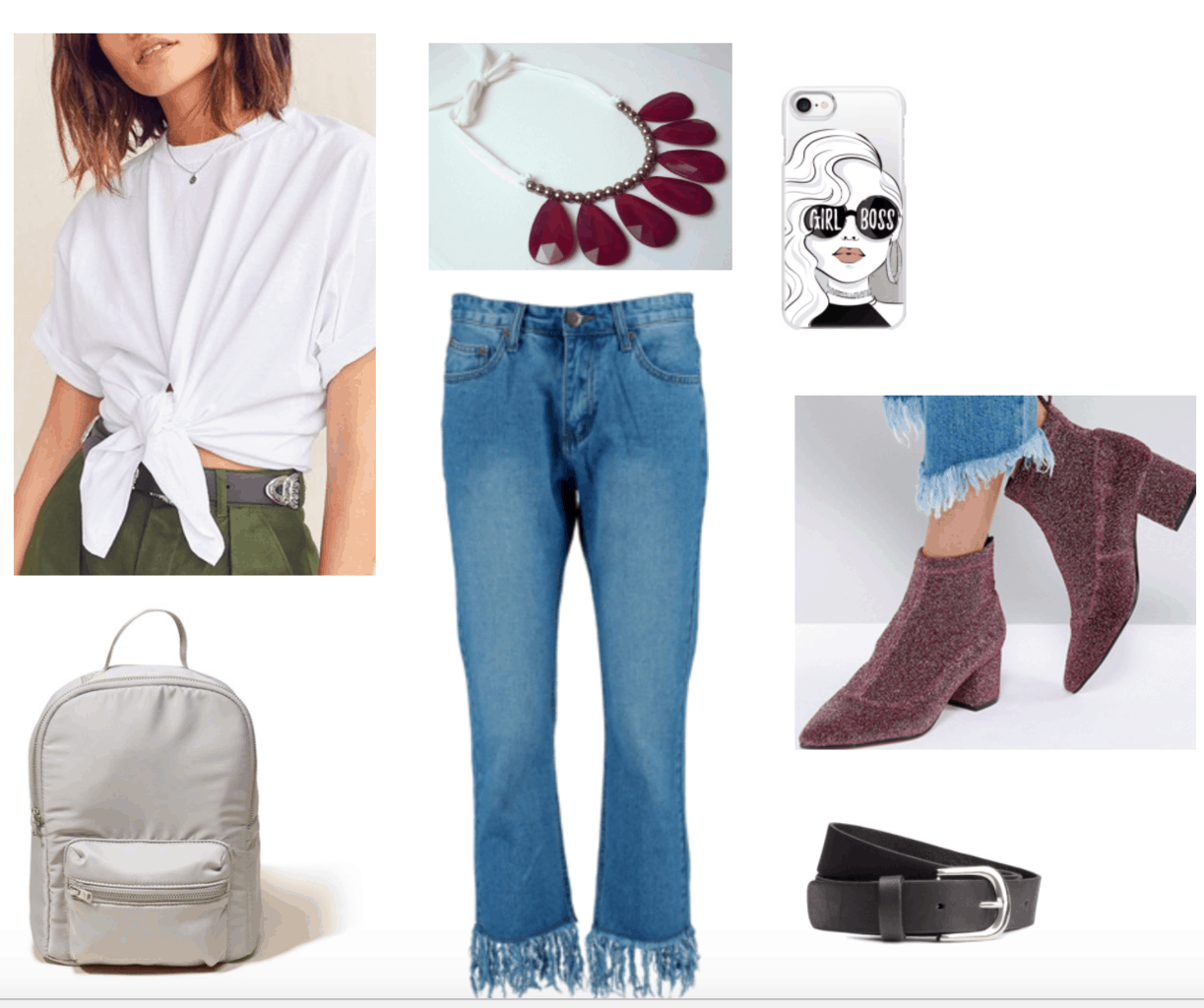 Products: Boots – ASOS, Tee – Urban Outfitters, Jeans – Boohoo, Phone Case – Casetify, Necklace – Etsy, Backpack – Hollister, Belt – H&M
For my first stab at a sock boots outfit, I found this sparkly magenta pair from ASOS. These scream sassy and fun, and they'd be perfect for a night out with the gals. Pair them with a white tie-front tee and '80s-inspired fringey jeans. Luv.
Add on a classic leather belt and a big, beautiful burgundy statement necklace to add even more glamour to this outfit. Feel like the boss that you are with this ah-dorable Girl Boss phone case.
Finally, throw your hair back into a high pony, and pile all your things in this cutesy mini satin backpack. You're ready to take this look to the streets.
Sock Boots Outfit 2: Velvet Toes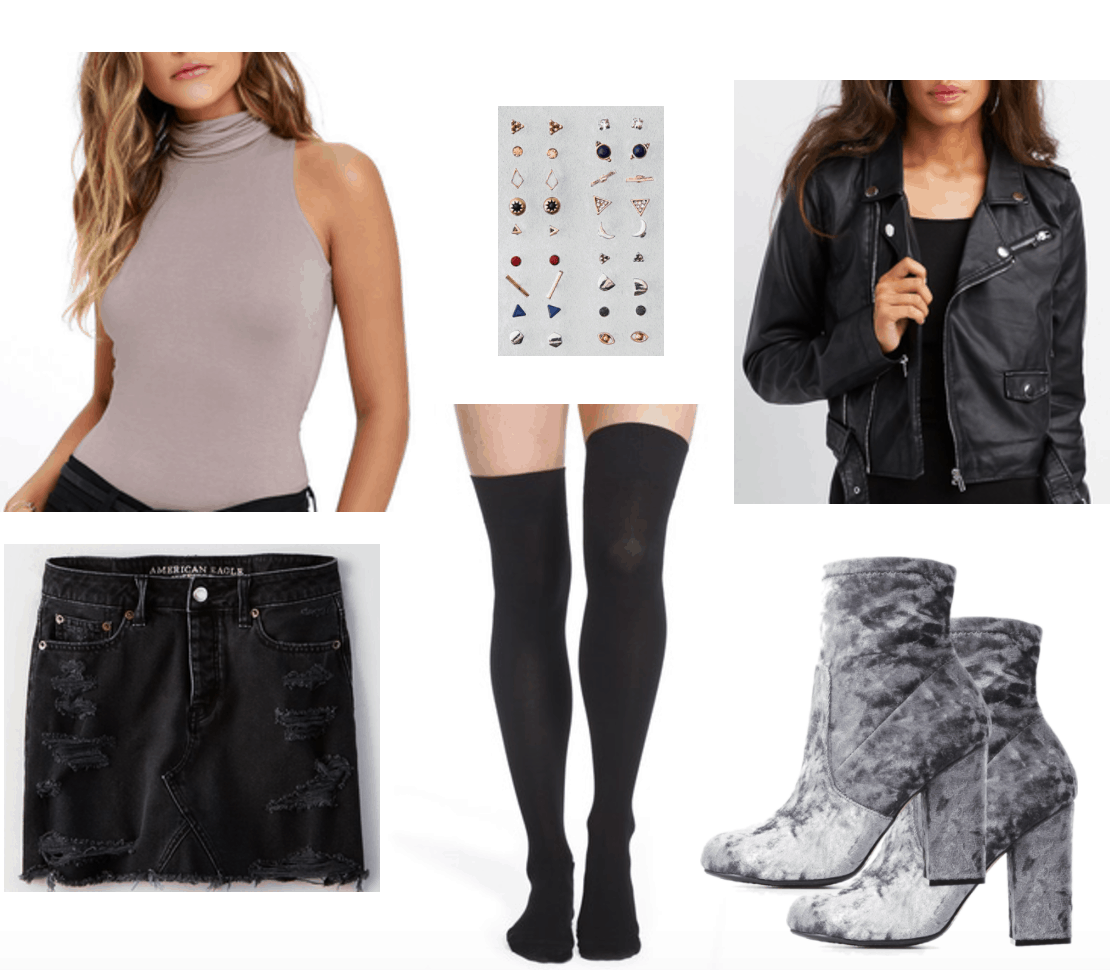 Products: Boots – Charlotte Russe, Skirt – American Eagle, Top – Lulu's, Socks – Nordstrom, Jacket – Charlotte Russe, Earrings – American Eagle
For my next sock boot find, I snagged these grey velvet booties from Charlotte Russe. Though velvet is traditionally worn solely in winter months, we're all about bending the rules this season, so we say this is a go.
Give these booties an edgy twist by tucking a turtleneck tee into a black distressed denim skirt. Pull on some black over-the-knee socks for a perfect party look. Add a black moto jacket if it gets a bit chilly.
Finally, I included a set of fun stud earrings because it's always important to mix it up! Mix and match your earrings to give this outfit a perfectly carefree vibe. Keep your hair natural and wild for this one, lady. Perfetto.
Sock Boots Outfit 3: What Do You Know About Athleisure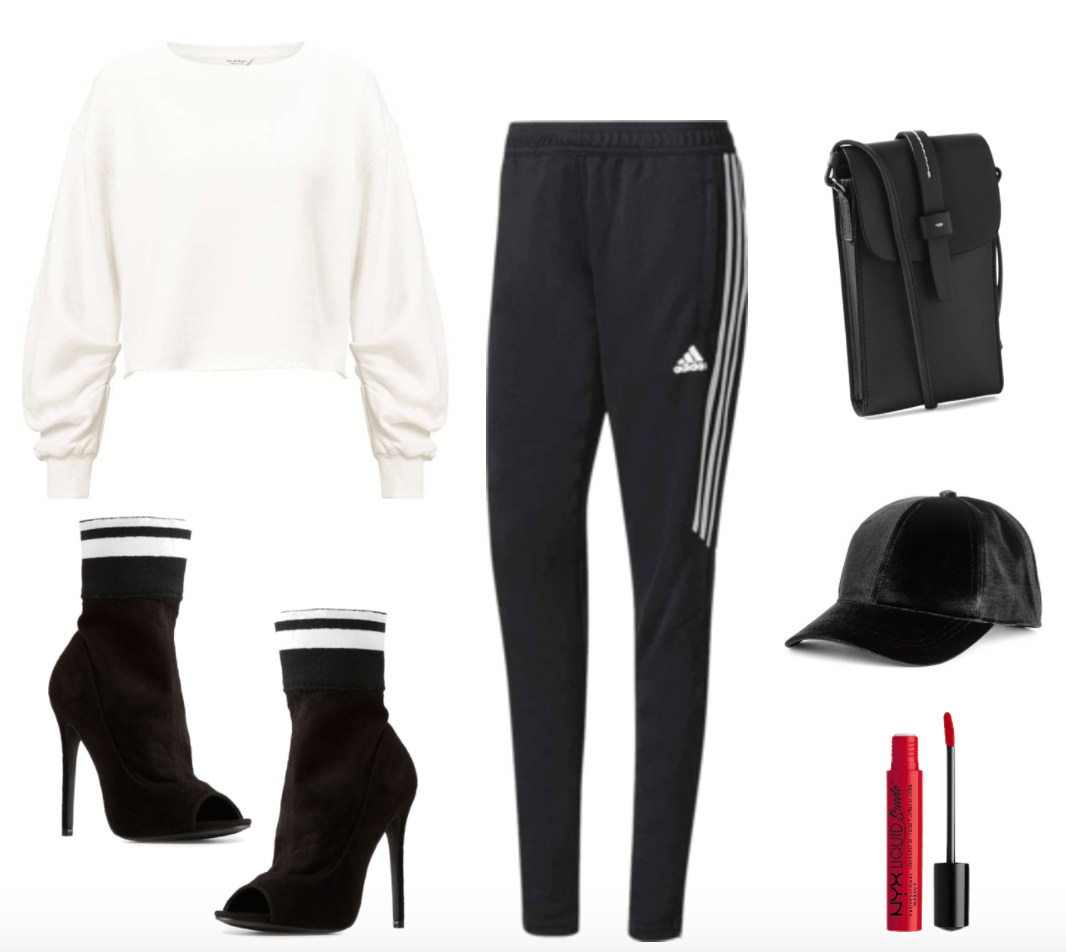 Products: Boots – Charlotte Russe, Sweatshirt – Miss Selfridge, Pants – Zappos, Cap – H&M, Bag – Gap, Lipstick – Ulta
For this third and final sock boots look, here are some black peep toe sock booties. The black and white stripes on the top gave me an instant athleisure vibe, and the stiletto-type heel sets these booties apart from the two above.
Pair these with simple black training pants and a slouchy, comfortable sweatshirt. Straighten your hair, throw it in a pony, and add this super chic black velvet cap to give your hair some texture.
Keep your bag simple with this black crossbody from Gap. Finally, to add a pop of color to this minimalist look, throw on some bright red liquid lipstick and you are ready for an outfit combining sporty and fabulous.
Yay or nay?
How do you feel about sock boots? Are you cautiously approaching this trend or diving in head-first? Which outfit is your fave? Tell me all this and more in the comments down below.