This post may contain affiliate links, which means we may receive a commission if you purchase through our links. Please
read our full disclosure here
.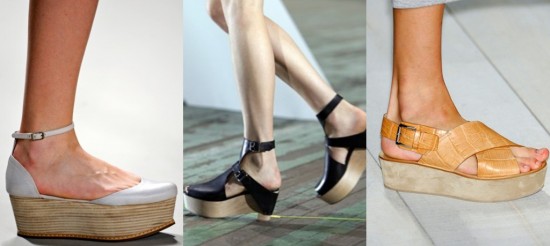 Flatforms on the Spring/Summer 2011 runway at Derek Lam, 3.1 Philip Lim, and Michael Kors.
Since most of us are used to heels getting higher and higher each season, the latest spring shoe trend is a drastic change in direction. Essentially, flatforms are level platforms. As opposed to platform heels, where the ball of your foot is much lower than the heel, with flatforms, it's like you're wearing flats… only taller!
On the plus side, these stacked heels give you the height you're looking for without the pain of heels, but on the other hand, some might question the appearance. Personally, I think this seems too high fashion to translate well onto college campuses across the globe. But then again, who would have thought jeggings would become a staple?
In case you're looking for some flatforms for your own wardrobe, I've found a few relatively budget-friendly pairs. The trend hasn't caught on yet with many affordable stores, so here are the best ones I could find online right now. I'm sure if this trend catches on, cheaper stores will start making ultra-inexpensive versions in no time.
Juicy Couture, Elizabeth and James, and Joe's Jeans Flatforms.
This look is very new, so it raises a lot of questions.
First off, what do YOU think about this trend? Do you think this is utterly crazy or cutting edge? Would you wear them? What would you wear with flatforms? Which photo above is your favorite or least favorite? Is the comfort factor enough to sell you on this new shoe trend? Let us know what you think with a comment!